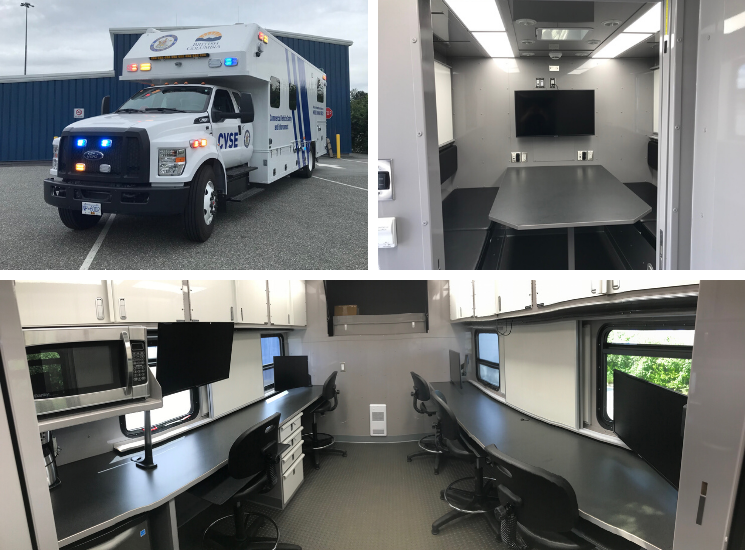 An emergency can strike anywhere, anytime. Fortunately, we have two amazing emergency vehicles (AKA mobile incident command vehicles) to help us establish a more effective response when something threatens BC's transportation network.
Weather-related emergency events have been increasing over the years. Take, for example, the Peace area flooding in 2011 and 2016, or the record-breaking wildfires that swept BC in 2017 and 2018. Our oversized outposts on wheels are specially designed and equipped to support ministry field operations during emergencies like these.
What Exactly Do the Mobile Incident Command Vehicles Do?
These emergency vehicles act as remote offices; they support the incident site and assist with smoothly channelling information from the field to our district and regional operations centres.
In remote areas, they have the capability of boosting cell power to communicate critical information and request resources. When incidents occur on more travelled portions of a highway, the vehicle is an additional ministry presence from which to provide accurate, authoritative information to the public: site maps, information packages and referrals to emergency partners and service providers. The emergency vehicles also provide our staff with convenient and safe shelter to work from during bad weather and long days in the field, and for work that runs through the night.
Since they are essentially compact offices on the move, we also use them to support:
Major Commercial Vehicle Safety and Enforcement (CVSE) road checks
Community education and awareness programs
In-person customer satisfaction surveys
Field services training
Public information centres at construction sites
Field projects
… and other events where having a temporary office is useful.
A Closer Look at the Command Vehicles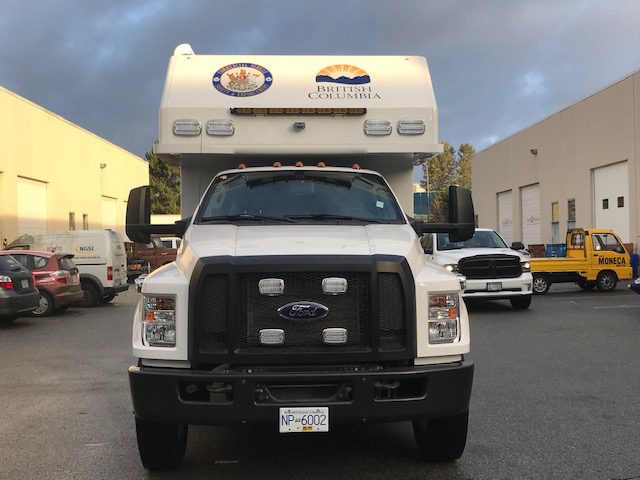 Our newest command vehicle is a 2019 Ford F650 with a six-metre-long structure for the command unit space. Based at the Nordel Inspection Station in Delta, this vehicle serves the South Coast region, replacing our old 1992 Grumman conversion you may have seen before. If needed, the F650 can be deployed anywhere in the province.
The new kid on the block is custom designed to meet the needs of our staff in demanding situations. Features include a Wi-Fi hotspot, multiple highways radios to operate different channels, built-in inverters, a six-person conference room with lockable clear sliding doors and 36-inch monitor, indoor work stations, and two dropdown outdoor workstations with an awning and LED lights. All windows have magnetic whiteboards that pull down and create privacy, if needed, and the washroom has an incinerator, making waste disposal more efficient. The vehicle also has a generator to power all the equipment without using the vehicle's engine. The generator uses the vehicle fuel; as a safety mechanism, it will automatically shut off when fuel falls to a quarter tank (the F650 is comfortable, but no one wants to end up stranded in it!).
Another cool tool is the retractable high mast infrared camera, which could be likened to an earth-bound version of the International Space Station's Canadarm. CVSE can use thermal images of vehicles to identify potential hazards, such as failing brakes. The high mast allows the camera to capture aerial imagery, and a live feed can be transmitted to our Transportation Management Centre (TMC) in Coquitlam.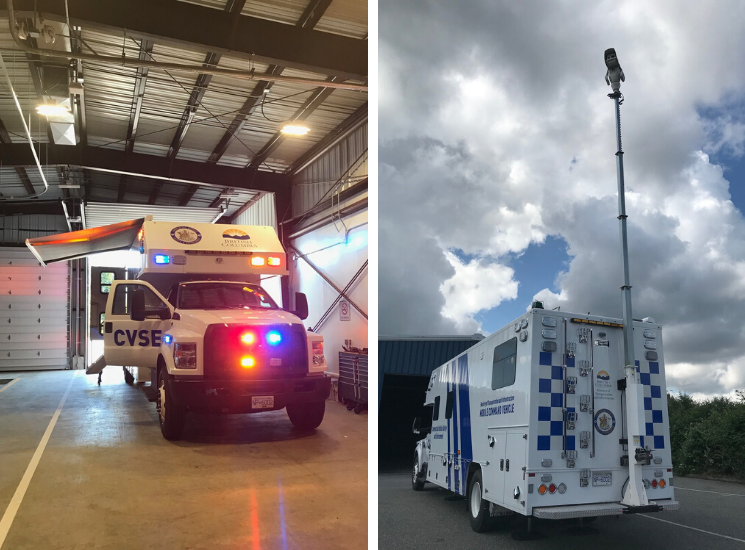 Good to note: Only CVSE officers who have completed emergency vehicle operations training have access to the emergency equipment, including the red and blue lights. Other ministry staff do not have access to the equipment used for enforcement. Inside the cab is a key lock switch that has a "CVSE mode."
The F650's "partner in command" is a 2011 Ford F550, which includes many of the F650's features. It is kept at our compound in Kamloops and serves the Southern Interior and Northern regions.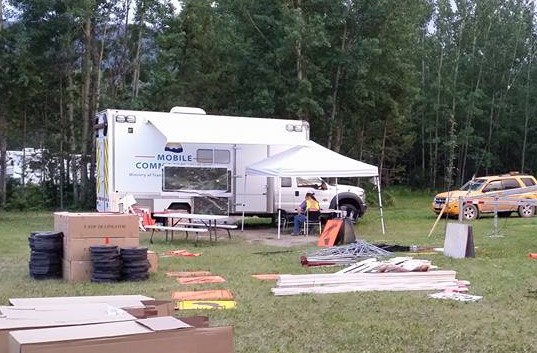 Do you have a question about our incident command vehicles? Drop us a comment in section below.
And, if you liked this blog, check out:
>> 12 Practical Steps to Repairing Flood Damage in the South Peace
>> What You Need to Know About Travelling During BC Wildfires
>> How to be an Emergency Smart Traveller
Share this page: