Ready to relive your BC road trips?
One of the ministry's biggest responsibilities is helping travellers reach their destinations safely and efficiently, whether it's a daily commute to work or a journey exploring somewhere new.
Come summer, many of you are doing the latter. And we love that.
For the past few years, we've been celebrating your thirst for adventure by inviting you to share your road trip photos with us on Twitter, Instagram and Facebook in what we call the BC Road Trip Photo Quest.
We are always blown away by the images you are kind enough to share with us. Here are some of our favorites to help inspire your future road trips.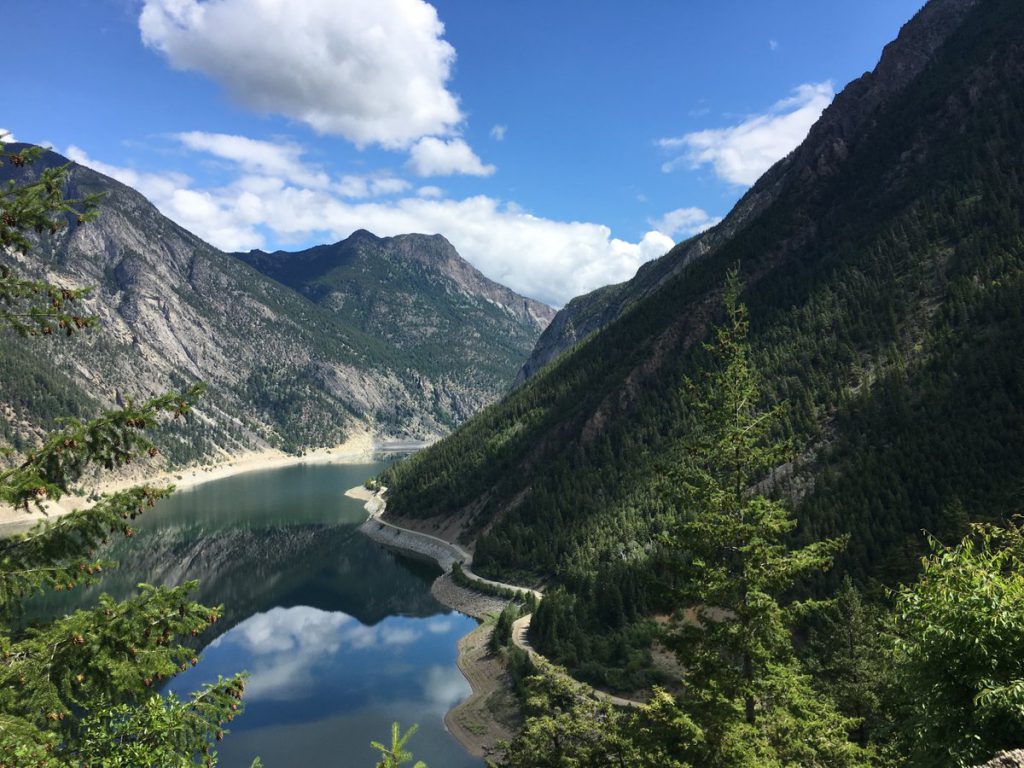 Photographer: @RundleG, via Twitter
Place: Overlooking Carpenter Lake and Road 40
Why we like it: We love the way Road 40, an important link between Lillooet and Gold Bridge, snakes between mountain shadow and the water's reflection. The trees in the foreground provide a sense of depth, which reinforces a sense of curiosity about what would be revealed to travellers as the road winds out of sight.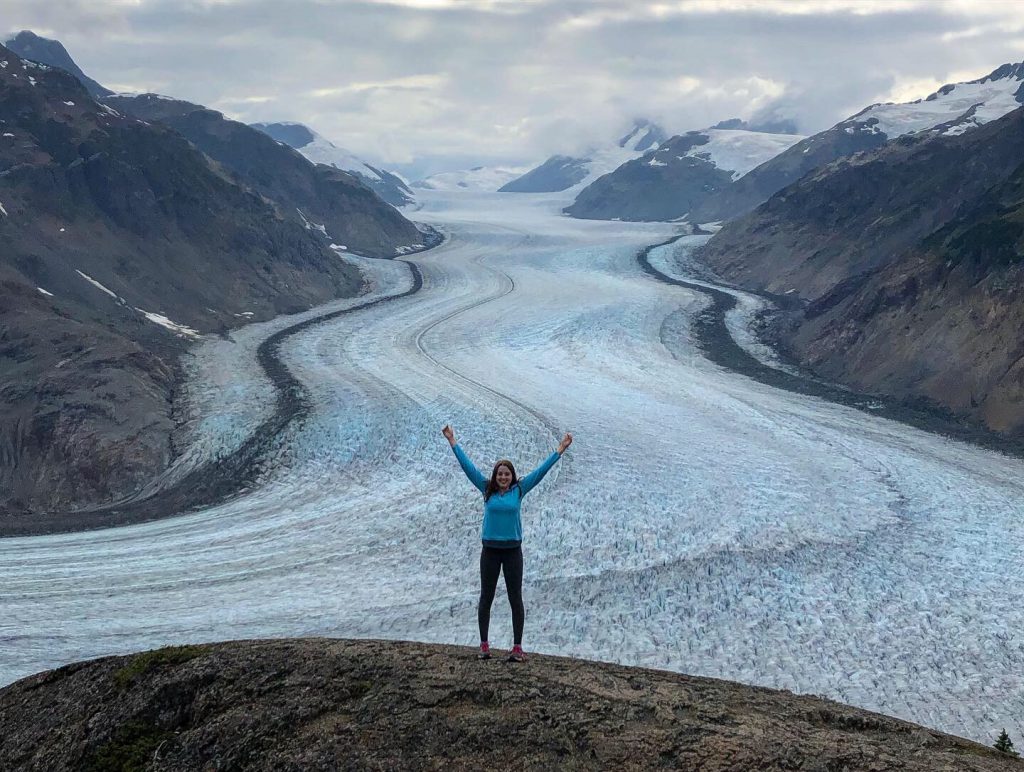 Photographer: @CodyGander, via Instagram
Place: Salmon Glacier
Why we like it: The immensity of this image is breathtaking. There are few landscapes that force you to acknowledge how small you are in the grand scheme of things, but the largest road-accessible glacier in the world is one of them. Located north of Stewart, the Salmon Glacier requires road trippers to cross into Alaska before travelling back into BC via Granduc Road.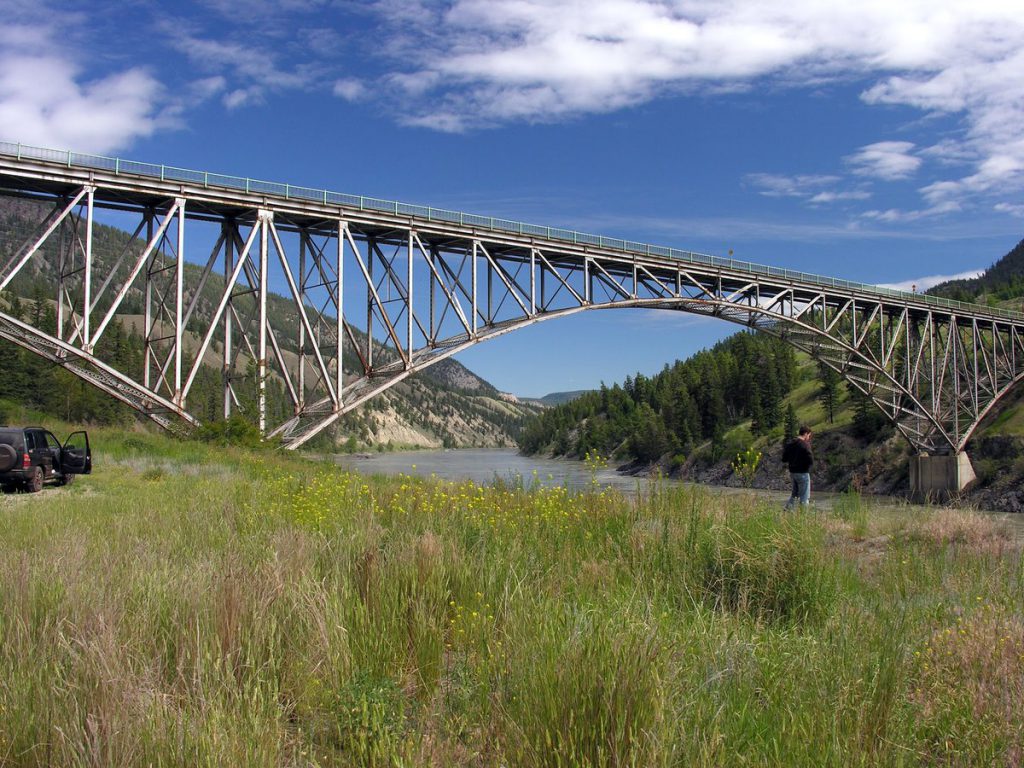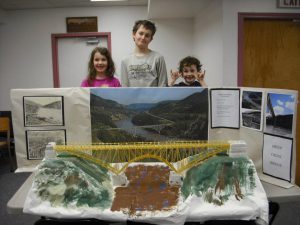 Photographer: @Junah_B, via Twitter
Place: Sheep Creek Bridge, Highway 20
Why we like it: We like the way this image captures the road tripper wandering from the vehicle to explore the Fraser River under Sheep Creek Bridge, which is located just west of Williams Lake on the way to Bella Coola. But what's even better is the follow-up photo Junah shared of his kids posing proudly with a model of the bridge they made using spaghetti. An amazing engineering feat and use of noodles!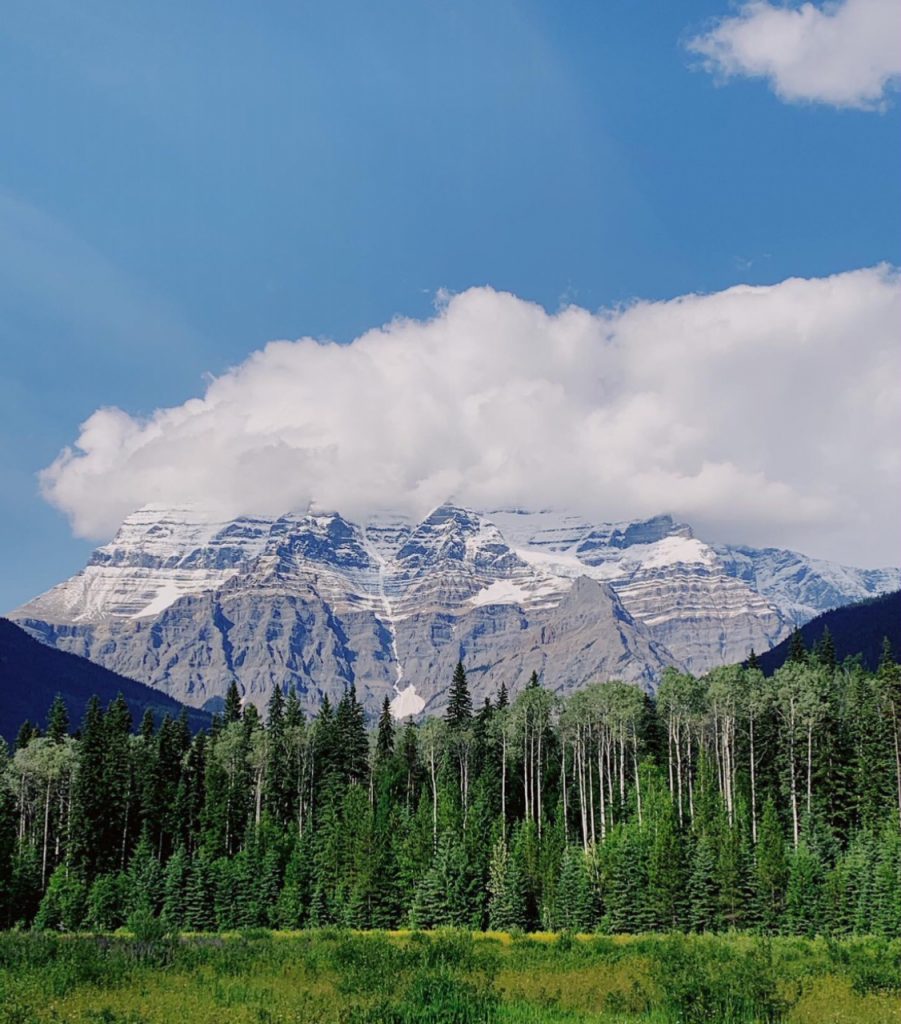 Photographer: Rae Lynn Oslon, via Facebook
Place: Mount Robson, Highway 16
Why we like it: Seeing the south face of Mount Robson is one of the rewards for travelling the Yellowhead Highway. Although clouds shroud the snow-capped peaks here, we like the layers of colour and the progression from vegetation to coniferous and deciduous trees, rock, snow, cloud and sky.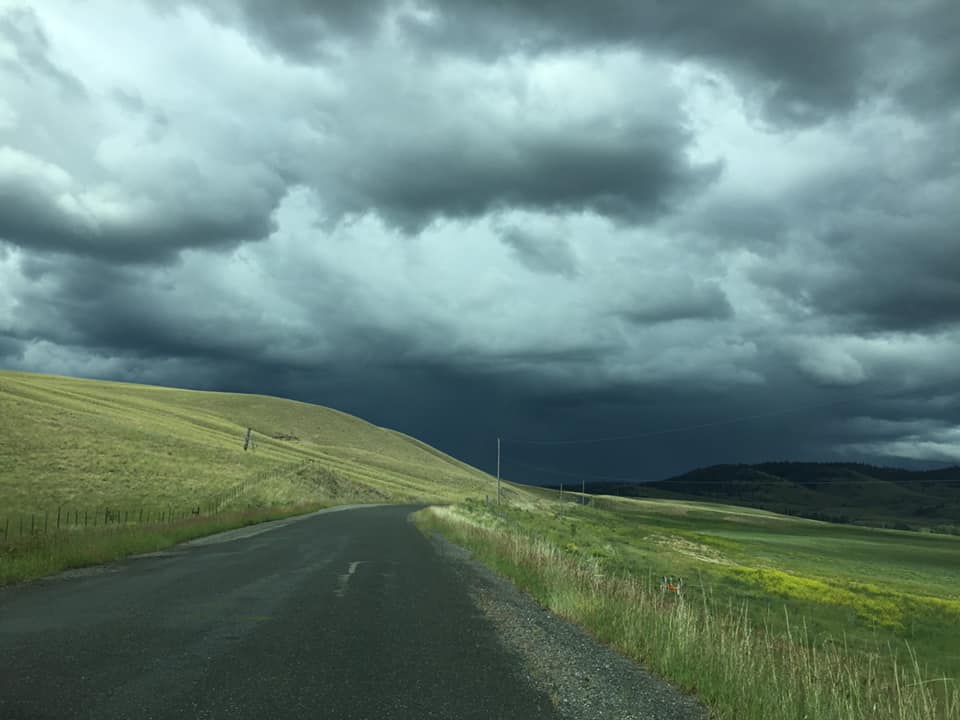 Photographer: Karen Whalen, via Facebook
Place: Douglas Lake Road, travelling from Merritt to Westwold
Why we like it: Bright, sunny days make for cheery trips, but we also love the feeling that comes from a dark, ominous sky – at least when it comes to photographs. Karen did a great job capturing the calm before the potential storm in this image, which balances the looming clouds and the green fields nicely.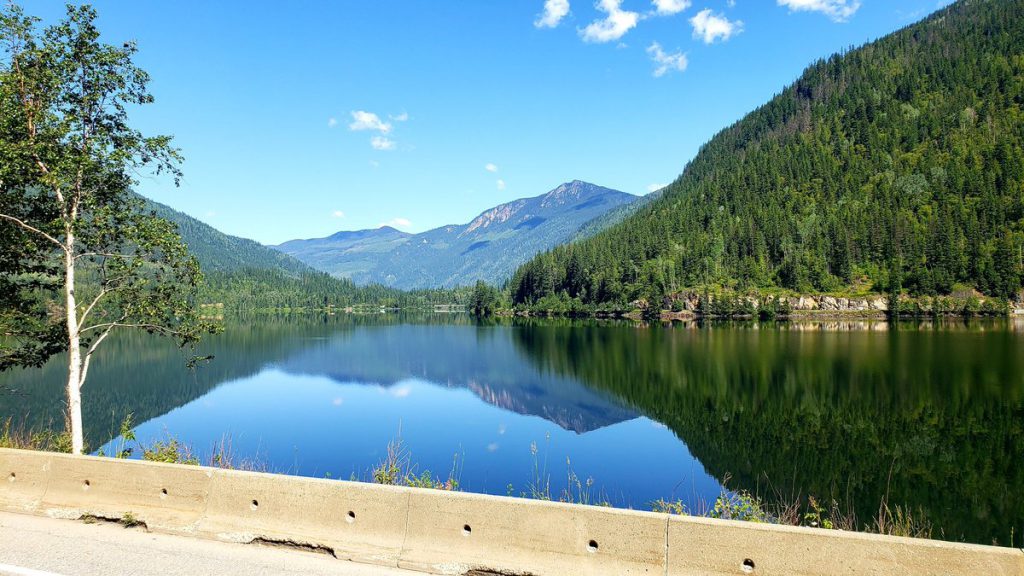 Photographer: @Lucky1306306759, Twitter
Place: Three Valley Lake, Highway 1
Why we like it: Commercial drivers use dashcams for practical reasons – safety, proof of events — but the results can end up being, well, simply lovely. Turned sideways to capture the tranquility of Three Valley Lake, Graham's dashcam captured a peaceful view many people will recognize from travelling westbound on the Trans-Canada Highway.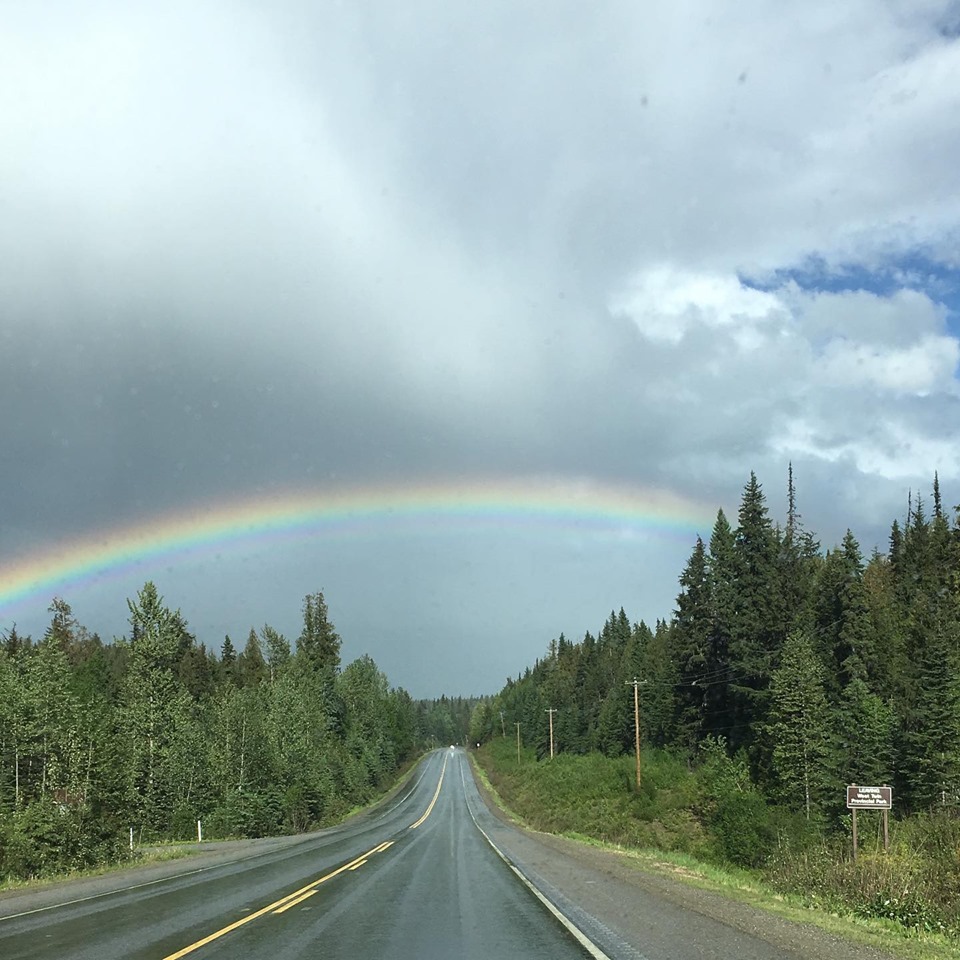 Photographer: Danielle Ritter, Instagram
Place: Highway 16 near McBride
Why we like it: A rainbow arching over the highway… what's not to like? Intrepid road trippers must be prepared to deal with all sorts of conditions… and drive accordingly. You can see in this photo that a heavy rain has made the road slick, but the rainbow offers hope of drier road to come.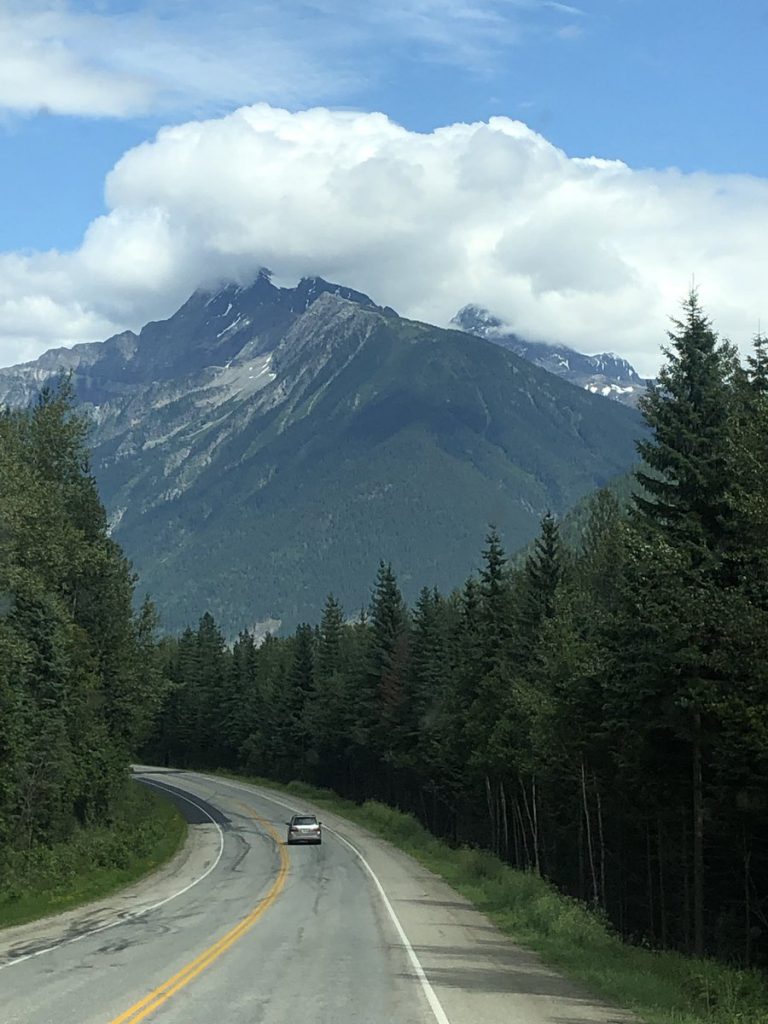 Photographer: @DavidButt1, via Twitter
Place: Highway 1 heading east, Mount Revelstoke National Park
Why we like it: Considering so many of BC's highways wind through mountain passes, it's no surprise we received more than a couple as part of the BC Road Trip Photo Quest. David composed a very pleasing photo here, using the curve of the road and tree to lead the eye skyward (or, can we say "mountainward")?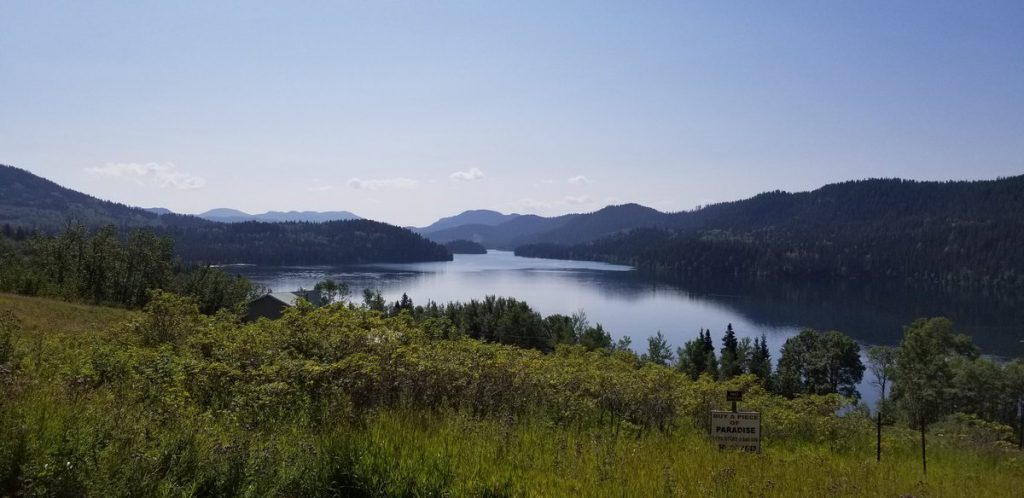 Photographer: @JorgeMatias679, via Twitter
Place: Lac Des Roches rest area, Highway 24
Why we like it: Highway 24 travellers like Jorge get the opportunity to take a break at one of the province's most picturesque rest areas. Besides soaking in the beauty of the lake extending into the distance, we liked finding the fun "Easter egg" in the foreground – the sign stating "Buy a piece of paradise."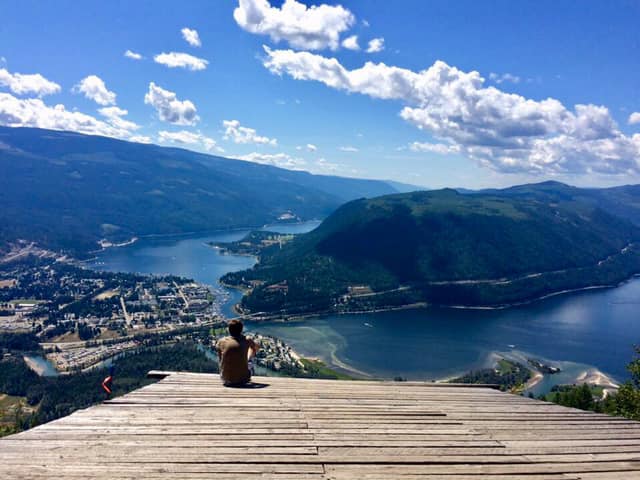 Photographer: Anna Koper, Facebook
Place: Sicamous Lookout
Why we like it: An old logging road next to Highway 1 takes travellers to this view of Sicamous, including Mara Lake (top) and Shuswap Lake (bottom), which are divided by the RW Bruhn Bridge. The photo is a fine example of the rule of thirds – with the person sitting at the lookout – water, mountains and the community laid out in front. It's a shot that simply makes you want to be there, and isn't that what good road trip photos are all about?
As community managers for the ministry's social media, we're fortunate to be able to interact with travellers, field your questions, respond to concerns, and generally act as a link between you and our transportation experts. When you share your experiences on the road with us, it means a lot.
Big THANK YOU to everyone who let us be a "fifth wheel" on your road trips this summer. Our list of places to explore is definitely longer, and we're pretty sure you've inspired our readers, too.
Got a favourite in our top 10? Let us know in the comments section. And, as always, safe travels.
Share this page: