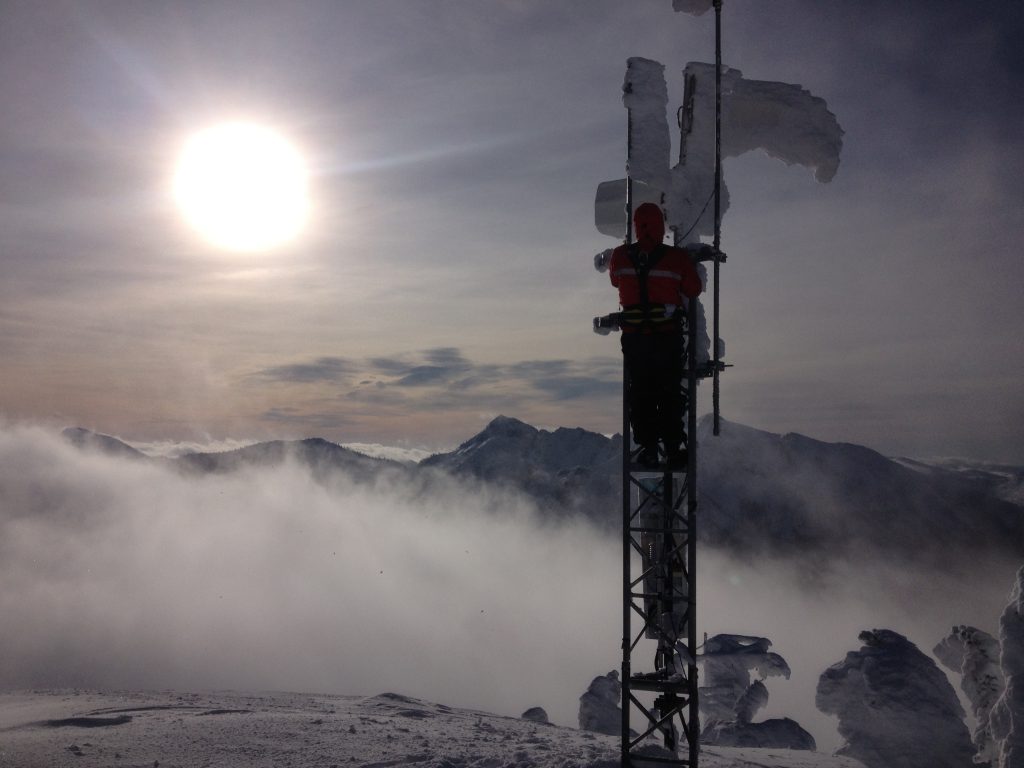 It's no secret, we're big on safety for the travelling public. In fact, it's our driving concern, and weather information is a big part of that.
One way we help drivers stay safe is by closely monitoring environmental conditions on our roads with our Roadside Weather Stations (RWS).  A key part of our Intelligent Transportation Systems (ITS) – these stations collect data on weather and pavement conditions from strategic locations. This information is a powerful tool for operational decision making for our highway maintenance contractors during winter operations.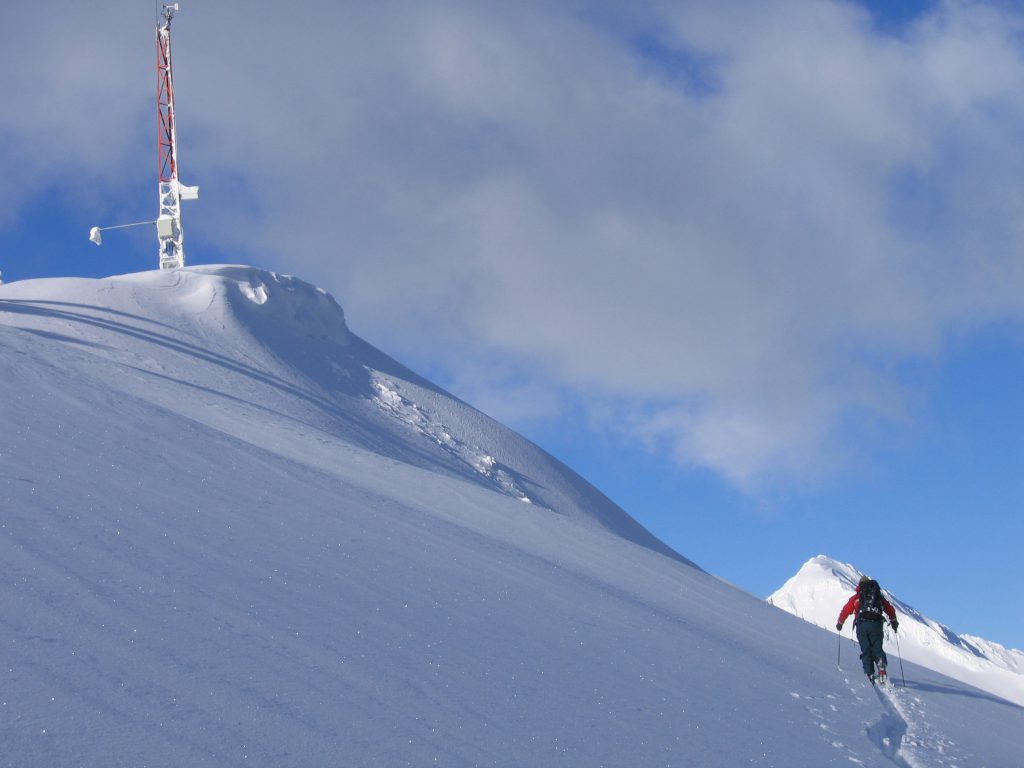 It All Began High Up on the Mountaintops
Back in the late 1970's, we recognized that a new generation of weather monitoring equipment would allow our Avalanche Technicians to monitor weather conditions as they happen and right at the source – way up on the mountain tops where avalanches start.
At that time, a handful of independent stations were used to send weather information to our offices, where the techs would review the data and organize avalanche control, as required. Since that time, our weather monitoring program has grown into a sophisticated network of environmental sensing stations that help us in several ways.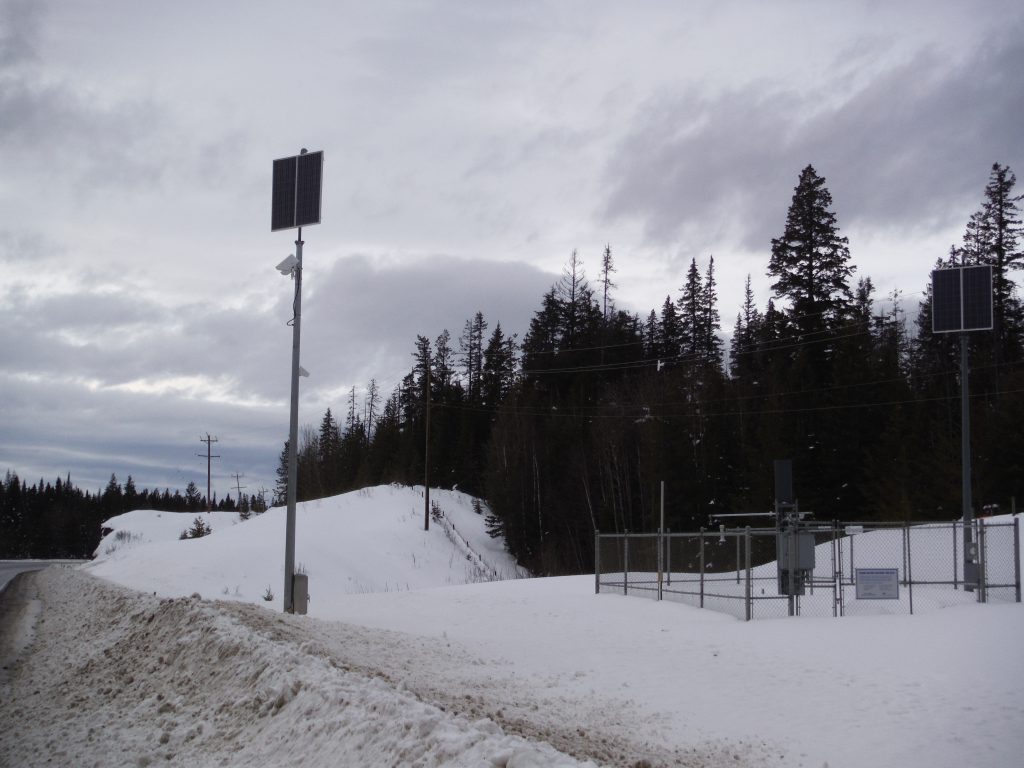 Road Weather Stations
Road Weather Stations (RWS) are installations of weather instruments that collect data on weather and pavement conditions from strategic locations across the province.
Our weather network includes 99 road weather stations, 67 avalanche weather stations, and 94 frost probe stations and all the stations in our network are installed and maintained by our dedicated team of Environmental Electronics Technicians.
Information from these stations is collected and distributed to a wide number of stakeholders through a single Snow Avalanche and Weather System including:
Environment Canada,
Various university-based research programs,
The Canadian Avalanche Association (in support of the Public Avalanche Bulletin program),
Weather forecasting contractors who supply forecasts to our maintenance contractors and Avalanche Technicians
The provincial Frost Probe Network is the latest addition to our network.  It allows us to monitor the seasonal strength of the highway – reducing the risk of costly damage to our highways from heavy commercial vehicle loads in during the spring thaw, while minimizing the impact of load restrictions on BC's economy.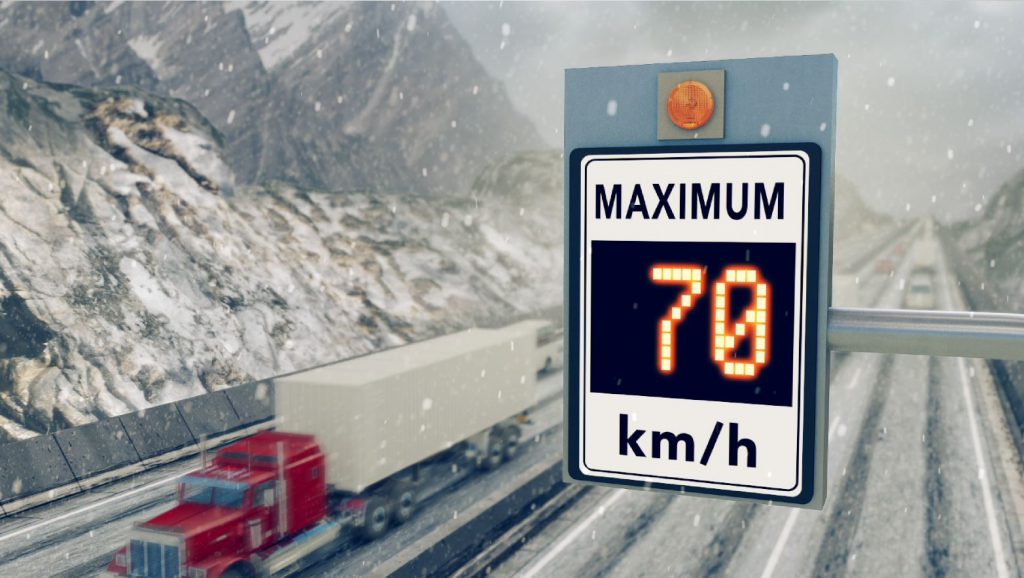 RWS and Variable Speed Limit Systems
Our RWS also play a key role in BC's Variable Speed Limit Systems (VSLS).  The VSLS systems require a dense network of optical pavement sensors to detect potentially hazardous winter conditions and recommend appropriate speed limit reductions when appropriate.
These sensors are a relatively recent innovation, replacing  embedded pavement temperature and condition sensors in the asphalt road surface with a pair of optical devices that look down on the road surface from above. Optical pavement sensors are typically located about 10 km apart, monitoring conditions in both directions of travel. They measure pavement surface temperature with an infrared thermometer and use a multi-channel spectral sensor to measure the thickness of any water, snow, or ice on the road surface.  These measurements determine the surface condition (eg. dry, moist, wet, slushy, snowy, or icy) and the degree of slipperiness on the surface of the road.
There are currently 33 sets of optical pavement sensors being used to provide detailed data on road surface conditions in our first three VSLS systems (Trans-Canada Highway from Perry River to Revelstoke, Coquihalla from Portia to Britton Creek, and Sea to Sky between Squamish and Whistler). The next VSL system will be installed on  two sections of Highway 1 between Abbotsford and the Nicolum Interchange outside Hope, and will include another six sets of optical pavement sensors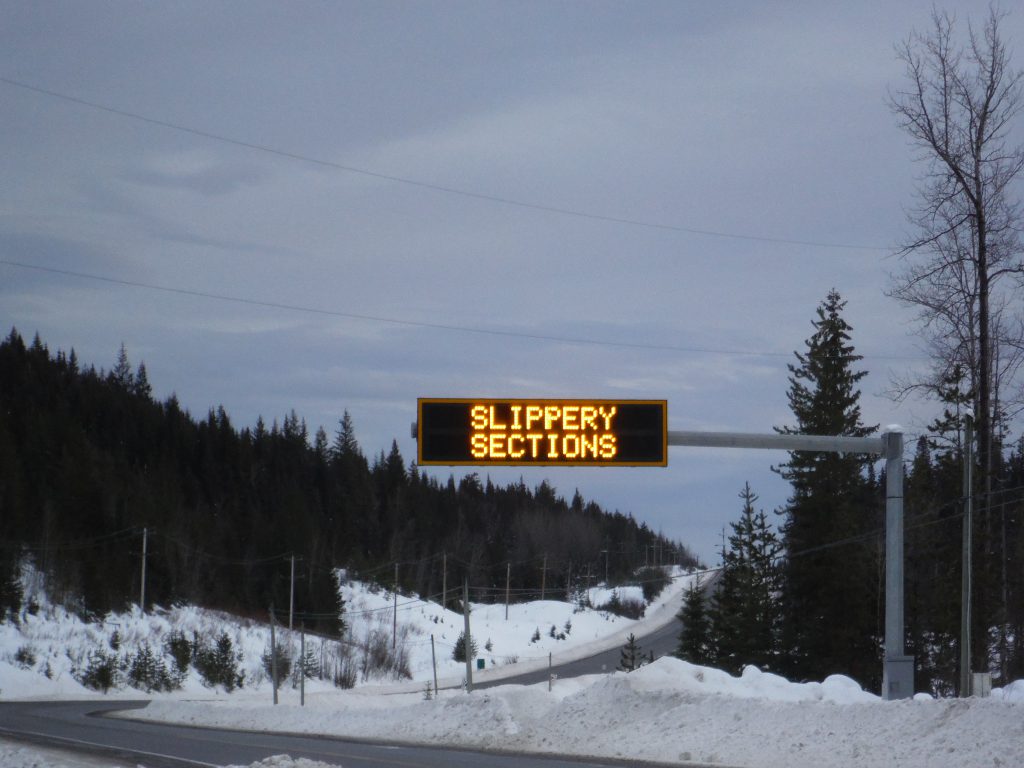 Integrating RWS with our Variable Message Signs
We  also use information from our Road Weather Stations  to choose appropriate messages for display on nearby Variable Message Signs, warning drivers in real time of hazardous winter weather related road conditions.
There are seven of these systems in operation around the province, and two additional systems using similar technology to activate LED flashers on static warning signs, like the fog area warning sign, seen below, located in the Cariboo. These systems have proven to be very successful by significantly reducing the frequency of severe crashes on highway segments where they've been deployed.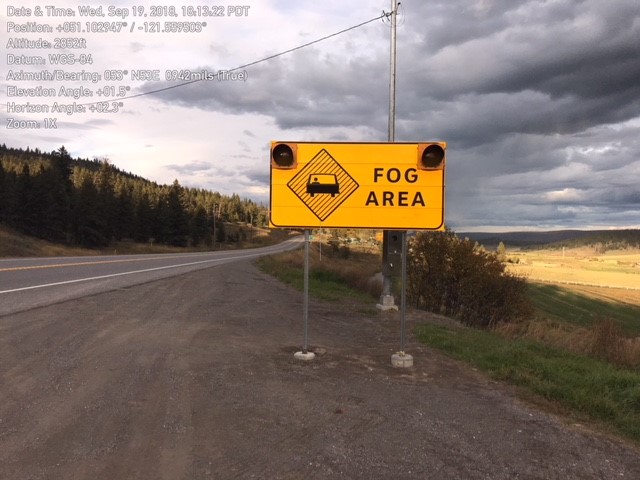 Do you have any questions about this, or anything else we do at the Ministry of Transportation and Infrastructure? Let us know in the comments below.
Share this page: