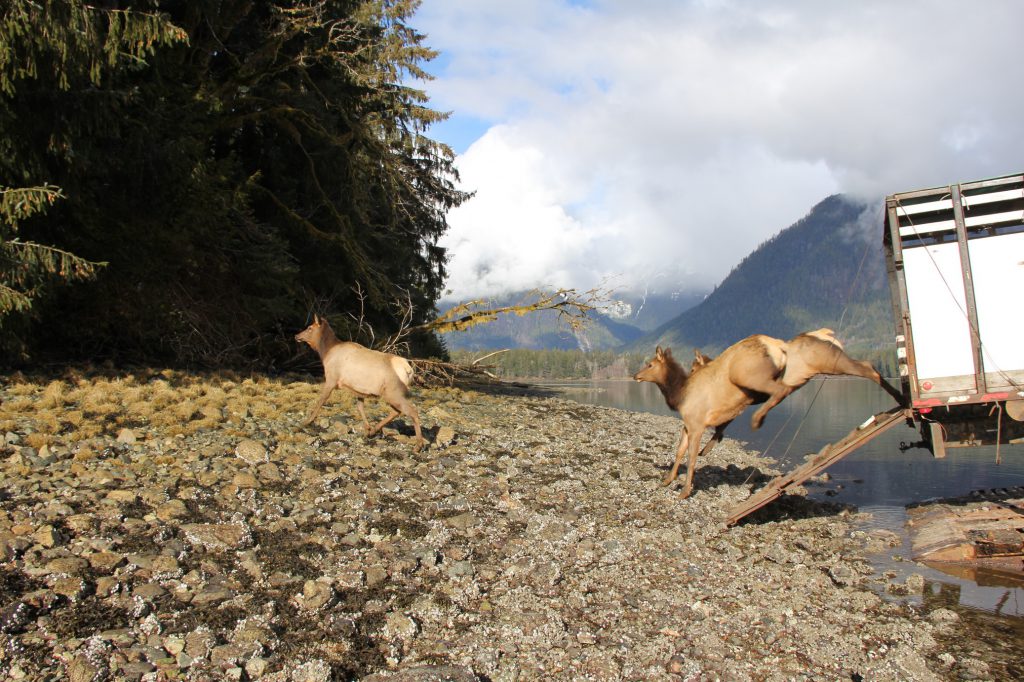 Wildlife and highways in BC often cross paths. We do our best to keep both everyone safe and sound on their journey, and our work with Roosevelt Elk on Vancouver Island and on the Sunshine Coast of BC is no exception.
Did you know the majestic Roosevelt Elk could once be found roaming around what is now Science World along the shores of False Creek in downtown Vancouver? Sadly, unregulated hunting for meat and hides during the gold rush of the mid-1800s contributed to the local extinction of these elk in the southern portion of their BC range and a large part of their historic range is now occupied by humans.
Happily, provincial biologists have been capturing groups of nuisance elk from healthy populations and relocating them to suitable areas throughout southwest British Columbia. How do they do it? They focus on herds coming too close to active farms and along the highways. In addition to reducing the risk of wildlife deaths, this also helps reduce the wildlife hazard to travellers on roads frequented by elk.
That's where we come in to the picture. Thanks to the Environmental Enhancement Fund, we are able to work alongside a host of other agencies and organizations to track the movement of elk and then capture and transport the animals to other locations.  This year a group of fifteen elk (8 females, 5 calves, and 2 males) were successfully captured from an area beside a Highway 19A north of Campbell River. They were transported first by road and then over water to be released at priority sites on the mainland coast.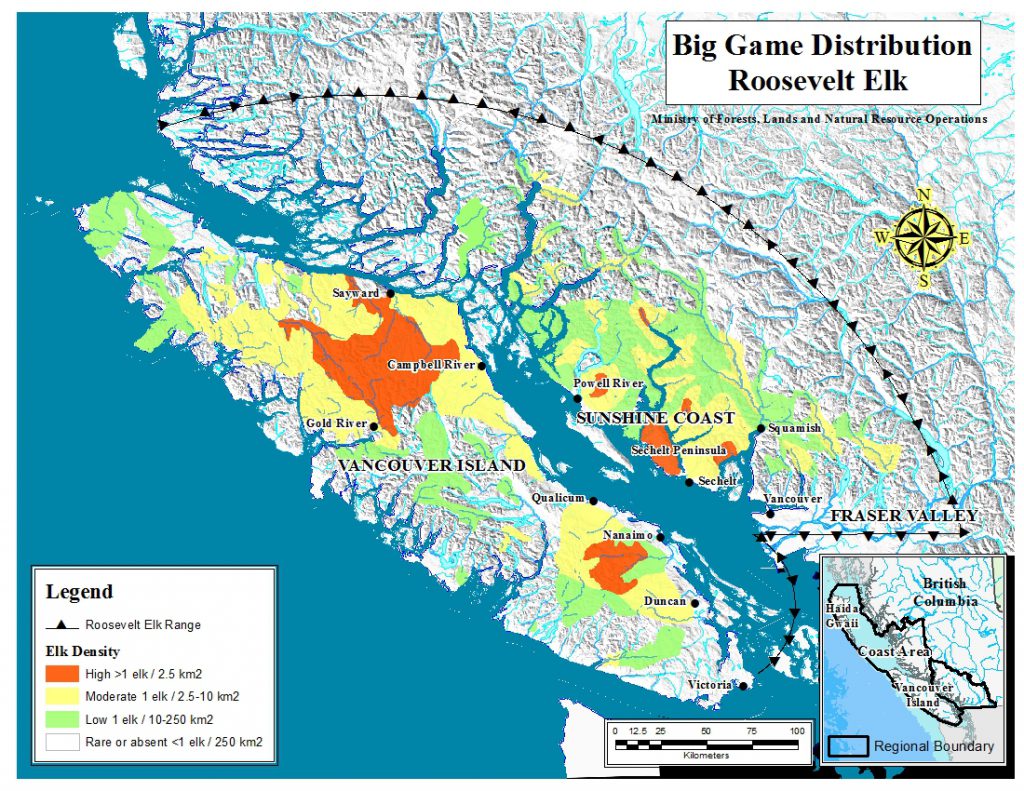 A Brief History of Roosevelt Elk Translocation in BC
Beginning on Vancouver Island in 1978, translocation became a core elk management tool almost immediately.   Since 1978, there have been more than 30 projects undertaken on the Island.  The first translocation from Vancouver Island to the Sunshine Coast was back in 1987.  There have been a few other moves between the island and the Sunshine Coast since then, but the vast majority of efforts now happen within a region as opposed to between them.
The first translocation within the Sunshine Coast occurred in 1996.  Since about 2000, captures have been happening annually on the Sunshine Coast, moving elk within the South Coast Region. More than 850 elk have been relocated in the Coast Area since 1978, with approximately two thirds of these elk moved around the South Coast Region since 2000. Yipee!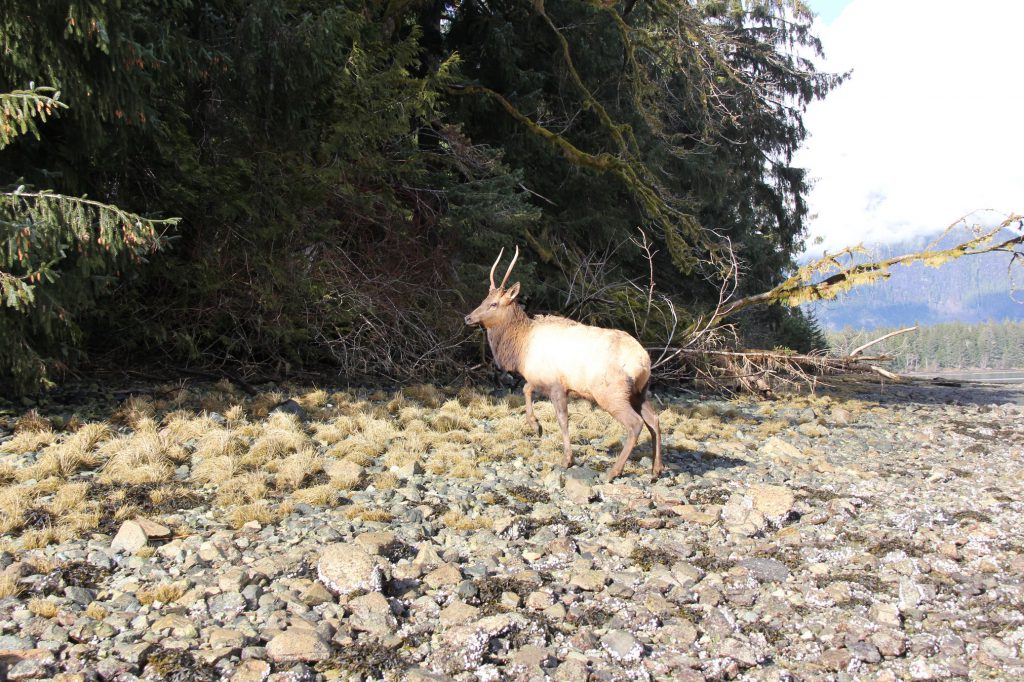 This type of translocation is key to the recovery of Roosevelt Elk, they help improve how the ecosystem works and provide future opportunities for recreational and food uses. Although their global distribution is smaller and more fragmented than it was pre-1900, we can happily say that the BC population is growing, especially where trans-locations have re-established Roosevelt Elk through their historic range.
All Hands on Deck
This project is definitely a group effort, requiring many helping hands to make it happen. To do it, we partner closely with community organizations, stakeholders and many others including:
Ministry of Forests, Lands, Natural Resource Operations and Rural Development
Ministry of Environment
Habitat Conservation Trust Foundation
First Nations in both the capture and release locations
Forest Enhancement Society of British Columbia
BC Wildlife Federation
Campbell River Fish and Wildlife Association
Sayward Fish and Game Club
Gold River Rod and Gun Club
Courtenay Fish and Game Association
Don Hughes Trucking
Buttle Shuttle
Wildlife Stewardship Council
City of Campbell River
How's that for a comeback story? It sure makes us happy to keep wildlife and travellers safe in this way. Do you have any feedback or input on this or anything else we do here in the BC Ministry of Transportation and Infrastructure? Let us know in the comments below.
Share this page: