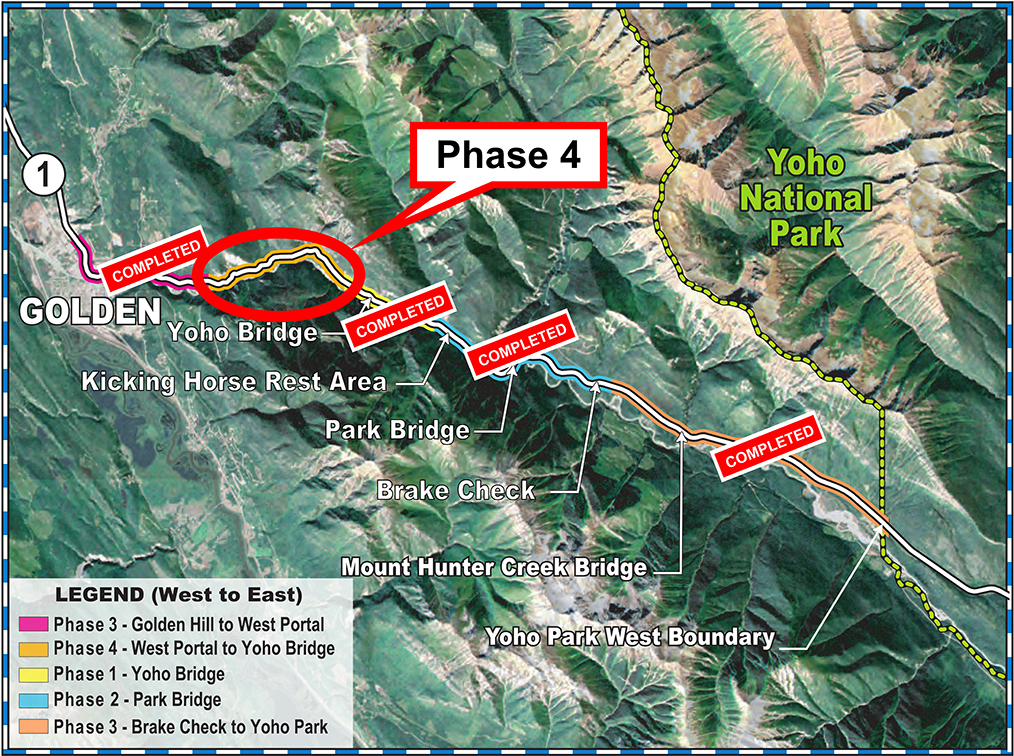 Rushing rivers and soaring mountains make for a beautiful road trip, but when it comes to widening and improving highways, those same breathtaking features can pose an incredible challenge. Few highways in BC are more beautiful or challenging than the Kicking Horse Canyon along Highway 1.
Constructed through Kicking Horse Pass in 1962 and following basically the original Canadian Pacific Rail route, this portion of the Trans-Canada Highway reaches its highest point at an elevation of 1,643 metres or 5,390 feet.  That's a pretty steep mountain.  Add in the Kicking Horse River running alongside the road and you begin to see why this stretch has remained two lanes for so long.  There was simply no room to grow without a large dollar value attached to it.
Work is now underway to tackle the most difficult and expensive phase of the Kicking Horse Canyon Project, from West Portal to Yoho Bridge. Construction costs are some of the most expensive in the province's history per-kilometre and includes the four-laning and realignment of four kilometres of highway, requiring a combination of bridges, retaining walls, rock catchment ditches and other measures to reduce rock fall hazards and bring the road up to a modern four-lane standard.
We've fired up our Road Trip Time Machine to show you the road as it was in 1966 and to help you imagine where we are going on this important route in the future.  Learn more about our photologs and see other BC Road Trip Time Machines here.

The Trans-Canada Highway is the primary east-west connector through British Columbia, our main gateway to the rest of Canada, and a vital route for travel, tourism and trade and BC Highway 1 (between Kamloops and the Alberta border) is being improved as a part of a  10 year transportation plan. Do you have any questions about this, or any other work we do? Let us know in the comments below or connect with us on Twitter or Facebook.
TranBC Trivia
Kicking Horse Pass and River were named after James Hector, a naturalist, geologist, and surgeon who was a member of the Palliser Expedition through the area in the mid 1800's. Hector was kicked by his horse while exploring the region, knocked unconscious and believed dead. Luckily for Hector, he fully recovered but the horse story stuck and the area came to be known as Kicking Horse. Now you know.
Want to see more about the history of BC highways? Check out these links below:
Share this page: