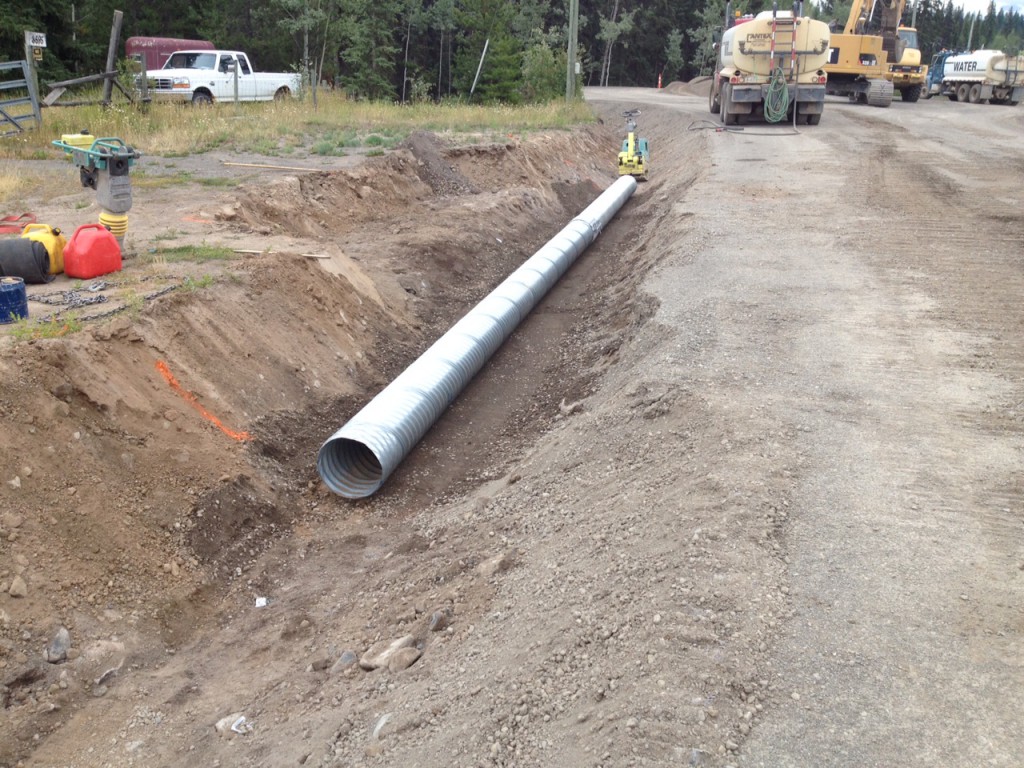 Do you own property along a BC highway? If you do, you may have some questions about driveway culverts and culvert maintenance.
You've come to the right place.
Whether you are constructing a new driveway culvert, or you have a pre-existing driveway culvert that needs replacing or maintenance,  it's your responsibility to make sure it is big enough, installed correctly and functioning properly. Just like many other aspects of home ownership, maintenance is key, especially in the case of driveway culverts. Good culvert maintenance protects roads, properties and the environment.
Here's what you need to know in order to keep your culvert and road access clear.
What you Need for a New Culvert
If there is an existing ditch line along your property, you will need a culvert. Here's the scoop:
We require that you provide a minimum 400-mm (16-inch) diameter pipe (preferably corrugated steel). In coastal areas or areas of high rain runoff, a larger diameter pipe will be required.
The culvert should be longer than the width of your driveway. The standard residential driveway is six metres (20 feet).
The culvert length should be a minimum of nine metres (30 feet) to allow for the driveway fill on either side of the driveway.
Culvert pipe (preferably corrugated steel) needs to be a minimum diameter of 400-mm (16 inches) by nine metres (30 feet) in length. Big O plastic pipe can be used, but the construction practices will vary in the installation. The culvert must have more gravel and fill on top of the pipe to buffer it from the weight of vehicles travelling over the pipe. It should be noted that metal pipe is preferred due to its reliability and strength. Here's a list of our recognized products, we suggest that you review the list prior to culvert installation.
The culvert should be placed slightly below the invert or lowest point in the ditch. Consider the implications of ditch maintenance and cleaning by the ministry maintenance contractor.
The culvert should be covered with granular material to a depth equal to half the diameter of the culvert. For example, if the culvert is 400mm (16 inches) in diameter, the depth of the cover must be a minimum of 200mm (8 inches) in depth. This amount of cover is necessary to protect the culvert from collapse.
Our right of way is often also a utility corridor, so if you are going to be doing any excavation, it is your responsibility to call BC 1 before you dig. Fortis and Telus are the prime 2 utility companies that have underground infrastructure, however there are others on occasion that need to be considered as well.
If a head wall or end treatment is required, they will be spelled out on your permit.
If there is a ditch in front of your property and the water only runs during the spring, you are still required to put a culvert in. There can be extensive damage to the road and your driveway in a short time if the culvert was not put in place.
How to Maintain a Pre-existing Culvert:
You are responsible for driveway culvert maintenance. Culvert maintenance involves keeping both the inlet and outlet of the pipe free of debris so that it works properly, including removing snow and ice during the winter months whenever possible.
Ensure your culvert is constructed of a recognized product. (For example we wouldn't accept a culvert that is manufactured out of wood). Here's a list of recognized products we accept.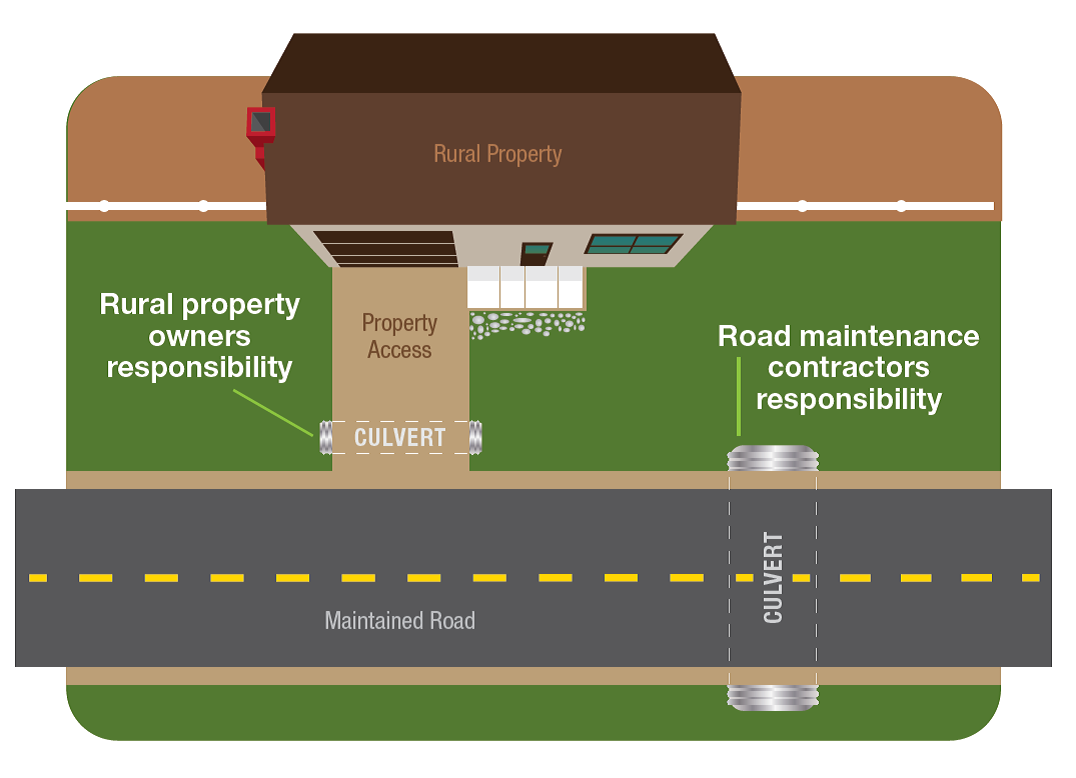 Bonus Questions (and answers)
We often hear the question: "Am I responsible for clearing the snow off of my access in winter?"
Yes. An individual who has an access point on a BC highway is responsible for all maintenance including clearing snow from highway plowing operations at the access entrance.
Another popular question: "Am I responsible for clearing the ditch between my property and the roadway?"
No. Our maintenance contractors are responsible for clearing the ditches alongside provincially maintained roadways to make sure the water on our roads has somewhere to go. Please note: ditches are not a storm water system for managing private property surface drainage. Surface water on private property should be dealt with within the boundaries of the property, not directed into highway drainage systems.
All clear? We hope so. Culverts are an important way to keep water and debris moving smoothly. If you have any other questions about culvert maintenance or anything else the ministry does, let us know in the comments below.
Did you find this information useful? You might also like these related links:
Share this page: