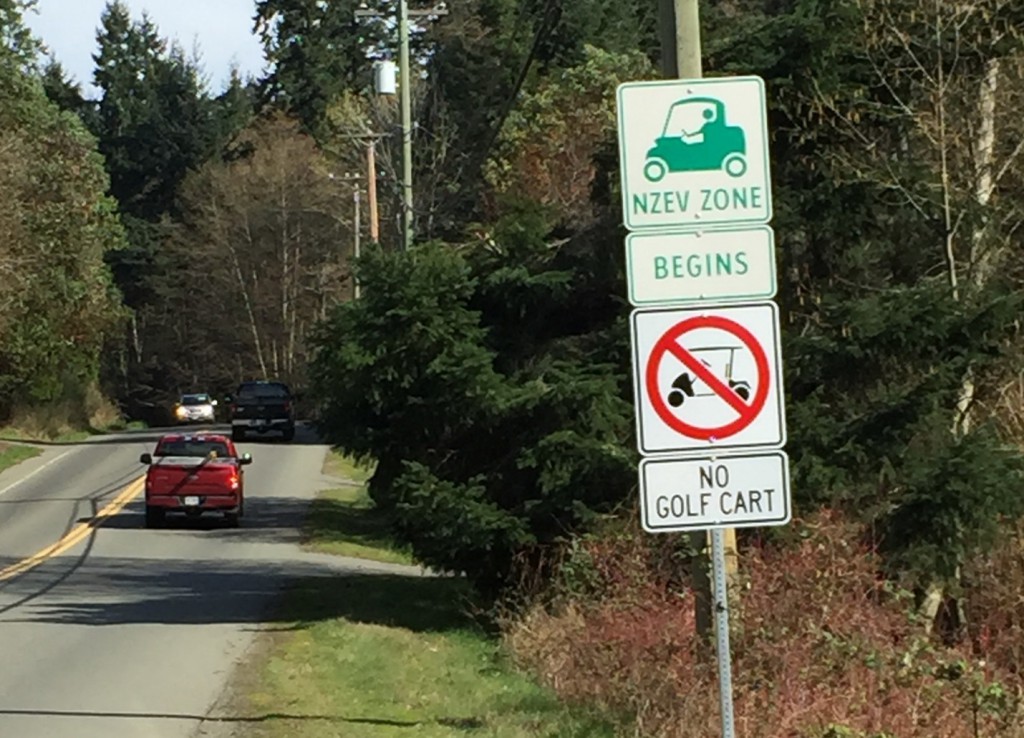 Vehicles have come a long way since power steering and automatic transmissions were the newest exciting features. Now we have talking GPS systems… rear-view cameras… instant hovercraft capabilities (OK, just kidding about that last one).
Technology is changing the way we travel, and it's important the Ministry of Transportation and Infrastructure adapts. Why not take advantage of innovations that allow for more efficient, and greener, modes of travel?
The latest technology to get a boost is Net Zero Emission Vehicles (NZEVs), also known as Low Speed Vehicles or Neighbourhood Vehicles. In a nutshell, NZEVs are four-wheeled electric powered vehicles built to travel 40 km/h or less. They are also one of the cleanest, most environmentally friendly types of vehicles on the market, but their design limits where they can be driven (ie. you'll never see one on a freeway).
In March 2015, the ministry authorized a designated zone for NZEVs within the Nanoose Bay and Schooner Cove area on Vancouver Island, home of the golf resort community of Fairwinds. Locals will notice new road signs marking the start and end points of the zone. Gabriola Island received a designated NZEV zone in 2011.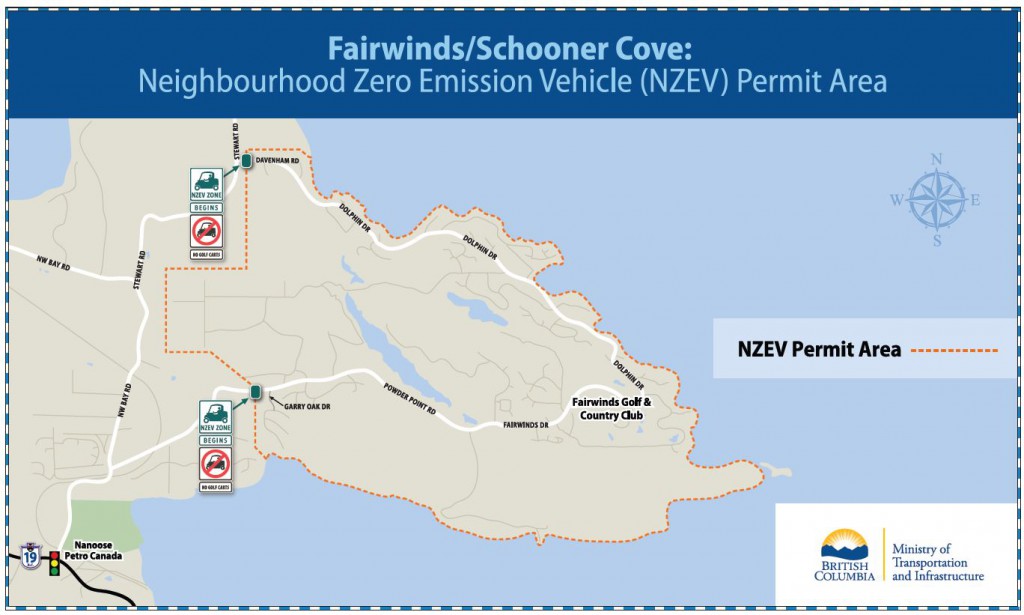 NZEVs can only be driven in these two designated zones under provincial jurisdiction, or on municipal roads with a speed limit of between 40 and 50 km/h, if authorized by a municipal bylaw. The following municipalities have established NZEV zones: Oak Bay, Qualicum Beach, Esquimalt, Colwood, Campbell River, Ucluelet and Tofino (it must be an "Island thing").
What do I have to do to drive a NZEV?
There are a few guidelines for operating a NZEV in the new permit zone.
The vehicle must:
The driver must:
Fore! Heads up: a golf cart is NOT an NZEV
Golf carts cannot be driven in the new permit zones because they lack some pretty key safety design standards, including:
Headlights
Turn signal lamps
Mirrors
Parking brake
Seatbelts
Golf carts are only permitted to cross a road that separates a golf course. Read ICBC's summary of the rules around golf carts.
What is the future of NZEVs in B.C.? Will we eventually see them rolling through parks? Ports or ferry terminals? Maybe they have a place on university and college campuses? The ministry will continue to work with municipalities and industry stakeholders to explore other locations where NZEVs can fit in nicely as a clean and safe alternative, improving air quality and public health.
Interested in learning more about how technology is reducing transportation's impact on the environment? Read about CVSE's Weigh2GoBC program.
Found this article interesting? Check out these related links:
How We Are Making Activie Transportation Better in BC
How We're Keeping Cyclists Safe and Cattle in Place
How to Ignore Excuses Not to Bike (Try it!)
Share this page: