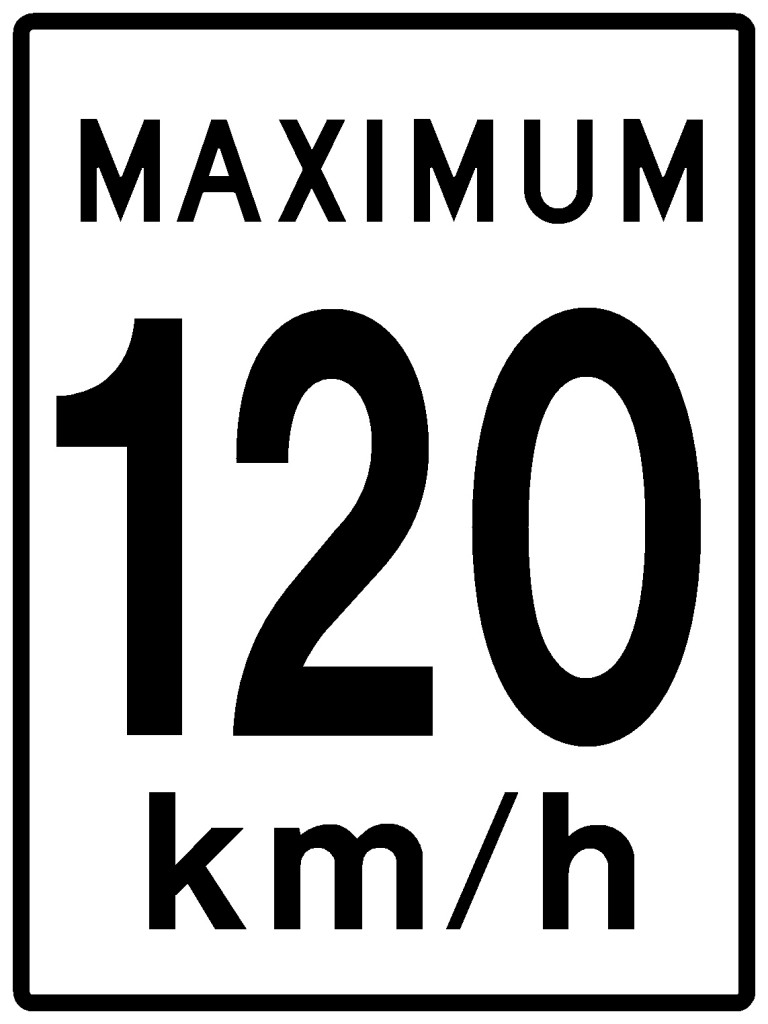 The results of the province-wide Rural Highway Safety and Speed Review are here. We went out on the road to speak with you in person and online from Nov. 29, 2013 to Jan. 24, 2014 to assess four key areas of road safety on rural highways:
slow moving vehicles
wildlife safety
requirements for winter tires
setting appropriate speed limits
At the same time, we conducted technical work, including research from other jurisdictions, and an engineering assessment of the speed, safety, design and land use for all the individual highway segments identified for speed increases. Your input and the information we gained through that technical review helped to identify and prioritize these improvements.
Frustrated by the safety hazards caused by slower-moving vehicles? You let us know. The ministry will be bringing forward changes to the Motor Vehicle Act to clarify the requirement for slower vehicles to keep right, while giving police clearer direction on how to enforce the requirement. We'll also be increasing driver education about the importance of keeping to the right except to pass, and adopting new signage and pavement markings to increase voluntary compliance.
Public consultation found that people were generally divided across all regions on the degree that slower-moving vehicles were a safety concern. The exception was Highway 4 from Parksville to Tofino, for which 70% of respondents thought it was an issue. In light of this, we're going to pilot "Slow Traffic Delaying 5 Vehicles Must Use Pullout on Hwy 4" signage in that area.
Wildlife Safety
What you told us was that you didn't often find wildlife to be a concern in the south coast and southern interior areas of BC, while those in the central and northern parts of the province felt more likely to find wildlife to be a safety concern. As well, our data indicates that collisions involving wildlife are prevalent and identifies a number of higher risk areas.
Here's what we're going to do:
Install gateway signs at the entrance to highway corridors with higher instances of wildlife collisions.
Increase the use of flashing LED warning signs and wildlife fencing in high crash locations.
Pilot project: two wildlife detection systems in a known high wildlife accident area on Highway 3 between Cranbrook and Sparwood. This section has some of the highest deer and elk mortality rates in the province.
We will also continue to monitor wildlife incidents, identify high-risk sections, and implement further measures as needed.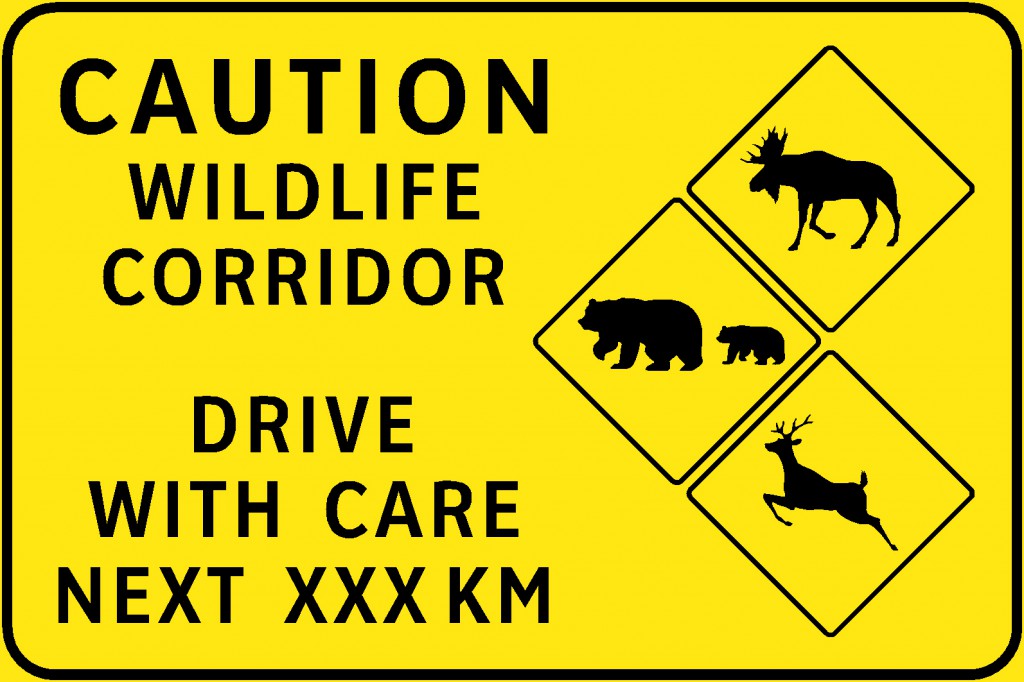 Winter Tires Requirements
After our assessment and hearing from you, we're going to update legislation to clarify that winter tires includes those rated Mud and Snow (M+S) and those with the mountain/snowflake symbol. Studded tire and chain regulations will also be updated to reflect new technology.
To really reinforce this, we're installing new winter tire signs to clarify the requirements for winter tires and chains and the time-frame for use (was October 1 to April 30). We will also work with our road safety partners to put additional resources into the "Shift Into Winter" campaign, which reminds motorists to prepare their vehicles, consult DriveBC, and drive to road conditions.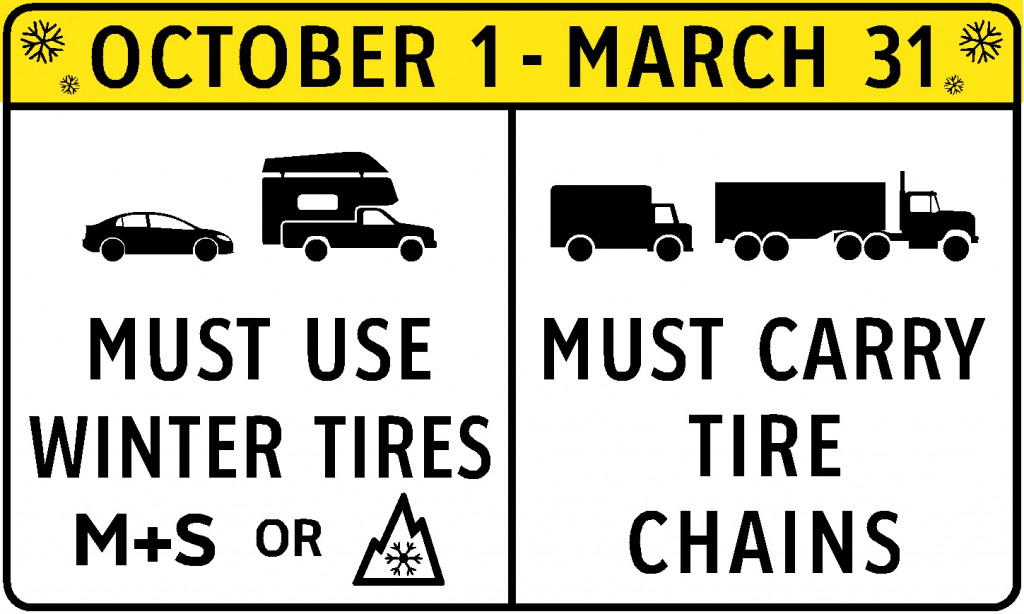 Setting Appropriate Speed Limits
Speed limits will be adjusted on approximately 1,300 kilometres, or about 15% of the total highway reviewed (9,100 km) during this process. Most of the recommended increases are limited to an additional 10 km/h with the province's new maximum speed limit on certain sections of divided multi-lane highway raised to 120 km/h.
The majority of participants in the southern part of the province support increasing speed limits.
56% in central BC
72% in the Okanagan
61% in the southern interior

For the Coquihalla/Trans-Canada Highway corridor, 70% supported a speed increase
81% in the Lower Mainland
55% on Vancouver Island
Participants in the northern region were more divided on speed limits.
52% of participants indicated they would prefer no change to speed limits.
42% of participants indicated that speed limits should increase.
Fueled by these results, decisions on each specific section of highway were also based on an engineering study which included an assessment of the ambient speed, highway safety, road design, and land use to make the final decision.
Here's what we're going to do:
Speed limit changes to approximately 1,300 kilometres of provincial highway (35 sections) in the BC southern interior, Lower Mainland and Vancouver Island.
No changes to speed limits on rural provincial highways in northern British Columbia.
Pilot variable speed zones on sections of the Trans-Canada, Coquihalla, and Sea-to-Sky highways.
The ministry and its safety partners will monitor the speed and safety performance of the sections of highway where changes are being made to ensure the numbers of serious crashes continue to decline.
Unless otherwise noted, new speed limits will be phased in over the summer.
BC Highway

Area

Current Speed Limit

New Speed Limit

Fraser Valley and Fraser Canyon

Highway 1
Whatcom Rd to Highway #3 Junction
100
110
(starts July 2,2014)
Highway 1
East of Lake of the Wood Rest Area to Boston Bar
80,90
100
Highway 1
Boston Bar to Falls Creek
90
100
Highway 7
Vehicle Pull-out west of Haigh Scale, Agassiz to Highway #1 Junction, Hope
90,100
100

Sea to Sky

Highway 99
Eagle Ridge Interchange, Horseshoe Bay to south of the Stawamus River Bridge near Squamish
80
90
Highway 99
North of Depot Rd, Squamish to Function Junction, Whistler
80, 90
100
Highway 99
South of Whistler Heliport Rd to Pemberton Boundary
80
90
Highway 99
East of Lillooet near the Pavilion Lime Plant to the Highway #97
90
100

Vancouver Island

Highway 1
Three 80km/h sections between Bench Rd, Cowichan Bay and Beck Rd, north of the Nanaimo Airport
80, 90
90
Highway 19
Parksville to south of Willis Rd, Campbell River
110
120
Highway 19
Duncan Bay Rd to Menzies Rd, Campbell River
80
90
Highway 19
Campbell River to Sullivan Rd, Sayward
90
100
Highway 19
North of Campbell Way, Port Mcnellis to Douglas Street, Port Hardy
80, 90
100

Southern Interior

Highway 1
Six Mile Rest Area near Tobiano to Savona
90
100
Highway 1
Chase to Hilltop Rd, East of Sorrento (excluding 60km/h section through Sorrento)
90
100
Highway 1
Canoe to Highway 23 South, Revelstoke (excluding 60km/h section through Sicamous)
90, 100
100
Highway 1
Highway 23 North, Revelstoke to Anderson Rd, Golden (excluding parks)
90
100
Highway 3
Start of Highway 3 to Highway 5 Coquihalla junction
100
110
Highway 3
Sunshine Valley to Manning Park East Boundary
80, 90
100
Highway 3
Sunday Summit to Whipsaw Creek, west of Princeton
80
90
Highway 5
Hope (Exit 177) to Othello Rd
100
110
(starts July 2,2014)
Highway 5
Othello Rd, near Hope to Highway 1 junction
110
120
(starts July 2,2014)
Highway 5
Heffley to Little Fort (excluding 60km/h section through Barriere)
90
100
Highway 5A
Old Hedley Rd, north of Princeton to Highway 97C junction (excluding 70km/h section through Aspen Grove)
80
90
Highway 6
New Denver to Purdy Rd, north of Hills (excluding 70km/h section through Hills)
80
90
Highway 6
Purdy Road, Hills to Upper Brouse Road, Nakusp
90
100
Highway 33
South of Gallagher Road to McCulloch Road
90
100
Highway 33
North of Highway 3 junction, Rock Creek to Westbridge
90
100
Highway 97
North of Willow Drive, 70 Mile House to BCR Overpass, 100 Mile House
100
110
Highway 97
Gatzke Rd, north of Oyama to College Way, south of Vernon
90
100 – Pending completion of engineering assessment to determine if median barriers are required before implementation of the new speed limit
Highway 97
Highway 97A junction near Swan Lake to Westside Rd
80
90
Highway 97A
North of Smith Drive, Armstrong to Highway 97B junction, Enderby (excluding 50 km/h section through Enderby)
90
100
Highway 97A
Highway 97B junction, near Grindrod to Sicamous (excluding 50 km/h section through Grindrod)
80
90
Highway 97C
Merritt to Aspen Grove
100
110
Highway 97C
Aspen Grove to Drought Hill Interchange, Peachland
110
120
(starts July 2,2014)
Remember, speed limits are the maximum speed for ideal conditions so reduce speed in rough weather or poor road conditions. Checking DriveBC before leaving home is a good idea, too.
Your safety remains the ministry's number one priority. We will continue to closely monitor safety on all provincial highways, and are committed to the ongoing evaluation and monitoring of speed limits and safety measures. We'll be working closely with the road safety community through the Road Safety Executive Steering Committee.
This committee includes the ministry as well as health professionals such as the Provincial Health Officer and the Chief Coroner, the RCMP and local law enforcement, ICBC, WorkSafeBC, and RoadSafetyBC. The ministry will also work to improve the way that data critical to identifying trends in highway safety is shared among all committee members.
The number of serious crashes on provincial highways has decreased by 28 per cent since 2003. This is the direct result of targeted and strategic enforcement, driver education, improved vehicle technology, and increased penalties.
Share this page: