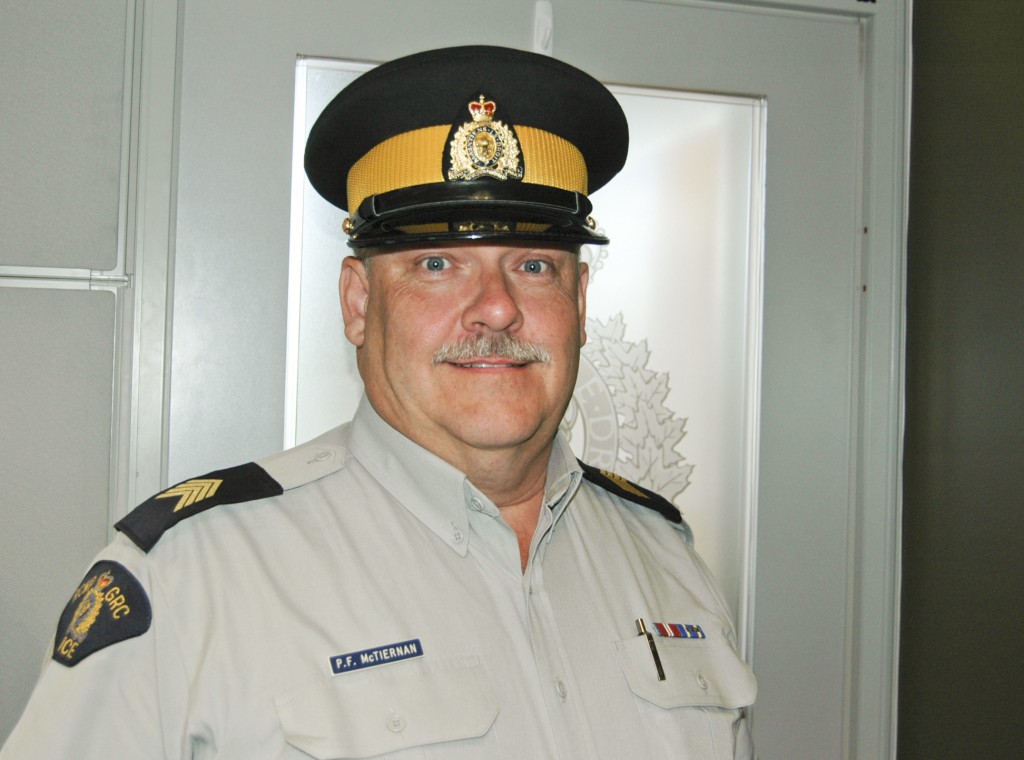 Police officers not only enforce Cone Zones, they are also protected by them. Sure, bright orange pylons aren't usually present to announce when an officer is in a vulnerable position, but drivers should still approach with caution police and other emergency personnel working along roads.
RCMP Staff Sgt. Pat McTiernan has been experiencing Cone Zones from the perspectives of both enforcer and roadside worker for 35 years. He has been struck, tended to scenes where others have been struck, and witnessed many forms of dangerous driving through work zones.
We recently had a one-on-one with McTiernan, in which he talked about his near death experience while on the job, and ways the average driver can prevent roadside tragedies.
TranBC: Welcome Staff Sgt. Please introduce yourself.
McTiernan: My name is Staff Sgt. Pat McTiernan. I'm the Operations NCO for the North District Traffic Services [a division of the RCMP] out of Prince George.
I currently have 35 and a half years of service – about 30 of that is in traffic services, in various roles. [I have been] an investigator, a collision analyst, a collision re-constructionist, and a traffic unit commander, and now as the regional operations NCO for all of the north.
TranBC: What would you like the public to understand about Cone Zones?
McTiernan: When you are travelling into a construction zone, you have no idea what may come into your path of travel. And that's why the people working there, the flaggers and others, are working there – to make sure that it's safe for you. But you must pay attention in order to ensure your safety through that construction zone.
We often see motorists who slow down and take that opportunity to use their cell phones while going through a construction zone because they are going slower and they figure that they have more time to deal with anything that is going to happen, any hazard. We've had a number of crashes here in the north, where people have gone into construction zones and, for one reason or another, didn't pay attention to the flag person and we've had a construction worker struck.
TranBC: How are emergency vehicles related to Cone Zones?
McTiernan: The same applies when you're dealing with emergency vehicles on the highway. The classic example is a police car that has someone pulled over. In many cases, people will go by that police car at the speed limit. The law in British Columbia requires you to slow down and change lanes away from the police car when you go by it, or any other emergency vehicle for that matter that is on the highway. Everybody takes for granted the police car is writing a ticket. Drivers see the policeman is out of his car beside the violator and think he is going to serve the ticket and come back to the car. But what they don't take into consideration is that the policeman may have just pulled over a stolen car. He may have to contend with the suspect. So when you drive by at 100km/h, you're not taking into consideration the other circumstances that could result in the injury to somebody on the highway.
This goes for anyone working on the highway. Take the BC Ambulance Service for example. Those rigs are fairly wide. When they open their doors and start working around a crash scene or on the side of the highway for some reason you are going to have to take a wide berth around the ambulance, and you need to take that into consideration in advance. In order to accommodate them, you need to slow down and consider oncoming traffic and other things happening. You should ask yourself – are they going to swing a gurney out towards you when you are on the highway?
TranBC: You had a very close call on the roadside. Can you tell us a bit about it?
McTiernan: I had a situation in Coquitlam some years ago, where I was returning back to the station at the end of my shift. It was the end of the day, and I just wanted to go back and get my paperwork done and my shift was over. I remember pulling a lady over for speeding, because she was right beside a marked police car and she had just gotten a new car and she wasn't paying attention to the speedometer and it just drove really well.
I pulled her over to have a chat with her and, while I was talking to her, I had my police car offset. Many people wonder why policemen offset their police cars from their violators. Well, it's to create that protective pocket off the front of the car that the policeman stands in while he is talking to the violator. In that circumstance I was standing in that protective pocket, when a five tonne truck came by and took off the side of my car. His flat deck cut into the back fender and as he approached the left rear door, he ripped the door clean off the car and the door came flying through the air and struck me as I stood beside the violator's door and knocked me across the hood of her car. That's a circumstance where my car didn't come forward, but a piece of my car came forward and struck me.
TranBC: Were you hurt?
McTiernan: Fortunately, although I was injured, I was back to work within days and we were able to catch the guy that struck my car as it was a hit and run. He didn't come forward because he thought he'd killed a police officer. It was a momentary lapse and that's all it takes – a momentary lapse for construction workers, police, ambulance workers, tow truck drivers – any of those people, a single momentary lapse can result in tragedy.
Do you have a Cone Zone story? If so, please feel free to share it in the comments section below. Thanks!
Share this page: