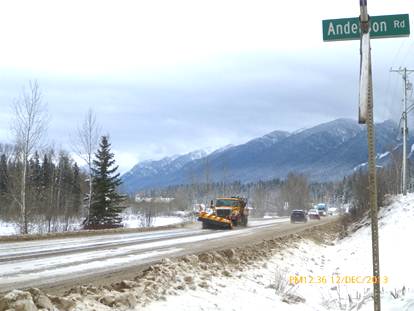 If you live in or travel through the East Kootenays, you know what the weather and the roads have been like lately. If you haven't been through there in the last couple of weeks, well, here's a quick recap of what you missed out on: winter driving conditions. Everywhere.
Now this area certainly isn't any stranger to winter. The snow can fall thick and fast, and quick weather changes can mean dramatically different road conditions from one kilometre to the next. But the winter driving conditions have been more severe than usual. Why?
What Happened
It all started in late November with a series of snow falls at near zero temperatures. Being near freezing, some of the snow melted, creating slush. Fairly typical weather for the area at this time of year. Then things changed.
An intense snowstorm set in, with accumulations up to 9 cm an hour. And then temperatures fell drastically, with lows below -30 degrees.
The Maintenance Contractor Responds
During the intense snowstorm, Mainroad East Kootenay Contracting (our maintenance contractor in the area), concentrated its resources to clear as much of the snow off the roads as possible. On December 1st and 2nd in the Elk Valley area, they had 27 operators plowing the roads and used over 1000 tonnes of sand (or "winter abrasive") to provide traction on the roads.
That kind of response is important, as the roads in this area require high standards for maintenance. That means Mainroad needs to keep the main routes to less than 4 cm of snow. While that sounds good on paper, and we work to ensure they meet those standards to the best of their ability, if the snow is falling too quickly, sometimes it's just not physically possible to maintain that standard. That was the case here, and the roads ended up covered with thick, compact snow.
Winter Maintenance Strategies
There are a number of strategies our maintenance contractors use in conditions like that, but it really depends on the temperature.
Salt, for example, can be an effective method to maintain winter roads. It helps to melt the ice, and then the slush can be plowed away. But you have to be careful with that. Salts are only effective in certain temperatures. If it goes below -12, salt just won't work. Also, if you melt the ice and then the temperature suddenly dips, you can actually be making things worse, because that slush and melted water is just going to freeze again.
Ice blading is another method that's frequently used. That's when the plow goes over the ice with a large, serrated blade and cuts grooves directly into the ice. These grooves help hold the sand to help increase traction. It's the best way to ensure safe driving when the road is covered in compact snow and ice.
Current Conditions
Fortunately, conditions have changed, and things are warming up. Mainroad is actively removing compact snow with salt to break up the ice and plow and clear the roads.
But this story still serves as a good reminder of what winter driving can be. You can be sure crews are out trying to keep the roads as safe as possible, but you never know what kind of conditions you might encounter, and it always pays to know before you go and be prepared.
Be careful out there, and safe travels.
Share this page: