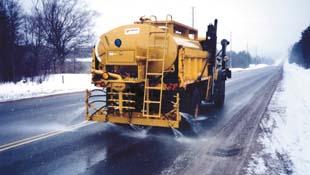 Have you ever been behind one of our maintenance contractors in the winter and watched as they sprayed liquid on the road? It's often mistaken for water, but it's more than that. It's actually salt water, or "brine," and it's very useful when trying to keep snow and ice off the road.
If there's just a light skiff of snow, the brine will help to melt it and prevent it from freezing again, keeping the road nice and clear. If the snow is too heavy, the brine is still useful, as it creates a barrier and stops the snow from sticking to the surface of the road, making it much easier for plows to clear it out of the way.
Salt is a staple of our winter maintenance routine. Sometimes salt is used in a liquid, sometimes as a solid, and there are different types, too. And depending on the concentration, mix and application, it can have different effects. Some salts work faster than others and some work better at lower temperatures, while others are longer lasting but can take time to start working.
There's a lot of science behind it, but there's a real art to using salt as well. Using a fast-acting salt can work well when there isn't much snow, for example. But if the snow keeps coming, the fast-acting option will create a lot of water, which will dilute the salt and make it less effective. Our contractors have to understand all those pros and cons, but they have to consider more than just the type of salt and how to apply it. They also have to think about air and road temperatures, humidity, traffic volumes, weather forecasts and other variables.
It's a balancing act that means different areas of the province can see salt used in different ways at different times, but it's always with the same goal — to make our roads safer for winter driving.
Share this page: