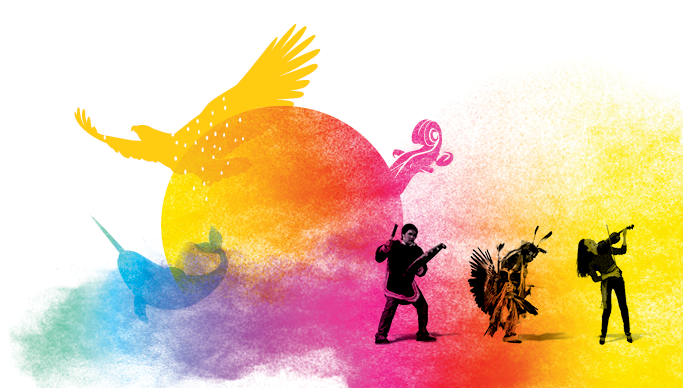 In recognition of National Indigenous Peoples Day  on June 21, here are some tales of travel – from now and long ago. When present-day travellers take these routes, they experience First Nations culture along the way.
Cross the Hagwilget Bridge over the Bulkley River to journey a historic trail used for hundreds of years by Indigenous traders. Passing over the modern bridge offers breathtaking views into the canyon far below. For the full experience, walk across the bridge while imagining it's one of the earlier cedar rope and wood Hagwilget bridges. The trip is a tribute all bridge builders past and present.

Hagwilget Bridge – Then and Now
Travelling Nisga'a Highway 113 recognizes a journey that began in 1887, when a group of Nisga'a chiefs paddled from their remote northwestern territory, to speak to provincial representatives in Victoria, about resolving issues with European settlers. The highway's number reflects the resolution reached 113 years later, with the signing of the Nisga'a Treaty by the Nisga'a Nation, British Columbia and Canada.
Highway 113 also offers a view to the further past of the Nisga'a people. Take a peek at our webcam located at Nisga'a Memorial Lava Beds Park, site of a volcanic eruption about 250 years ago, which destroyed two Nisga'a villages. The webcam is one of three along Highway 113 including one at Grizzly Hill along an extension of the highway to Gingolx.

Signage for the Nisga'a Highway and a webcam view at Nisga'a Lava Beds Memorial Park
Highway 99 travellers between Vancouver and Whistler can follow the history and culture of the Squamish and Lil'wat people through seven interpretive kiosks. The structures, a partnership between the First Nations and the ministry, resemble Coast Salish cedar hats and feature information about the area's culture, legends and geography. Take a look at the Squamish Lil'wat Cultural Centre site then click on the map for the Cultural Journey Sea-to-Sky Highway Route for a self-guided trip.
Along the way, you'll also see First Nations names on signage for the four communities through which Highway 99 passes. The Squamish pedestrian overpass depicts thunderbird and serpent symbols while enabling students to safely walk or bike to and from school.

Thunderbird's head supports Squamish overpass; Cultural Journey Sea-to-Sky kiosk
No B.C. journey would be complete without travelling a waterway, and the Klemtu ferry terminal on the northwest coast welcomes visitors with modern amenities and culturally rich Kitasoo/Xai'xais design. The terminal building, a project involving the Ministry of Transportation and Infrastructure, BC Ferries and the First Nations, received two Northern Builders Awards.

Klemtu Ferry Terminal
First Nations and the ministry have been working together on the road to the future. Here's to more successful collaborations.
Share this page: