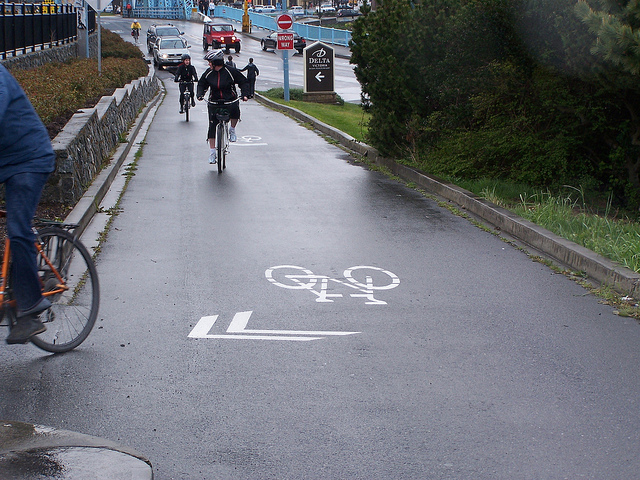 There's been some confusion over the years as to exactly where bicycles fit on our roads. Do they stay on the shoulder (or bike lane if it's there)? Do they ride with or against traffic? Are they allowed to ride on the road?
Here's what you need to know:
People riding a bicycle have the same rights and responsibilities as those driving a motor vehicle 
Since bicycles are generally slower than regular traffic, they are supposed to move as far to the right as practicable, as is the case with all slower-moving vehicles, so other traffic can safely pass.
But that doesn't mean you'll always find cyclists at the side of the road. In fact, it can be safer for them at times to take the centre lane. This is especially true when the road is narrow and there are hazards where they would normally ride. While we work to keep our roads safe and clear, cyclists could face any number of potential dangers that could force a cyclist from the side of the road, like pot holes, or branches and debris.
Parked cars can be particularly perilous, and you should expect cyclists to be riding at least a metre away from them to avoid being hit by a door that suddenly swings open (something that's common enough to have its own name – being "doored"). In fact, as of September 2020, anyone opening the door of a parked car when it is not reasonably safe to do so will face an increased fine of $368.  This new fine is about quadruple the current fine of $81, which is among the lowest in Canada.
The more cyclists are treated like any other vehicle, the easier and safer it becomes for them to share the road with cars and trucks. Here are a few more tips for  you cyclists out there who want to be treated like other vehicles:
Be visible. Motor vehicles have lights, and lots of them, so equip your bike with front lights (white) and rear lights (red). It's not just for visibility – it's the law. And don't forget to wear reflective clothing to be sure drivers can see you.
Signal. Just like you would as if you were driving a car. And leave some time between signalling and acting to give those around you a chance to know what you're doing.
Ride predictably. Stick to the rules of the road and, as much as possible, ride in a straight line. Weaving in and out of parked cars, for example, can make your movements harder to anticipate and increases the risk of an accident.
If you'd like to learn more about cycling safety, the BikeSense website is a wealth of information, and is well worth a look.
Do you have a tip for making the road a better place for drivers and cyclists? Let us know in the comments section below.
And if you liked this blog, check out:
Share this page: