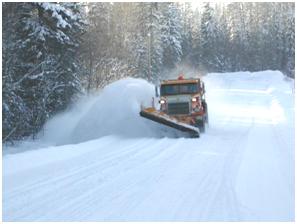 It's winter, the snow's falling, and you're busy packing the car getting ready for your trip to visit friends and family for the holidays. Finally, you're ready to head out and, as you wait for your windshield to defog, you notice the snow is starting to stick on the road. This better not impact your trip!
Unfortunately, the weather can be unpredictable, but thankfully our maintenance contractors aren't. They're out there 24-hours a day, seven days a week, monitoring and clearing the roads to make them safe and keep traffic flowing.
How much work are they doing? Turns out it's a lot, and to show just how much, we've got some numbers for you. Big ones.
The province is divided up into 28 different service areas, each with its own maintenance contractor. Between them, they have more than 2,000 employees, 900 hundred trucks and pieces of equipment, and they look after nearly 50,000 kilometres of road. And if you think those are some big numbers, check out what they do in an average winter; they will:
Use 100,000 tonnes of salt
Remove 125,000 kilometres of compact snow/ice
Use 750,000 tonnes of winter abrasives (aka gravel)
Plow 2.8 million kilometres of road
If you thought those numbers were impressive, consider this, from the Coquihalla to the Kicking Horse Canyon to the Nisga'a Highway and everywhere in between, contractors drive an average of 10,000,000 kilometres a year maintaining our B.C. highways. That's enough to circle the globe 250 times!
We've covered enough numbers to make a good math lesson, but if you add them all up, you'll find our roads are a much safer, cleaner place thanks to the men and women who work every day to keep them in good shape.
For more information about our maintenance contractors, check out our Highway Maintenance Agreements page.
Share this page: