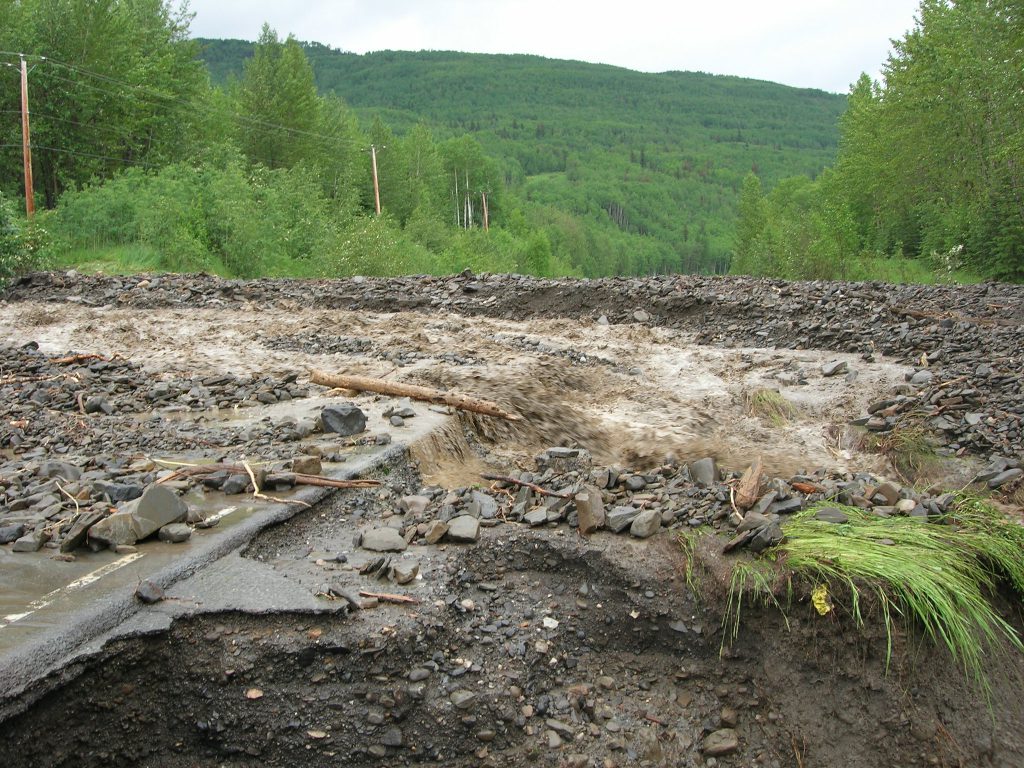 It was an epic rainstorm and a marathon recovery…but things have firmed up nicely in the Peace. After massive rainfalls damaged more than 140 roads in the Peace Region this summer, the highway system is now about 85 per cent repaired, thanks to the dedicated work of hundreds of people including ministry staff, maintenance contractor personnel, consulting engineers and construction experts, local equipment operators and labour suppliers. People arrived from all over the Province to get the Peace moving again.
How Flooding Impacted the Peace
Last June, a one-in-40-year rainfall dumped more than 160 millimetres of rain in the area, causing extensive flooding. Less than two weeks later, another heavy rainfall further saturated the Peace Region. Waterways swelled over their banks, and flooding and road washouts were everywhere. In all, more than 280 sites were damaged, spanning an area of about 40,000 square kilometres.
The destruction dramatically affected locals, industry and tourists in the area. Highways 97 and 52 required lengthy detours through Alberta or the Yukon Territory. On Highway 97, 16 separate segments of the road were impassable, greatly affecting Dawson Creek and Chetwynd residents, many of whom work out of town.
Getting to Work
Given the short construction season, the region's bustling oil and gas activity, and farmers needing to get their grain and hay to market, the push was on. Ministry staff knew that it was crucial to get the region's extensive road network repaired and ready for winter, which arrives in Northern B.C. around late October.
Ministry staff, and maintenance contractors Caribou Road Services and Yellowhead Road and Bridge, were quickly on the scene with  equipment and tools to assess the damage and start the recovery. Additional resources came from the private sector and other parts of the province, bolstering the ranks within mere days.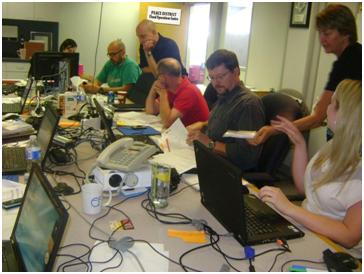 Additional construction equipment was brought in, bringing the count to about 100 heavy-duty machines at the height of activity. Crews used trucks capable of handling five-ton boulders, excavators, backhoes and tracked tractors and drills to clear debris, place rubble and rough-hewn rock around creeks and bridge foundations, re-construct roads and install temporary bridges. Our partners with the utilities, pipelines and the railway were also busy coordinating repairs to their infrastructure.
By July 1, about 70 per cent of the sites had been repaired, and Highway 52 was re-opened – just a week after the destructive rainfall of June 25 and 26. On July 6, Highway 97 between Chetwynd and Mackenzie Junction reopened to passenger vehicles, and to commercial vehicles with legal weights and dimensions.
Now
Only three side roads remain closed (with detours available) and all other routes are open to travel. (Of course, new things like slides, bad weather and crashes happen…so check DriveBC before you go). Some "off highway" repairs will continue over the winter, causing only minor delays for travellers. Work will continue into next summer, to remove the temporary detours on all roads, and restore the routes to their original state.
Staying Informed
Between the summer flooding in the Peace Region, and the September flooding on Highway 37 and 37A, it was a soggy season for northern B.C. But now, due to the extraordinary work of many, the roads are in good shape.
Photos of the road repairs and earlier damage are on the ministry's Flickr site. As always, check DriveBC for current conditions, on all B.C. highways. And, to take it further, subscribe to Twitter@DriveBC and you'll receive notifications.
Share this page: