There are many things you can do to be prepared for winter, one of which is knowing how to install winter tire chains. Below is a video from the Commercial Vehicle Safety and Enforcement team that gives general instructions on how to do it. Special thanks to our CVSE staff Steve Haywood, Bruce Calbick and Cole Delisle for creating the video.
Don't feel like watching the video? Here are step-by-step instructions to help you:
Step 1 – Lay the chains out on the ground with the traction part of the cross-link facing the ground. Ensure the chains are free of twists and tangles.
Step 2 – Place the chain over the tire with the fastener on the outside and the traction part facing up, away from the tire. Ensure the side chains and fastener hooks are not under the tire. Place excess loose crosslinks under the tire. Hook the inside fastener as tight as possible, followed by the outside fastener pulling as tight as possible.
Step 3 – Drive forwards or backwards over the chain until the hooks are at axle height, about halfway up the tire.
Step 4 – Hook the inner chain first, as tight as possible, leaving just enough room to hook the outer fastener.
Step 5 – First, hook the middle fastener tightly.
Step 6 – Next, hook up the inside rail as tight as possible.
Step 7 – Hook up the outside rail as tight as possible.
Step 8 – If chains are equipped with tightening device (d-cam tightener), tighten now. If not, use bungee cords to remove slack.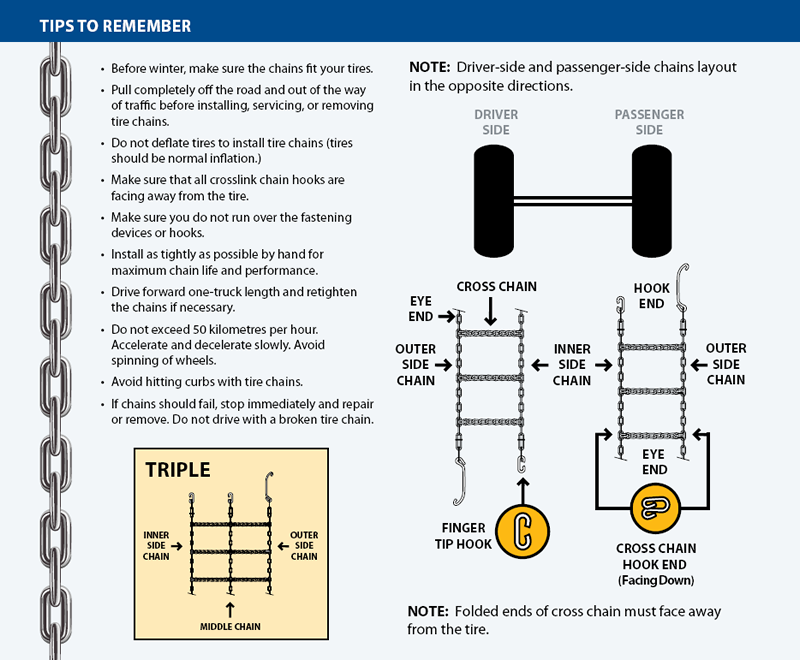 For more winter driving safety how-tos, check out the following:
> How to Measure Tread Depth in 15 Seconds

> 15 Seconds to Safety: How to Identify a Winter Tire
Share this page: