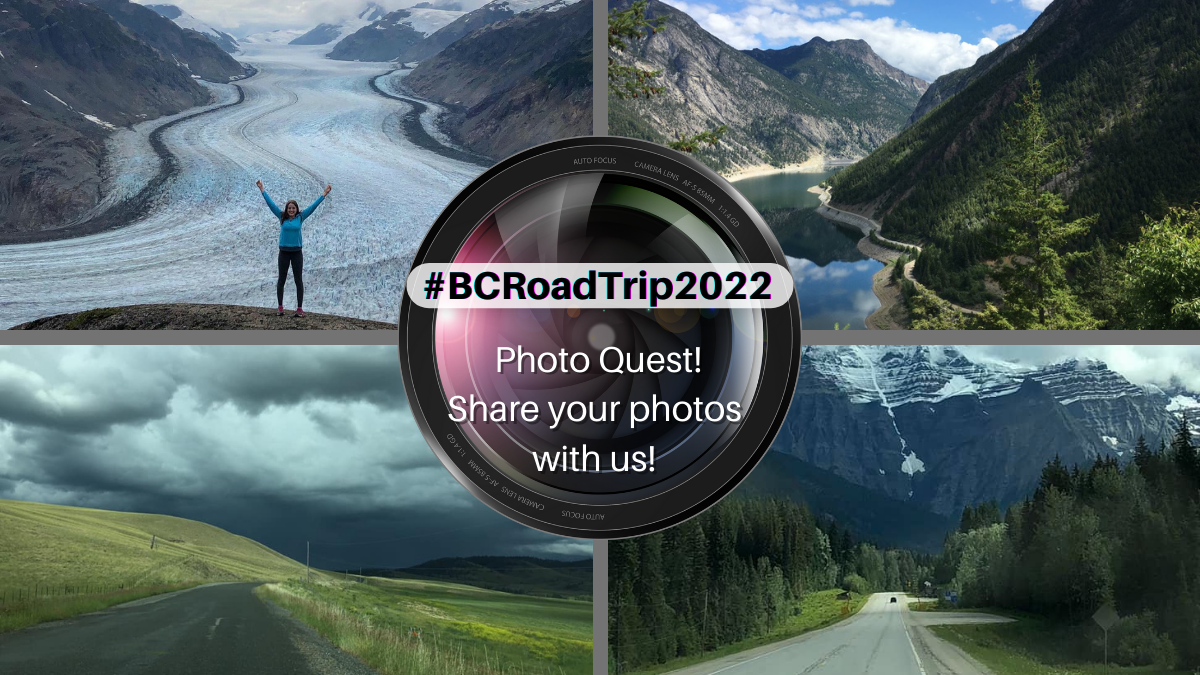 This summer (June 16 – September 2, 2022), we're looking for your BC road trip photos with the #BCRoadTrip2022 hashtag on Twitter and Instagram. If you have a Facebook account, then post your pics to our BC Transportation and Infrastructure Facebook page.
Show off your photography skills and your road trip excitement! We'll be sharing them on our social media channels and, at the end of the quest, we'll feature our favourites here on TranBC.
We ran similar photo quests in 2014, 2018 and 2019 (you can view the top photos from those years); a lot of people had fun taking part, so we thought hey – let's do it again!
After all, the road trip is a time-honoured tradition of getting in your vehicle, turning up the tunes and heading out on the highway. There's nothing quite like travelling the open road, soaking in the sights, sounds, and getting to know the communities along the way.
From coastal mountains to Interior deserts and northern lakes, there's so much diverse terrain to cover across BC. Whether you're travelling solo, with friends or as part of an epic family adventure, BC road trips create unforgettable memories.
Be sure to let us know what highway or side road you were on or near, and anything else interesting about the photo (and please tag us in your photos to really let us know). Whether you drive professionally or you're just taking your car, truck, RV, motorcycle or bicycle out to explore, we would love to see BC through your eyes.
What kinds of pictures? How about…
Breathtaking views
Unique perspectives
Oddities (i.e. strange attractions, unusual places)
Cool stuff
Safety first. Please…
Don't take photos while driving (it's illegal, so leave it to your passengers)
Don't put yourself in dangerous situations (for example, don't cause bear jams)
So show us your #BCRoadTrip2022 photos; we'd love to help share them, and maybe even inspire other like-minded travellers. We'll be featuring our favourites here on TranBC.
Safe (and picturesque) travels! And be sure to let DriveBC help guide your way.
REMINDER: We are currently repairing many stretches of road damaged in the November 2021 atmospheric river event. With so many highway flood recovery projects happening this summer, it's important that you plan your travels accordingly and expect delays. Here's a look at travel advisories for Highway 1 from Kamloops to Alberta.
For a look at some of the attractions, history and activities that are available along our beautiful province via our highway system, explore these blogs.
Share this page: