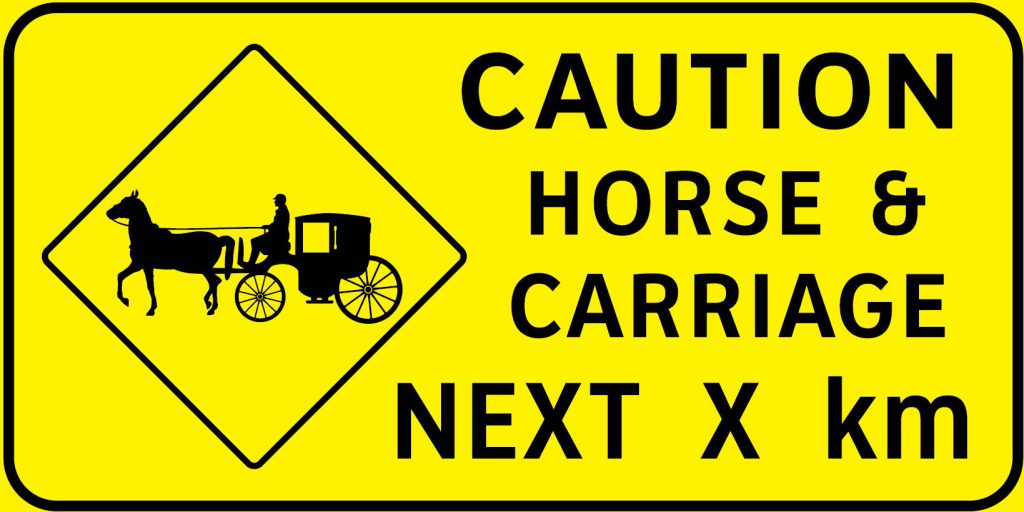 70 Mile House is a hotbed of horse-drawn carriage activity and it's also where one of our more unusual signs originates, to keep carriage drivers, horses and motorists safely on course.
Back in 2011, our Cariboo District office was contacted by the Cariboo Country Carriage Club whose members train on local side roads. The club requested signage to warn local and visiting motorists that around the next corner, they could come upon a unicorn…
Yes, that's correct – there are unicorns in the world of carriage driving!
But don't expect to see a horse with a spiral tusk on its forehead – a unicorn is a trio of horses harnessed in a triangular formation. Other kinds of "horse power" harnessed for carriage driving might be draught horses, Welsh ponies, miniature horses, a Canadian (Canada's national horse) or two or four, or even mules. The carriages are two or four wheeled, and can be antiques, modern technically optimized conveyances or something in between.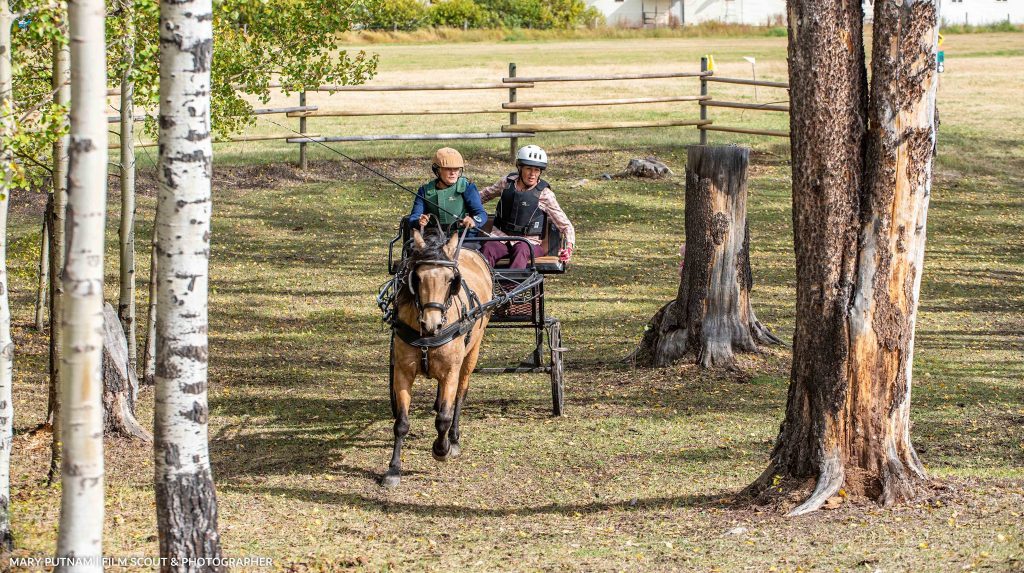 Whatever the setup, carriage drivers who want to take part in competitive events, must have well-trained horses and that's where BC's side roads come in. The horses need to be in excellent physical condition to compete in dressage (a predetermined sequence of movements) and marathons (timed events on a course of sharp turns around trees, through ponds and other natural features). There's also obstacle driving – weaving through a course of narrowly set cones (we love the cones aspect!).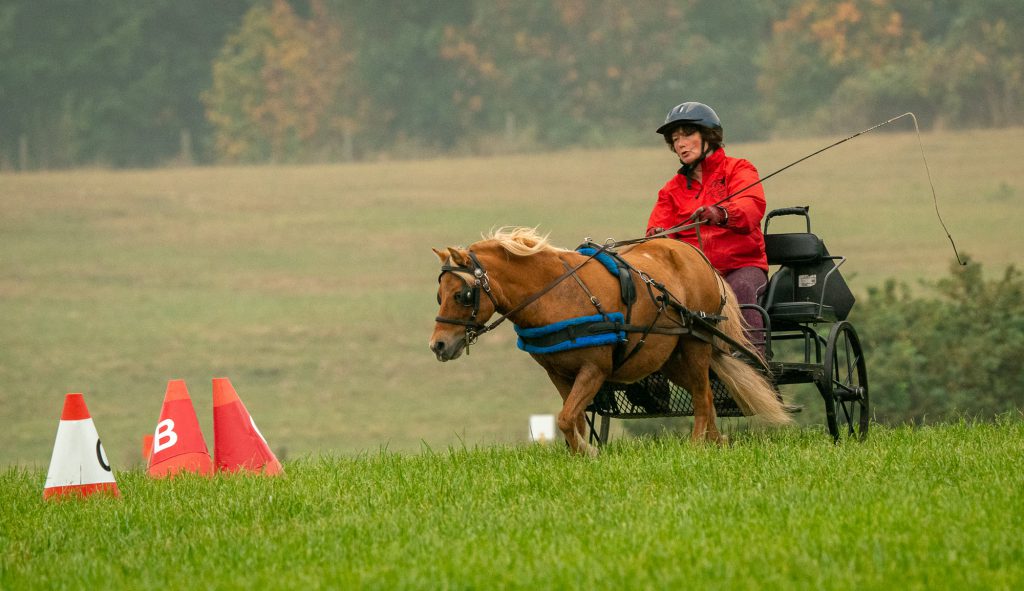 Harnessing the Sign Idea for Safety
When Michelle Schilling, South Cariboo operations manager was asked about the possibility of carriage driving signs for side roads in the 70 Mile House, she agreed that bright visual warnings would make travel safer for drivers of carriages and motor vehicles.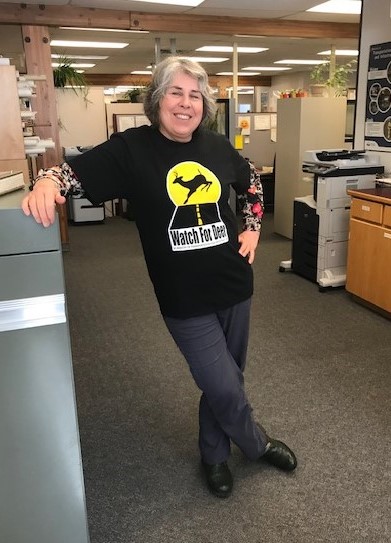 Michelle worked with others in our ministry including a traffic engineer, policy analyst and a sign designer to consider the request and develop a carriage driving sign for BC. (One is not yet standardized for Canada, in the manual of uniform traffic devices).
Signs were installed along side roads in the 70 Mile area, that are frequently travelled by carriage drivers. Interestingly, some of the roads where carriage drivers train were once part of the old Cariboo Wagon Road (or "Cariboo Waggon Road" as it's spelled on maps from that era).
Sharing the Roads with Horse-Drawn Carriages
One important thing to recognize is the operator of a horse and carriage has the legal right to use provincial roads (except for busy, higher-speed highways), and has to obey the rules of the road just like a motorist. A horse and carriage is a "vehicle" as defined in Section 1 of the Motor Vehicle Act.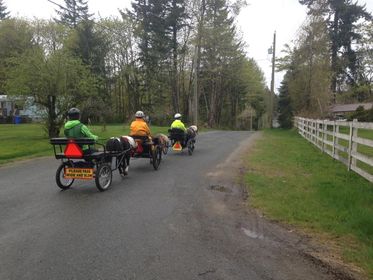 Watch for horse-drawn carriages when you see the warning sign, especially on weekends.
Give these vehicles lots of space.
Slow down when approaching and accelerate gradually after passing a carriage.
Don't stop to take photos of carriage driving (as interesting as the sight might be).
Be aware that horses are sensitive and can be unpredictable – turn off your stereo and don't honk or yell.
Carriage Driving in BC
While 70 Mile House might be the birthplace of BC's carriage driving sign, carriage driving also happens on southern Vancouver Island, the Okanagan, Barriere, Kamloops, other parts of the Cariboo, and the Peace area. Events are advertised by the BC Carriage Driving Society.
After Michelle Schilling worked to develop BC's carriage driving sign, she began volunteering at Cariboo Country Carriage Club events. "It's a really good family and spectator sport," says Michelle. "There are beautiful events ­– very polite, very organized. It's fun to watch them run through water and to see the commitment to safety. I hope people get a chance to see it."
Carriage driving brings together equestrian skills, athleticism (horses and drivers), competition and history. We're happy to have contributed in a small way to this pursuit that links with BC's transportation past, so it can be safely enjoyed in the present.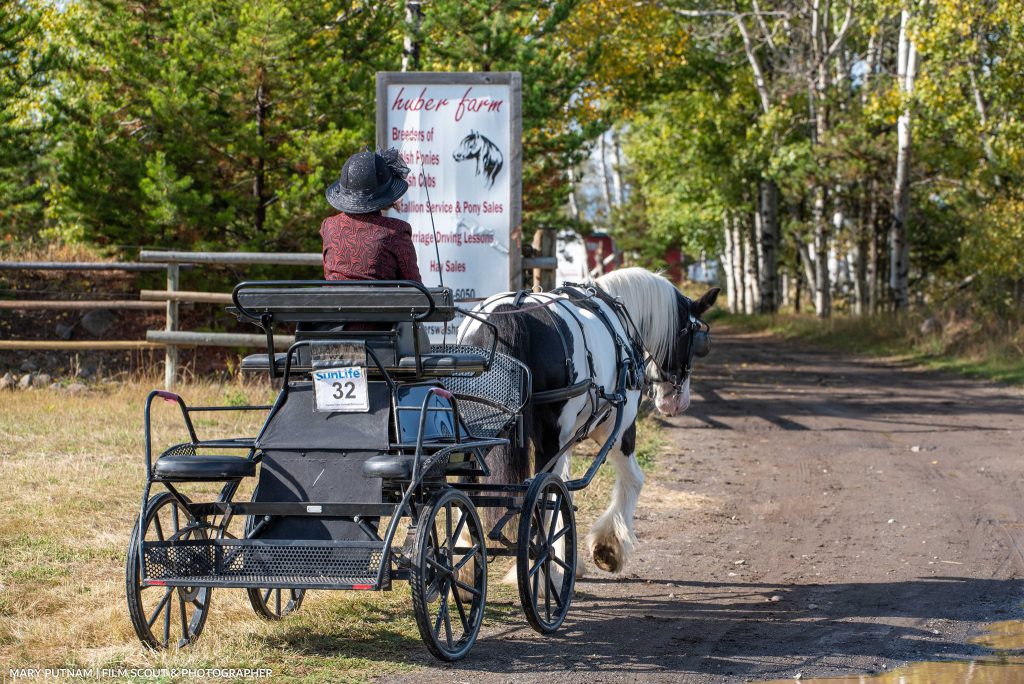 Check out these other equestrian and signage related blogs:
How to Share the Road Safely with Horseback Riders
Left for the Laundromat – BC's Unusual Highway Signs
A Look Back at the BC Provincial Sign Shop
Chaos vs. Consistency: Reasons Behind BC's Sign Rules
Signpost Up Ahead: The Hazards of Illegal Highway Signs
Do you have any questions about signs you see on BC highways? Ask us below.
Share this page: