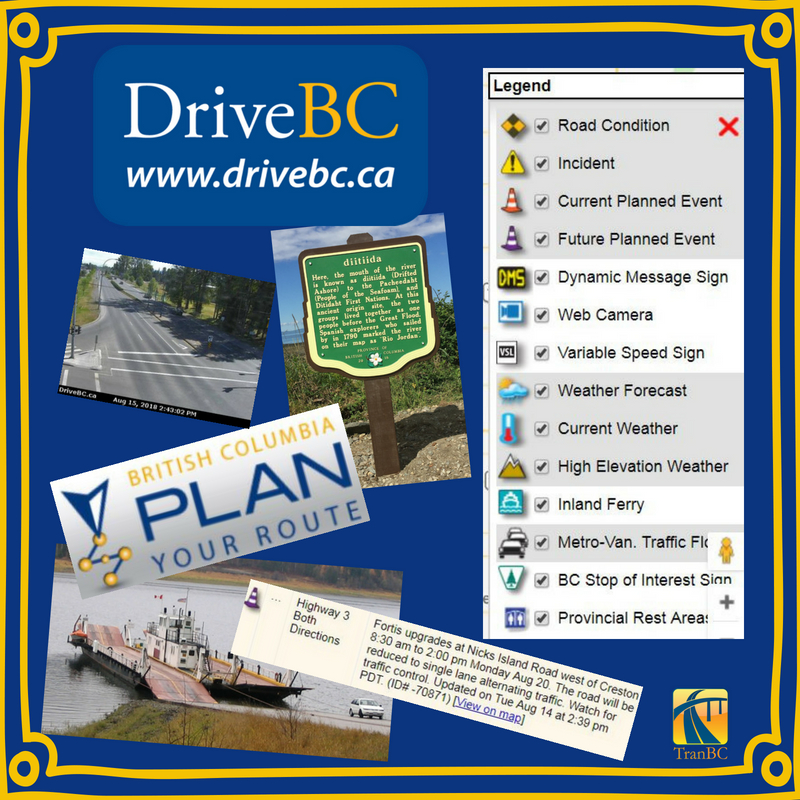 Summer travellers, who first visit the DriveBC website before they head out, find valuable information including routes, weather, border crossings and interesting stops. Check these features and links on DriveBC, to prepare your launch to a great holiday having fun with family and friends, camping, fishing, hiking or doing what makes summer superb for you!
Look over these pointers to prepare you and your vehicle for a safe journey on BC highways. Tips include advice on planning your route and ways to avoid collisions with wildlife.

Get up to speed on the latest road conditions, plus learn about any future happenings which could affect your route. When on the DriveBC map, be sure to click on the "Future Planned Events" box (by the purple cone) on the legend. For us, "planned events" means construction, maintenance or special events such as parades or athletic competitions which could affect traffic. If you're looking for tourist-oriented events – say Chetwynd's Chainsaw Carving Championship or the Alert Bay Music Festival, see #10.

Click on these icons on the DriveBC map and you'll see what's currently on these signs that change to reflect driving conditions. They provide you with even more information to make driving decisions.

Plan your breaks en route by using the rest area map, or click on the icons on the DriveBC legend. Click on a rest area and you'll find more information like whether it can be accessed by large vehicles or it has wireless Internet service.

Check out BC's Stop of Interest signs — each tell a story of a person, place or event significant to our provincial history. If you've travelled in BC or live close to a historic site, chances are that you have seen at least one of these signs — they've been a part of our landscape since 1958. You'll see them on the DriveBC legend.

Weather

Wondering if you're heading for sunshine or rain, and how that might affect your trip?  Click on the map icons for "Current Weather," "Weather Forecast" and "High Elevation Weather."

Enter your travel start and finish points and you'll receive just about everything that you'll want to know, in one package with a map and list of travel times, distance in kilometres and miles, rest area locations, steps-by-step instructions for your route and any road conditions or construction along the way.

Lower Mainland Travel Information

Click on the "Metro-Van. Traffic Flow" icon on the DriveBC legend to find out what's happening in the greater Vancouver area. We also have links to  TransLink for Metro Vancouver transit schedules and maps. Attending a big sporting or music event? Check the Park and Ride map to see where you can park your vehicle then take transit.

Enter the BC government's tourism website for festival listings, theme and circle driving routes, maps, accommodations and more.

Look up schedules and crossing times for the ministry's 14 inland ferry routes, which take passengers and vehicles over some of BC's lakes and rivers. As part of the province's highway system, these ferries are free.

Find information on sailing times and fares, for travel on the coast and islands of beautiful BC.

Routes Beyond BC

Get road information for Canada's other provinces and territories, and the United States.

View BC highway conditions and traffic volumes via more than 400 webcams located around the province. When using the DriveBC map, click on the "web camera" box on the right side of the page, then scroll over the webcam icons on the map and the webcam views will pop up!
Explore all that DriveBC offers, and check out our short tutorials, to make your summer vacation the best ever!
Share this page: