You asked for it and here it is.
Hop aboard our BC Road Trip Time Machine and travel back to Highway 1, through the Fraser Canyon from Hope to Lytton, circa 1966.
The significance of this road and its seven tunnels cannot be overstated.
In order to improve this portion of the Trans-Canada (the same general route used by the Royal Engineers to build the Cariboo Highway almost 150 years ago), some of the most difficult and expensive highway construction work in Canada had to be undertaken.
Between 1957 and 1964, seven tunnels were bored through the Coast Mountains in order to allow the highway to pass through the canyon.
The tunnels lie between Yale and Boston Bar and are named after nearby geographic features. They are (in order from south to north): Yale, Saddle Rock, Sailor Bar, Alexandra, Hell's Gate, Ferrabee and China Bar
Further major rock scaling projects were completed during 1974 – 1975 at Hell's Gate and additional improvements (including new lanes) have continued since then.
Another significant milestone can be seen at 4:28 minutes, as we cross the Fraser River on the new Alexandra Bridge. The bridge which had been recently completed in the early 1960s, replaced the Alexandra Suspension Bridge of 1926 (which can still be found just upstream). The new Alexandra Bridge was capable of carrying loads heavier than 35,000 lbs (the previous load limit) which meant that trucks could travel at legal loads through this section of Highway 1 – a huge boon to the commercial trucking industry in BC at the time.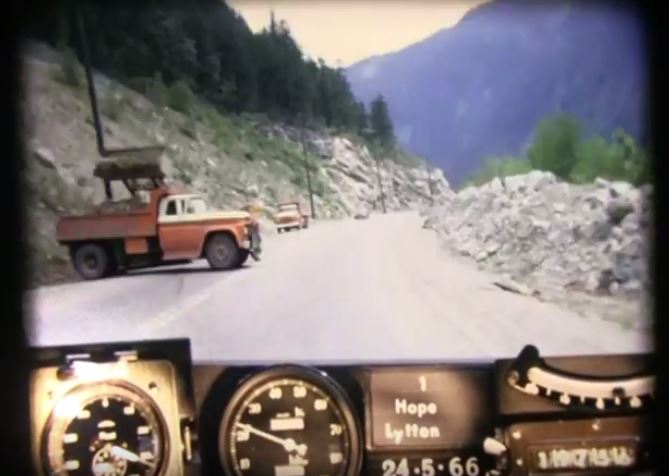 We recorded these nostalgic videos (or photologs) from 16mm film footage taken in 1966. The original photologs were collected by rigging a camera onto the dash of a car that took still images every 80 feet or so and then running them all together as a single film. As far as we know, the "Highways Department" (as it was then known) was the first organization in Canada to collect information this way in order to create a visual record of road condition information from across the province, thereby allowing our engineers to study a stretch of road without having to travel there. Pretty cool, eh?
If you've been riding along with us, you may have already toured the southern stretch of BC Highway 97, from the U.S. Border to Vernon, as well as the northern portion of 97 between Prince George to Dawson Creek and Highway 3A between Nelson and Balfour as it was in 1966. We have also driven over Vancouver Island's Malahat Highway and along Highway 1 and the original Port Mann Bridge in our BC Road Trip Time Machine travels.
Do you have any questions about this, or any of the other work we do? Let us know in the comments below. Stay tuned for more episodes in your special corner of the province as we work our way through the rest of the 1966 photolog footage.
Share this page: