If you want to attract fish, you need to think like a fish (or so the old adage goes). Until recently, any fish swimming up Heart Creek under BC Highway 6 in Fauquier might have been thinking that the world was conspiring against them. That's because the culvert carrying Heart Creek under the highway had been badly undercut from scouring during freshet runoff in recent years, making spawning upstream of it almost impossible.
Fear not little fishes! That pesky perched culvert has been replaced with an 18 metre long, clear span bridge which means approximately 250 metres of additional stream habitat for spawning.
Since the removal of the barrier culvert and installation of the new bridge, we can happily confirm that fish have successfully been able to spawn upstream of Highway 6 for the first time in more than 35 years!
How's that for thinking like a fish?
These improvements were funded by the ministry, the Fish and Wildlife Compensation Program and the Department of Fisheries and Oceans' Recreational Fisheries Conservation Partnership Program, along with generous support from the Nakusp Rod and Gun Club to enhance the local fishery in Heart Creek and Arrow Lake and fall in line with our environmental stewardship goals.
This restoration project is phase one of two on Heart Creek. Phase Two, which we hope to see happen in 2016 or 2017, will remove another barrier further upstream on Heart Creek. Planning is in the early stages now, but once the next barrier is replaced with a bridge, fish will be able to swim unimpeded up to approximately 1 kilometre further upstream, until they encounter a natural barrier. Once this second phase is completed, spawning area for the stream's Kokanee, Bull Trout and Rainbow Trout will be doubled. That's something we think fish will think highly of, don't you? Do you have any questions about this or any other the BC Ministry of Transportation and Infrastructure is involved in? Let us know in the comments below.
UPDATE: HEART CREEK PHASE #2 NOW COMPLETE!
A second fish barrier has been removed on Heart Creek, and an impressive 42 metre clear span bridge is now in place over Heart Creek, allowing fish to access an amazing 1.5 kilometres of habitat that has not been available for 40 years!  The initial results of 950 Kokanee spawning in Heart Creek this year are quite encouraging.
The Heart Creek #2 project moved forward with funding through Environment and Climate Change Canada's Environmental Damages Fund, and a grant through the Fish and Wildlife Compensation Program.  The remainder of the Heart Creek #2 bridge was funded through the Ministry's Environmental Enhancement Fund and the Southern Interior Region's Preservation Program.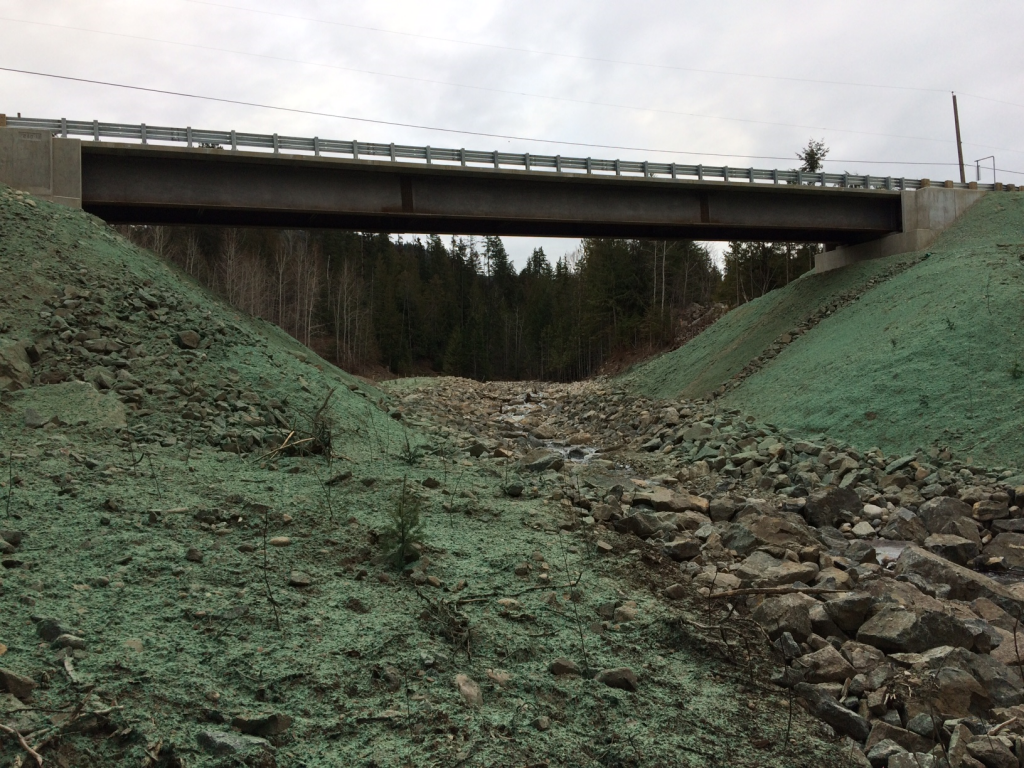 Throughout the two projects, members of the Nakusp Rod and Gun Club have been along for the ride, helping with filling out funding applications, planting trees and shrubs to enhance the fish habitat and even approaching a teacher at the local high school, Nakusp Secondary to help with the riparian planting along the creek and showcase the project.Way to go team! We are proud of the work we have accomplished here and you should be too. If you have any questions about this, or anything else the BC Ministry of Transportation and Infrastructure does, don't hesitate to let us know.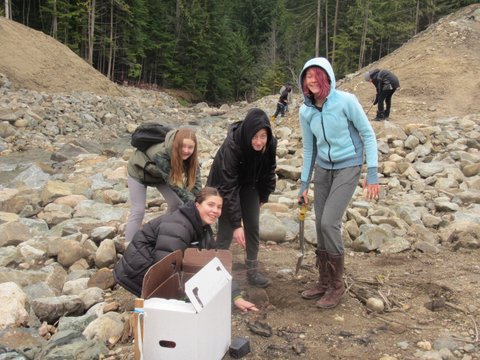 Share this page: