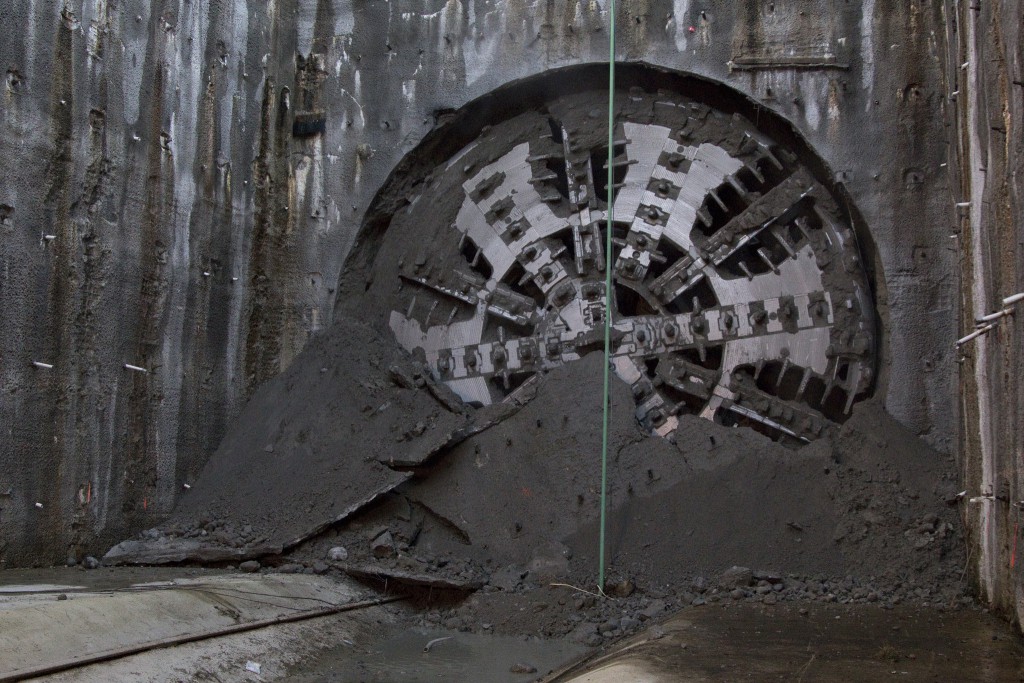 After churning through 2 km of dirt and rocks, "Alice", the Evergreen Line's tunnel boring machine, took her last bite out of the tunnel between Port Moody and Coquitlam on November 27, 2015. Now that the boring is complete, crews will begin taking Alice apart. Deconstruction will be a 24 hour a day, seven day a week job and is expected to take almost two months. The completion of the tunnel boring work is a significant milestone as it was the most complex and technically challenging part of the Evergreen Line Project.
Many other milestones have been reached on the rest of the line including:
Completion of elevated and at-grade guideways
Completion of trackwork on the guideways
Station buildings at Lougheed Town Centre, Burquitlam, Moody Centre, Inlet, Coquitlam Central, Lincoln and Lafarge Lake Douglas Stations are between 80% and 99% complete
What's next?
Now that the boring is complete, finishing work inside the tunnel will begin. This includes building the base and the centre wall, track work, tunnel ventilation, power and communication systems. Above ground work still to do includes: the final completion of stations, station plaza areas, park and ride facilities, road works and landscaping. Train testing is expected to begin in the tunnel in the fall of 2016 with the line operational in early 2017.
The Evergreen Line will link Burnaby, Port Moody and Coquitlam to Vancouver and will be fully integrated into the existing SkyTrain system at Lougheed Town Centre Station.  The project was originally scheduled to be complete in summer 2016, however the contractor faced challenging ground conditions which made tunnel boring process slower than anticipated. It's now over 75% complete, and will be open in early 2017. Once complete, B.C. will have the longest, fully automated rapid transit network in the world.
For more information on the project and the work underway to complete it, visit the Evergreen Line Rapid Transit website or leave us a comment in the space below.
Share this page: