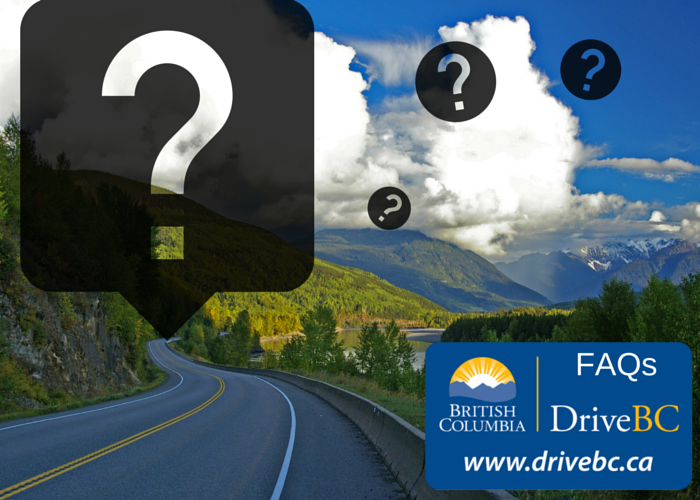 If you drive BC, we want you to "know before you go" by making DriveBC a regular part of pre-trip planning. Whatever we can do to make using the traveller information system easier, we're all for. That includes answering your questions.
We noticed some common questions, so we thought it would be a good idea to put them together as a helpful resource. Got a question about DriveBC? Good chance you'll find the answer here:
Q: How do you search for incidents or road conditions on DriveBC?
A: There are three ways to search incidents and road conditions.
Plan Your Route: This feature allows you to input a point A and point B location, providing you with step-by step directions and a listing of road conditions and events, Dynamic Message Signs and BC HighwayCams along a chosen route.0
>> Watch the video tutorial: Plan Your Route
Map View: You can zoom into the highway/route of interest to you, and click icons in the legend at the top right. This allows you to see the specific alerts you want along your chosen route. You can check road conditions, current planned events (Ie. road construction and special events), view conditions on the webams, and check current and forecasted weather.
>> Watch the video tutorial: How to Use the Map
Conditions & Events Tab: This page shows conditions and events in simple text format. You also have the option to narrow down your search by route or district.
Any incidents, planned construction and travelling information is posted on our site and can be found through each of these search options.
Rather have the info come directly to you? You can subscribe to alerts for your specific area in three ways: Twitter, email alerts, and RSS feed.
>> Watch the video tutorial: How to Subscribe
>> Watch the video tutorial: Road Conditions and Events Listings
Q: Why doesn't DriveBC have an app?
A: The DriveBC team did extensive research before deciding to develop a mobile website in place of a mobile app. The main reason was the cost involved with developing and maintaining apps for each type of mobile device available on the market (iPhone, iPad, Android, Blackberry etc.). Technology is changing constantly, and the team would not be able to keep up with the demand and cost for apps as new mobile devices are constantly becoming available. Instead, the team opted to develop a mobile website, which is accessible from all mobile devices.
Helpful tip: add the mobile site as an icon on your home screen so you can access it as easily as you would an app.
Q: When I searched "Victoria" in Plan Your Route it brought me to Victoria in Australia. What's up with that? 
A: The map interface you see on DriveBC and in the Plan Your Route feature is a Google Maps interface. DriveBC uses Google Maps to display provincial highway traveller information – the map itself is not under the control of the Ministry of Transportation and Infrastructure.
Helpful tip: specify "BC" when entering "to" and "from" locations to avoid it searching globally.
Q: How do you choose webcam locations?
A: Selections are based on a variety of criteria, including safety considerations, cellular/network communications, proximity to hydro power, the location's benefit to the travelling public and public demand.
>> Read the blog: Picking BC HighwayCams
Q: I was involved in an incident that may have been caught on your webcam. Can I get the video footage?
A: We only release images to police in an investigation. In these cases, we require the name of an attending Constable, their contact information and a case number. We then mail the images to them on a disk.
The images are low-resolution to protect public privacy. We hold on to still images for two weeks before overwriting them.
Q: What's the easiest way to find the webcams I use most often?
A: The MyCams feature saves the webcams you use most often in one area so you don't have to continually keep searching for them.
On the left-hand side of the home page you will find a link to BC Highway Webcams.  In this link you will find a list of our webcams. Select the webcam you would like to save and you will see a small red plus button that states "Add to My Highway Cams." The button is typically under the map beside the webcam image.
>> Watch the video: Learn to Use BC HighwayCams Like a Pro in 3 Minutes
Big thanks to everyone who uses DriveBC and takes the time to learn more. Don't see your question here? Feel free to post in the comments section below, and we'll get an answer for you.
Share this page: