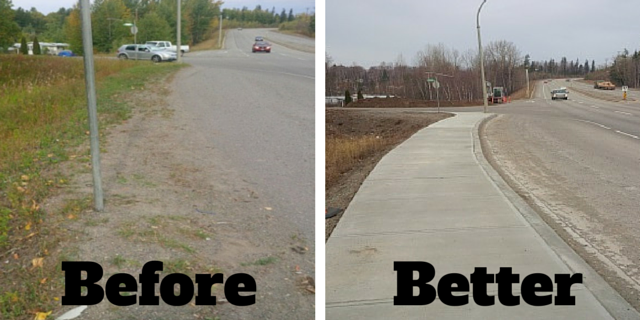 The Transit Minor Betterments Program is improving how British Columbians get around in a major way.
Ministry staff partner with local governments, BC Transit and TransLink to identify and deliver between 30 and 40 transit infrastructure upgrades every year.
Some projects are small, others are big – but all go to providing people with better access to this affordable and environmentally friendly mode of transportation.
"Overall, we've delivered more than 150 projects over the last seven years," says the ministry's Manager of BC Transit Initiatives, Levi Timmermans. "And that's coincided with a 30 per cent increase in transit ridership."
We choose improvement projects for this program based on…
Safety: It improves safety for transit users and drivers
Customer Service: It's based on feedback, responding directly to public and local government requests
Ridership: It increases the number of people using transit; for example, by targeting high ridership corridors
Accessibility: Expands transit services for seniors and people with mobility challenges
Reduced Emissions: Minimizes the impact of transportation on greenhouse gas emissions and energy consumption
So, what does a Transit Minor Betterments Program project look like? Here are a few examples from 2014 and 2015.
Prince George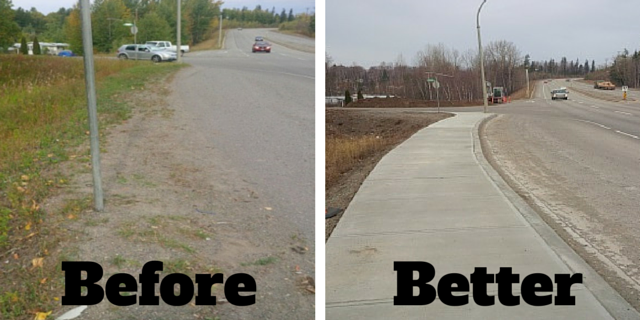 Concrete sidewalks were added to two transit bus stop locations along Highway 97 North in Prince George to improve pedestrian access.
Nelson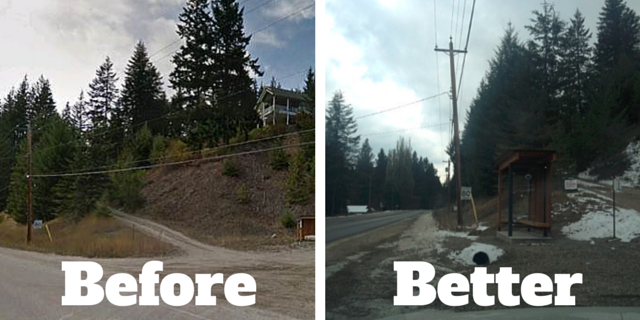 On highway 3A around Nelson, a bus shelter was relocated to a new location that better serves transit users.
Agassiz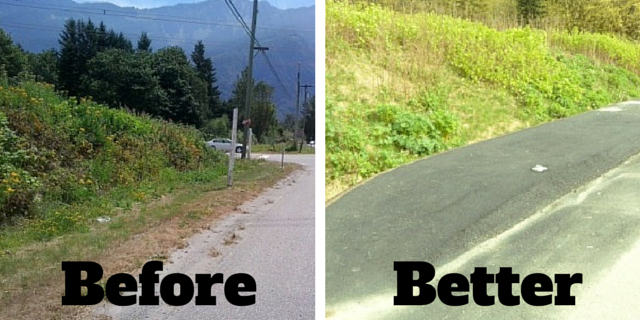 Access to two transit stops located on Highway 9 at Agassiz was improved by constructing wheelchair accessible raised bus stop pads.
Cowichan Valley

At the intersection of Mill Bay Road and Ferry Road in the Cowichan Valley, the existing bus stop was reconfigured to provide better access for pedestrians and improve traffic safety next to the bus stop.
Saanich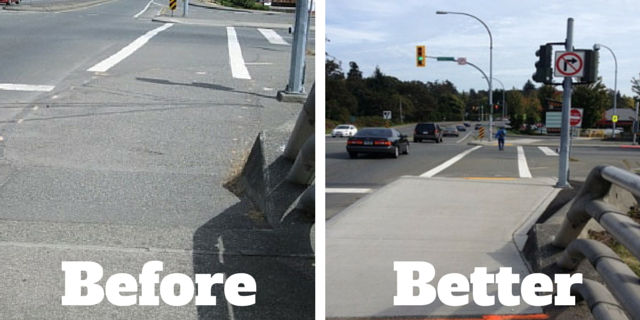 In Saanich, sidewalks and traffic islands at the Royal Oak Interchange were upgraded with proper letdowns to improve accessibility for people with mobility issues. Truncated dome pads were also installed on each end of the crosswalks (yellow in photo) to provide assistance for the visually impaired.
Vernon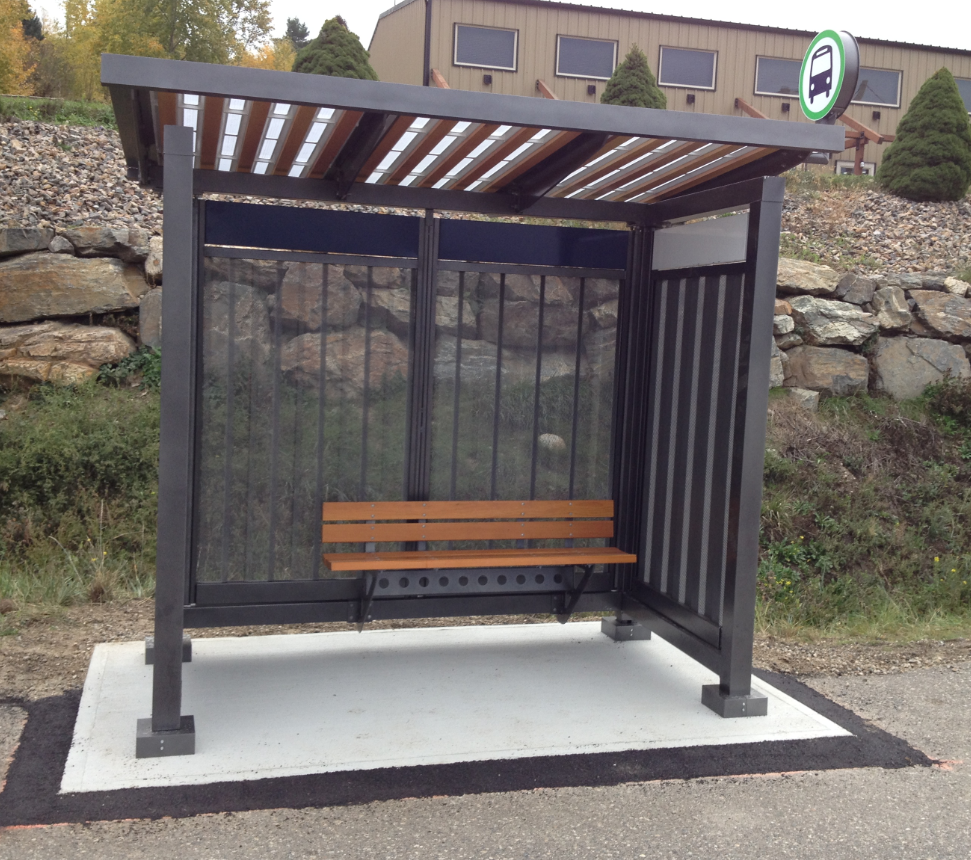 In Vernon, a vandal-proof metal mesh shelter was constructed near the intersection of Pleasant Valley Road and Greenhow Road.
Smithers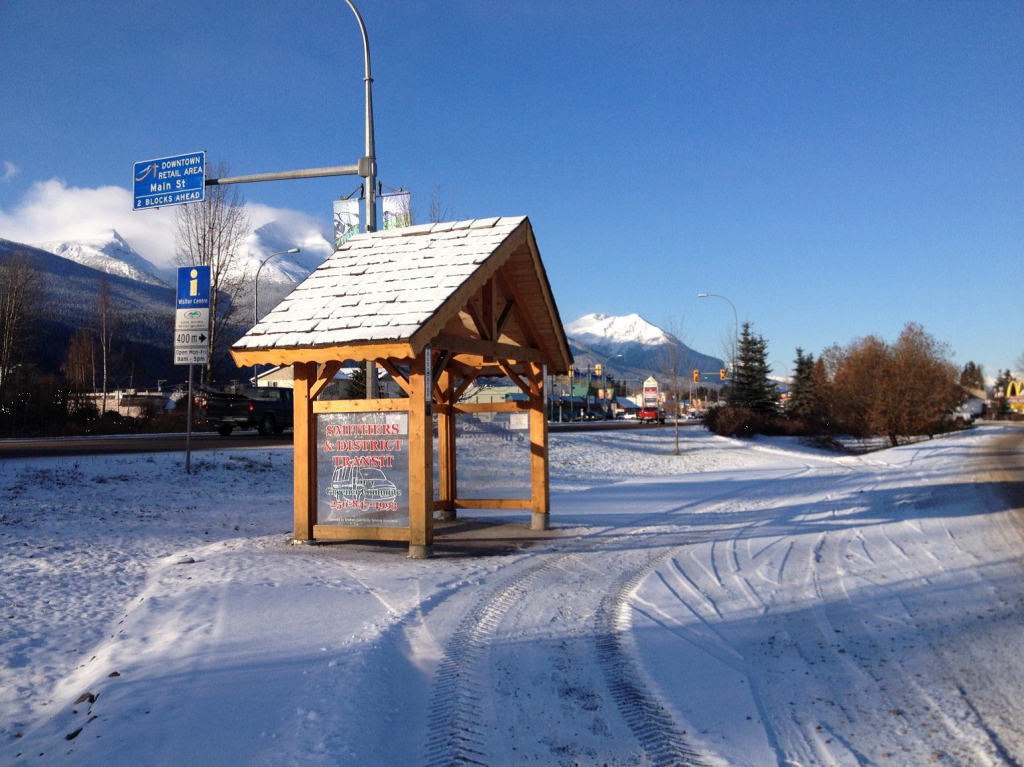 In Smithers, a new bus pullout was constructed and a bus shelter was installed on Highway 16 near King Street.
Terrace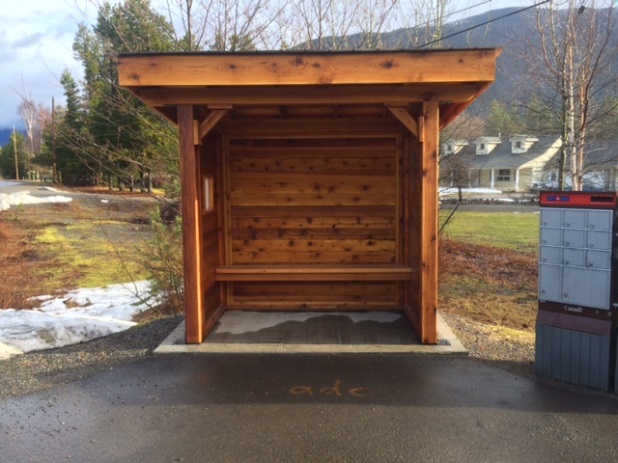 In Terrace, a new bus shelter was constructed at the intersection of Krumm Avenue and Laurel Street.
Do you have a suggestion for a transit improvement in your community? Be sure to let your local officials know. Feel free to also leave your idea in the comments section below, and we'll share with our transit branch.
It's open communication that really makes this partnership work.
Happy travels.
Share this page: