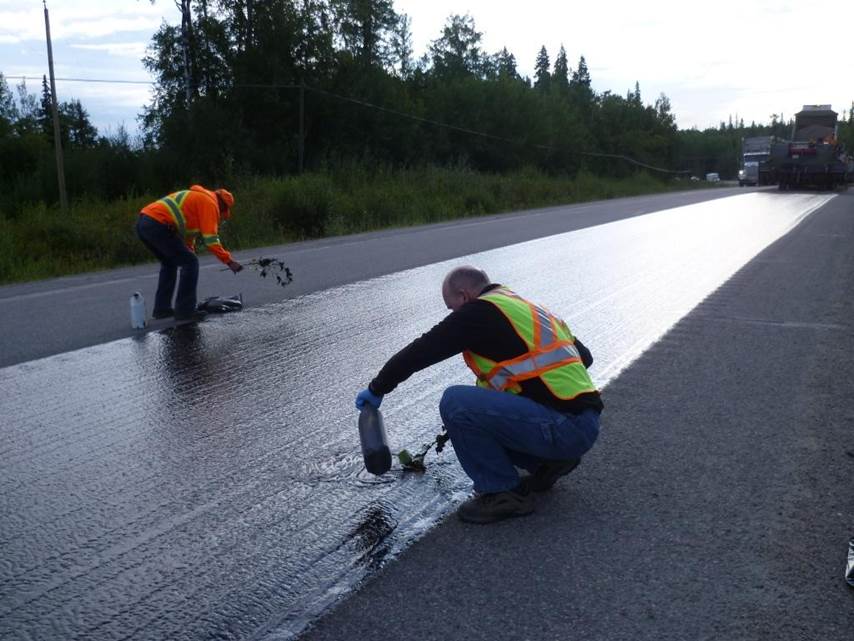 No, we aren't making jackets for cold little seals, although that is a nice thought – isn't it?
Sealcoating is actually a common type of road resurfacing done on BC highways. It involves the application of a special mixture to the road that protects the road base from additional wear and tear. So it's kind of like a little jacket, but for roads. When it's applied over existing pavement, sealcoating is a really cost-effective way of resurfacing that extends the life of the road by sealing out moisture. It also provides a skid-resistant, anti-glare surface during wet weather and, because it hardens the surface of gravel roads, it provides a dust-free driving surface. That's a lot of good things coming from one type of treatment, don't you think? We do too.
There are five or six steps in the sealcoating process:
If required, we patch or seal cracks to prepare the road surface prior to sealing.
A mixture of asphalt combined with water is then sprayed on the road surface. The water in this mixture starts to evaporate immediately.
Immediately after spraying the asphalt-water mixture, a layer of gravel is spread over the surface.
Next, the gravel is compacted and embedded into the asphalt with rollers. In some cases, sand is applied to assist in the consolidation and curing process. Despite the high-pressure rollers, some gravel will not become embedded in the asphalt.
The surface is allowed to cure for up to two days while the water continues to evaporate.  Hot, dry summer days help speed this process, which is why we typically try to sealcoat during the summer months. Traffic can pass over this surface at reduced speeds during the curing process.
Finally, the sealcoated surface is swept to eliminate any loose gravel. This may take several sweepings.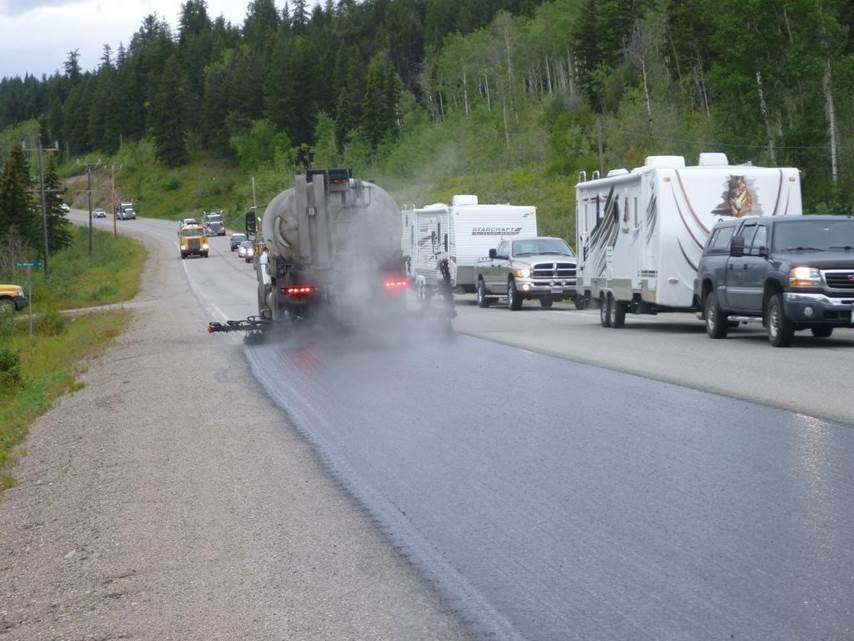 From the time gravel is compacted on the road to the time when the excess is swept away, traffic must be kept to maximum of 50km/h. Travelling at higher speeds can cause gravel to break loose from a fresh seal coat, creating the risk of flying rock which may crack or break a windshield. To keep you and your vehicle safe, we use 24 hour pilot cars to keep the traffic speed down while the asphalt-gravel mixture solidifies. This can cause a bit of delay, which we know can be frustrating, especially if you are eager to get to the cabin or lake, but we appreciate your patience as we work to build an even better road to get you there.
Do you have any questions about sealcoating that we didn't answer here? Let us know in the comments below or connect with us on Twitter or Facebook and we will try to get you an answer.
Share this page: