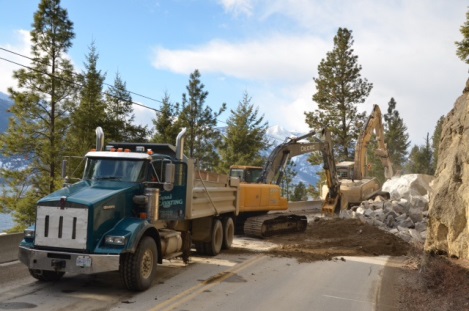 Rockfalls tend to happen more often in spring, when changing temperatures and increased rainfall can affect slopes above highways.
The Ministry of Transportation and Infrastructure's Rockwork Program uses a variety of techniques to keep rock and debris off highways. But rockfalls are a natural process and cannot always be prevented. In those cases, the ministry and its maintenance contractors spring into action to ensure the highway is cleared and safe for travellers.
Reporting a Rockfall
Maintenance Contractors routinely patrol highways to ensure they are clear of debris such as rockfall.   If you happen to come across a rockfall, it's best to stay in your vehicle and contact the local maintenance contractor. Use your mobile phone to access the Report a Problem mobile site, which will help you identify what phone number to call. For more information about what types of highway problems should be reported this way, and to view a map showing highway maintenance contractors by region, visit the maintenance contractor webpage.
Clearing a Minor Rockfall
Most rockfalls are small (about the size of a fist), and can be quickly cleared from the highway by the local maintenance contractor, who documents the event and submits the information to the ministry.
Assessing and Clearing a Major Rockfall Site
Reopening a highway after a rockfall isn't always as simple as clearing the rock and/or debris off the road. Some are extensive enough that a geotechnical site assessment of the slope is performed to ensure clean-up crews can clear the highway safely, and travellers can use the highway safely. The key word here is "safely."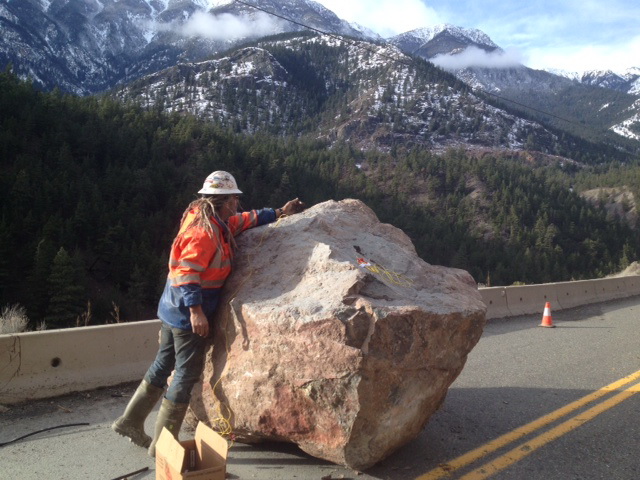 In these cases, a member of the ministry's geotechnical engineering team will conduct an assessment, either by:
Reviewing the site at ground level
Walking the slope
Aerial assessment by helicopter (depends on weather conditions)
The maintenance contractor can begin clearing the highway if the slope is secure. Depending on the size of the fallen boulders, blasting and/or drilling may be needed to break them into moveable pieces. We saw this back in January 2015, when a 7ft by 7ft rock fell on Highway 12 near Lytton.
On the other hand, slope stabilization work may be required.
Stabilizing the Slope
The Rockwork Program uses various slope stabilizing methods depending on the site conditions .
Rock Scaling: removing loose rock from slope by workers (rock scalers) suspended on ropes using pry bars.
Trim Blasting: used to remove rock from the slope by drilling holes into it and loading with explosive.
Rock Bolting: rock bolts are installed to hold large blocks of rock in place. Rock bolts are steel bars cemented in drill holes and tensioned.
Slope Mesh: used to direct small rocks into the highway ditch.
Shotcrete: sprayed concrete used to prevent rocks from loosening.
Horizontal Drains: used to lower water pressure in slopes.
Catch Fences: used to intercept high energy rockfalls.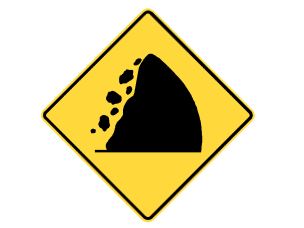 Rockfalls aren't always caused by rainfall and changing temperatures. For example, growing tree roots, forest fires, and animal activity can also become triggers. The "Watch for Falling Rocks/Debris on Road" roadside sign indicates a location where there is a rockfall risk. If you come across this sign, or if you are driving through any rock slope area, pay attention and watch for debris on the road ahead. And, of course, it's not an ideal place to pull over.
British Columbia's mountainous landscape means our highways pass through some challenging terrain. The ministry's Rockfall Program is dedicated to reducing the rockfall hazard for highway travellers.
Did you like this blog? You might find these related links interesting:
A BC Highways Perspective of the Hope Slide
What Happens After A Washout Hits a BC Highway
Emergency Signs and What They Mean on BC Highways 
Share this page: