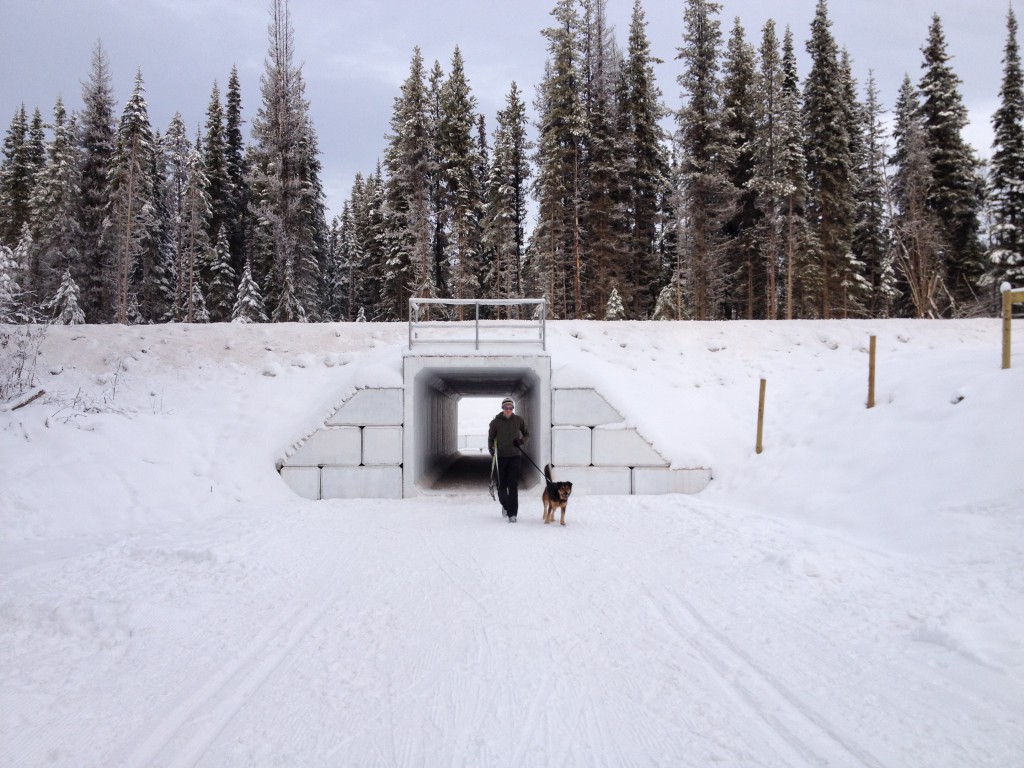 Creating concrete structures for motorists, pedestrians, cyclists and even animals to flow over, under or around roads is a specialty of the Ministry of Transportation and Infrastructure. However, we have also built a different kind of underpass  — for traffic that travels on two legs with two boards attached.
It's a ski underpass below Hudson Bay Mountain Road, near Smithers, and it provides safe passage for cross-country skiers. The tunnel links the Bulkley Valley Nordic Centre lodge and parking lot with dog trails and a big network of easy ski trails on the other side of Hudson Bay Mountain Road.
Previously, families with children and four-legged companions (which can sometimes be unruly when revved up about outdoor fun), had to cross over the road which is driven by downhill skiers headed to and from Hudson Bay Mountain, and numerous logging trucks delivering lumber to local saw mills. Now skiers and motorists can all travel to their destinations more safely.
How did we come up this ski underpass as a project? It was The Bulkley Valley Cross Country Ski Club that approached us with its concerns about pedestrians traversing a busy road, and wanted to work with the ministry to make an improvement. The club members told us how an underpass that would put skiers and motorists on separate paths, could make their recreational experience much safer and more fun.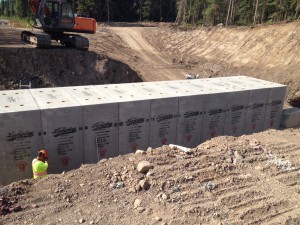 This summer, the 22.5-metre- long precast concrete box culvert underpass was designed and installed, and now it's in service for the ski season. The Bulkley Valley Cross Country Ski Club says it will experiment with lighting and placing snow in the underpass, and consider including the trails on the other side of the road, in races and events. The volunteer-run club hosts local, provincial and national Nordic races, provincial-level biathlon races, fun days for kids, elementary school races, a ski marathon and a team relay to fundraise for charities.
The new ski underpass at Hudson Bay Mountain Road is among almost 30 community safety enhancement projects completed this year. Other enhancements include intersection improvements, inlaid pavement marking, street lighting, acceleration and deceleration lanes, pedestrian lights, bus pullouts and speed-reader boards. The projects were chosen in consultation with local governments and law enforcement, to benefit recreational and commercial traffic, local residents, commuters and cyclists. And now, even skiers!
Share this page: