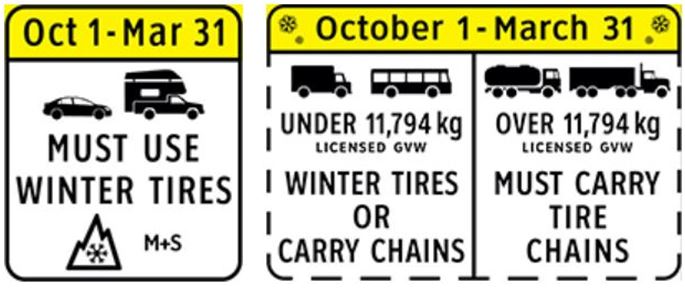 When are winter tires or chains right for you? Good question – glad you asked.
With tire/chain requirements in effect as of October 1 on most B.C. highways, we want to clear up any confusion so you can get your mind back on the road this winter.
To help you — and by "you," we mean passenger vehicle drivers and commercial truck drivers — navigate your winter tread and chain needs, we recently updated our Winter Tires and Chains website, which guides you through depending on the vehicle you drive and where you drive it.
So, what is a winter tire?
Is it one with a three-peaked mountain and snowflake symbol? How about M+S (mud and snow) tires?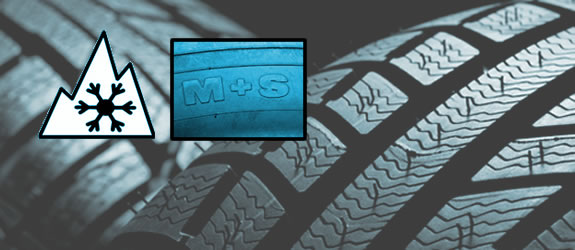 We recently assessed the existing definition of "winter tires and chains" as part of the highway speed and safety review.
There are six things you need to know now.
What's Recommended?
The RCMP and the Ministry of Transportation and Infrastructure agree that for winter driving conditions a tire with a 3-peaked mountain and snowflake symbol is the best choice. We encourage passenger vehicle drivers to choose the best tires possible, and to ensure the tires are in good condition, with good treads, and by that we mean tires having a minimum tread depth of 3.5 mm (greater tread depth is recommended).
What's Legal?
The legislation as written accommodates M+S tires. B.C. RCMP will continue with past practice of allowing either tires with a mountain/snowflake symbol or a mud and snow designation on highways where winter tires are required, as long as they are in good condition, with good treads (worth repeating)*. Meanwhile, commercial vehicles greater than 11,794 GVW must carry chains along these routes, however trucks between 5,500 kg and 11,794 kg GVW may use M+S or mountain/snowflake tires, or chains.  If you're a commercial driver, see our detailed chainup information for your work vehicle.
Where Must I Have Winter Tires?
We are only talking about the highways where the signage is – on the mountain passes in B.C. and in areas subject to winter conditions including the interior and north. We are not talking about drivers in the city limits. A maps of the designated highways where motorists must have winter tires or chains are available for the Northern, Southern Interior, and South Coast regions.
What if the Weather is Really Bad?
In severe winter weather, police officers may turn vehicles around, regardless of the type of winter tire they are using, if they feel the tires are unsafe for the conditions and may be putting the driver at risk.
Where Do I Get More Information About Winter Tires?
Contact your tire manufacturer or local tire shop to discuss your tire needs and the best choice for safe winter driving.
Does this Affect Everyone?
Since more than 60 per cent of all B.C. drivers travel the province in places where snow rarely falls, the ministry does not require all drivers to equip their vehicles with winter tires. The new Winter Tires and Chains website will help you determine your specific needs based on what and where you drive.
In a nutshell: Between October 1st and March 31st, passenger vehicles are legally required to have M+S or mountain/snowflake tires*, and commercial vehicles must carry suitable chains while travelling on highways designated with winter travel signs.
And remember, if you have to get out on the highways, DriveBC and our webcams are great ways to be informed about the weather and road conditions for your route. Winter weather is approaching… Are you prepared?
[Please note: this blog post was originally published in 2013, and revised in 2018 to reflect new winter tire and chain regulations]
*The law applies to tires on the main drive axle. However, it is recommended drivers use four matching winter tires.