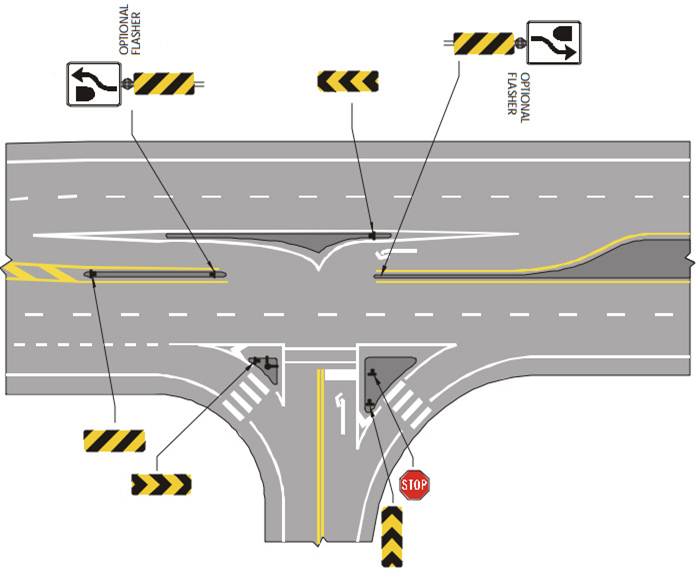 If you've ever driven along Highway 97A towards Vernon, you might be familiar with the Eagle Rock Road intersection.
Traffic has changed here over the years. For one thing, there's a lot more of it. That posed a particular problem here, as Eagle Rock Road accesses a heavily-used industrial area, and people had begun to ask for a safer way to get on and off the highway.
So back in April, 2012, that's exactly what we set out to do. We came up with a conceptual design for a new intersection and consulted with the Spallumcheen Regional District, local First Nations, utility providers, area residents and business owners to ensure it would meet their needs.
Along came spring the following year, and we put the shovels in the ground. And once we started going, it didn't take long to get the job done (project work was completed October 10th, 2013).
One of the big changes was turning the old "T" intersection into a "Protected T". What does that mean? Well, with a protected T intersection, you only have to worry about one direction of travel at a time. When you turn left off the highway, you turn into a protected lane, where you can wait until there's a gap in oncoming traffic, and it's safe to turn. When you turn left onto the highway, you also turn into a protected lane where you can merge with traffic. If you're still wondering how this kind of intersection works, you can check out the handy picture below to get a better idea.
With the new layout, through traffic doesn't have to slow down for turning vehicles, and vehicles that are turning have dedicated lanes to slow down or speed up and merge. Add some finishing touches, like new signs and lighting, and suddenly travelling this section of road is much easier and safer for everyone.
We did a short on-site interview about the project this summer to give you an idea what we were up to.
Share this page: