Have a good look at the picture below. It's a shot of a snow plow on Kootenay Pass on Highway 3 between Creston and Salmo in the mid-sixties.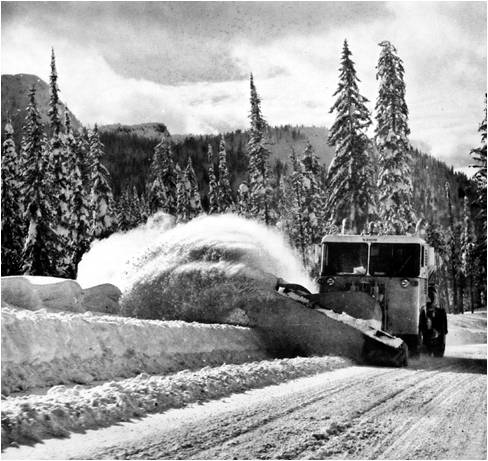 Notice anything unusual? Probably not, because what makes this plow so unique isn't immediately obvious. So here's a hint. Ever hear of a Pratt and Whitney? The company manufactures jet engines. Getting visions of the Batmobile rocketing down the road, a blast of flame jetting out the back of the car? Well, it's not quite that exciting, but it's not far off, either.
This plow was an experiment the ministry did in the 1960s, and it was fitted with a Pratt and Whitney ST6A – a free turbine turboprop engine. Our very own jet-propelled snow plow. It was a great example of "engine-uity" (ha, see what we did there?) and believed to be the only example of its kind in the world.
The truck itself weighed 31,100 pounds (unloaded). By contrast, the engine that powered it was only 285 pounds, 59 inches long and a diameter of 19 inches. It ran on anything from furnace oil to gasoline (but diesel fuel was normally used), and it put out 320 horsepower. Compare that to the typical diesel engine a truck like this would normally use, which would weigh 2,000 pounds and produce 250 horsepower, and you get a good idea how effective this little engine was.
Some of the tests at the time showed this plow had fast acceleration/braking abilities. It could do 0-50 km/h 10 seconds (without gear changes) and come to a complete stop from that speed in 5 seconds. It could also climb 16 kilometers of six per cent grade while keeping a constant speed of 65 km/h. And that's under actual working conditions.
So why did we stop using it? Why aren't all plows equipped with engines like this? Well, one of the big issues was fuel. It burned though a lot more than the typical diesel engine did, so fuel costs were higher, and the plow couldn't go very far without needing to be refuelled. Also, the truck also wasn't very agile. It was good for long, straight stretches, but not so good for manoeuvering tight curves or around obstacles. That can be a problem, especially in the winter.
After a few years of use, it was found the added power the jet engine provided just didn't make up for the versatility of the diesel engines all the other plows were using, so we switched back.
Did you know about this plow or ever see it in action? If so, we'd love to hear from you. Leave a comment below or connect with us on Facebook and Twitter and tell us your story.
Share this page: