Ever travelled on the Arrow Lake Ferry? You had your choice of two 40-year-old ships that might not have had as wide of lanes or smooth boarding as you'd like. Well that's on the way to being changed, and by "changed," we mean the new ferry will transport 80 vehicles, 250 passengers, include wider lands and improved ramp transitions so loading and unloading is faster. All this is scheduled to be put into service between Galena Bay and Shelter Bay in May 2014. (news release)
With its hull now in the water, travellers crossing Upper Arrow Lake are one step closer to having a new ferry in Nakusp. Local company WaterBridge Steel will build the superstructure and install the vessel's equipment and systems. The ferry will be ready for speed and endurance trials and maneuvering tests by February of next year with the final step to come from Transport Canada in the form of certification next spring.
There are a few added bonuses to the new ferry too, including:
Upgraded for better fuel efficiency and reduced emissions,
Enhanced maintenance technology which means a high level of reliability,
Designed to enable underwater visual inspections. So no more lifting the whole vessel out of the water every five years but instead its equipment and systems will be fully serviced from the car deck or inside the vessel. Handy.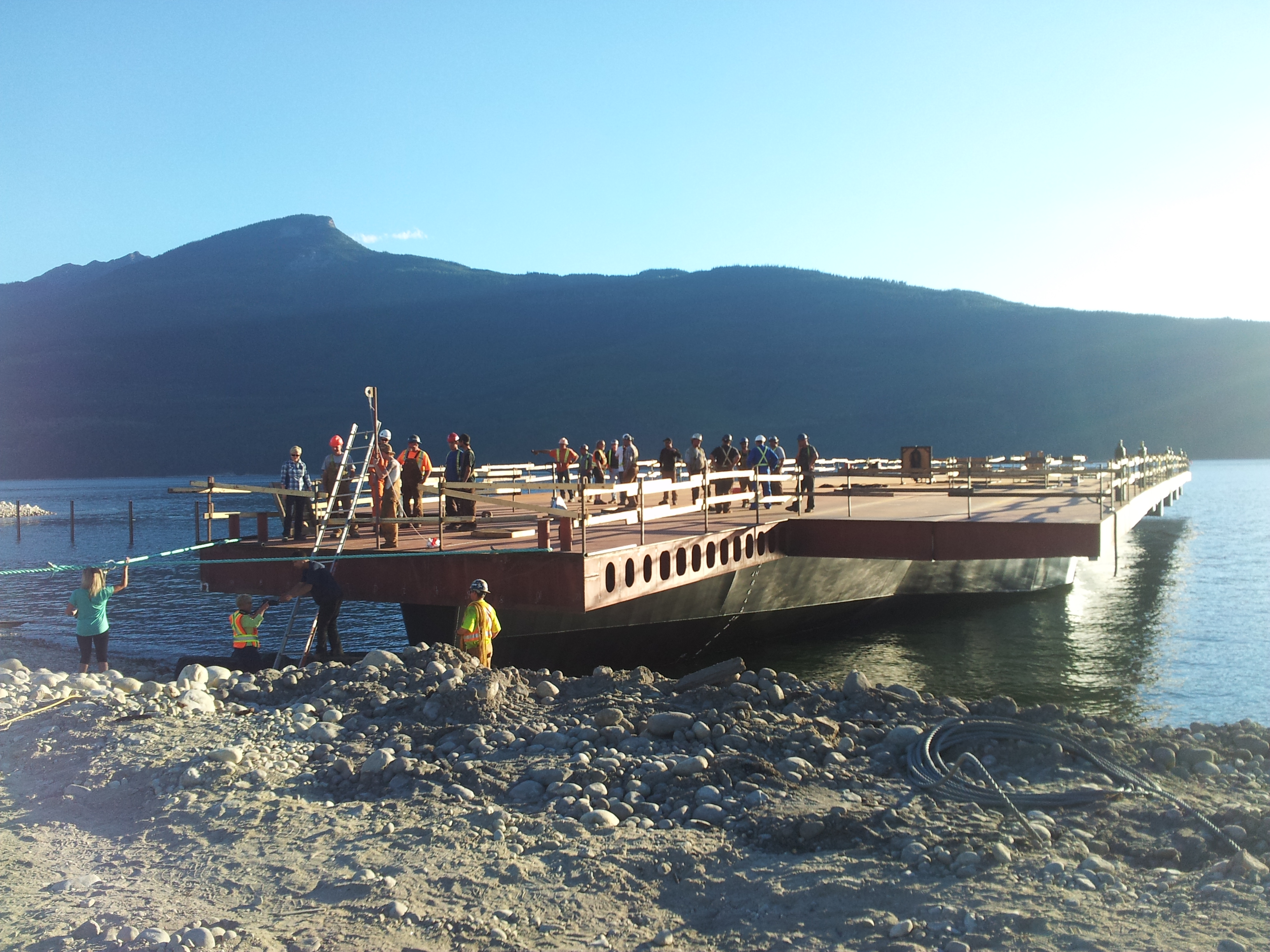 We'll keep you up to date as the construction continues. If you'd like a bit more information on BC inland ferries, check out the link.
And now, for some fascinating inland ferry facts:
The new vessel will be about 320 feet long (the equivalent of eight school bus lengths), 64 feet wide and weigh approximately 2.5 million pounds (1,100 metric tonnes).
About 900 tonnes of steel will be used to construct the vessel – the equivalent of 300 Dodge Ram 4×4 mega cab trucks.
The steel is cut, primed and formed in Vancouver, then sent to Nakusp.
The new vessel will be 25 per cent more fuel efficient and emit 25 per cent less greenhouse gases, in comparison to the total annual fuel consumption and emissions of the two ferries currently on the route.
Share this page: