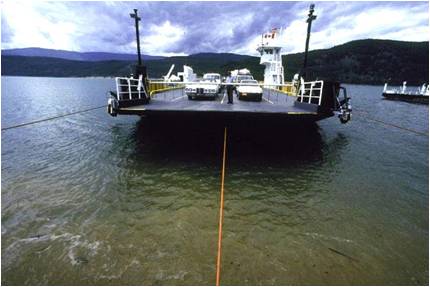 When ferries and the words "British Columbia" come up in conversation, you're probably thinking of the commercial company, B.C. Ferry Services Inc. that services coastal communities.  But did you know, the Ministry of Transportation and Infrastructure also manages 14 inland ferry routes?
These routes cross interior lakes and rivers throughout the province. The ferries are operated by hard-working private contractors who make sure travellers get from "Point A" to "Point B" safely. Ever thought about taking one or wanted to know more about these inland routes? Here's a little information to get you started:
Adams Lake Cable Ferry sails across Adams Lake, north of Highway 1 between Chase and Sorrento
Arrow Park Cable Ferry sails across the junction of Upper and Lower Arrow Lakes at Arrow Park
Barnston Island Ferry sails across Parsons Channel on the south side of the Fraser River between Barnston Island (north bank of channel) and Port Kells (south bank of channel)
Big Bar Reaction Ferry sails across the Fraser River, west of Clinton
Francois Lake Ferry sails across Francois Lake from the community of Francois Lake to Southbank
Glade Cable Ferry sails across the Kootenay River from Highway 3A (west of Nelson) to Glade
Harrop Cable Ferry sails across the Kootenay River to the communities of Harrop and Procter
Kootenay Lake Ferry sails across Kootenay Lake between Balfour and Kootenay Bay

Osprey 2000 crossing Kootenay Lake

Little Fort Reaction Ferry sails across the North Thompson River on Highway 5
Lytton Reaction Ferry sails across the Fraser River, north of Lytton
McLure Reaction Ferry sails across the North Thompson River, north of Kamloops off Highway 5
Needles Cable Ferry sails across the Lower Arrow Lake between Fauquier and Needles

MV Columbia, Upper Arrow Lake

Upper Arrow Lakes Ferry – Galena Bay & Shelter Bay sails across Upper Arrow Lake between Shelter Bay and Galena Bay.

Usk Reaction Ferry

Usk Reaction Ferry sails across the Skeena River between South and North Usk.
Altogether, our freshwater fleet consists of five powered cable ferries, five reaction ferries (attached to cables and pulled across by the river's flow) and five free-running ferries (no cables required). We also have two aerial tramways (for winter use), tugboats and barges. Annually, the system transports more than 2.3 million passengers and more than 1.5 million vehicles. Carrying that many passengers and vehicles equals a lot of ferry trips, and our ferry operators are here to make sure everyone travels safely to their desired destination on the other side.
If you'd like to learn more, visit our Inland Ferries page, which has a lot of great information, including schedules and a series of useful maps to help you plan which ferries you want to take on your next trip.
Share this page: