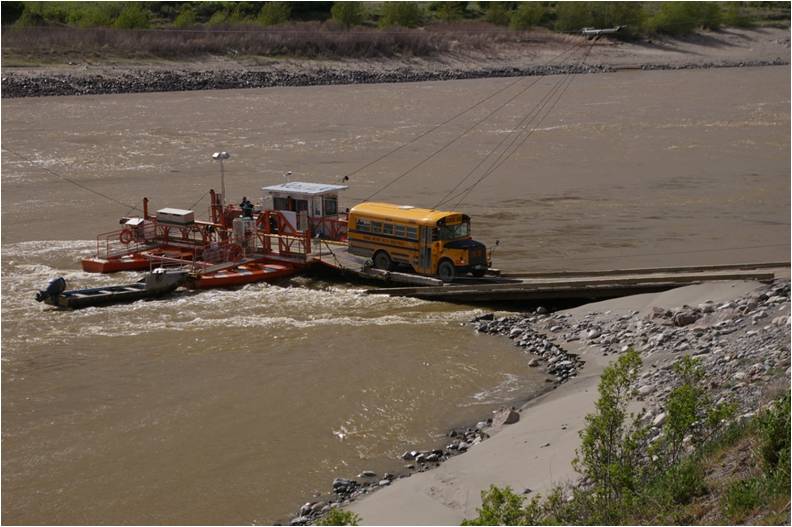 While putting together our blog about the Ministry of Transportation and Infrastructure's inland ferries, we uncovered a few interesting facts about the Lytton ferry. Lytton B.C. is located at the junction of the Fraser and Thompson Rivers.
Ferry Factoid #1:
The Lytton ferry is one of five reaction ferries in our fleet.
Reaction ferries are quite rare in B.C. The power necessary to move this type of vessel comes from the river itself. That's right, the reaction of the river current against a fixed tether cable and angled pontoons get this vessel moving. What's really cool is it produces nearly zero emissions to operate – just a generator required to charge batteries for onboard power.
Ferry Factoid #2:
Approximately 350 residents live on the west side of the river.
Ferry Factoid #3:
The school children that live on the west side of the river take the ferry to get to school.
Ferry Factoid #4:
When ferry service is not available due to high or low waters and debris or ice floes, there's alternate foot traveller access downstream at the CN rail bridge. The ministry received approval from the Board of Transport Commissioners of Canada in 1960 to alter the CN Rail Bridge in Lytton to accommodate the pedestrian walkway. In 2008 the walkway was upgraded to improve safety and facilitate bicycle and wheelchair access.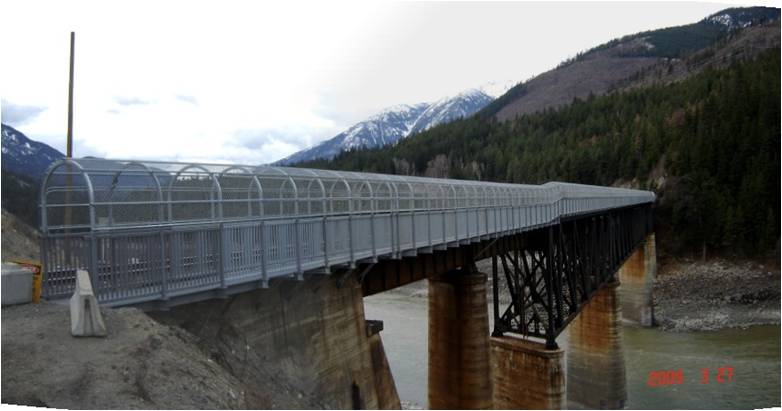 Ferry Factoid #5:
The Lytton ferry travels across the Fraser River, about 2.4 kilometres north of Lytton and takes five minutes in crossing time. (See map)
Ferry Factoid #6:
The Lytton ferry operates on demand when in service. In other words, there is no fixed sailing schedule, but rather, it sails when you arrive at the dock between the hours of:
6:30a.m. – 10:30a.m.,
11:00a.m. – 6:30p.m., and
7:00p.m. – 10:15p.m.
Ferry Factoid #7:
Fraser River levels are affected by temperature.
Cool overnight weather helps keep river levels low, but in the hot spring and summer months, especially May, June and July, it's common for the ferry to close due to high river levels. On rare occasions, the ferry closes due to low water or debris or ice floes. To Know Before you Go, check DriveBC for information about closures, interruptions or delays.
Ferry Factoid #8:
The Lytton ferry has a two person crew and carries a max of two vehicles and 18 passengers.
Ferry Factoid #9:
It carries nearly 100,000 passengers a year, making over 30,000 trips from one side to the other!
Ferry Factoid #10:
The Lytton ferry will take you to Stein Valley Nlaka'pamux Heritage Park.
This valley has been extremely important to the Nlaka'pamux people for thousands of years. There are still a large number of pictographs still visible today in various parts of the valley, ranging in size from single symbols to one of the largest pictograph sites in Canada. Please respect the rock-paintings and do not touch them.
If you're interested in riding the ferry for fun, it's highly recommended that you park your vehicle and walk on, especially during peak periods like holiday weekends and when the river is high. Take your vehicle if you'd like to camp overnight, but be aware that vehicles are not permitted in the park itself and that there are no services at the park. Make sure you're well prepared and have the supplies you'll need.
Ferry Factoid #11:
We work with our highway maintenance contractors to maintain a high standard of operations. In 2010, the ferry underwent a refit and improvements were made to existing pontoons, walkways and ramps. Plus, a solar panel was installed to charge the vessel's battery, further reducing the operation time of the generator.
Be sure to say hello to the Lytton ferry operators on your next trip to the west side of this part of the Fraser River. It sure would be cool to take the ferry as part of your daily commute. Whether you take the ferry regularly or are visiting, Know Before you Go and happy sailing!
Share this page: