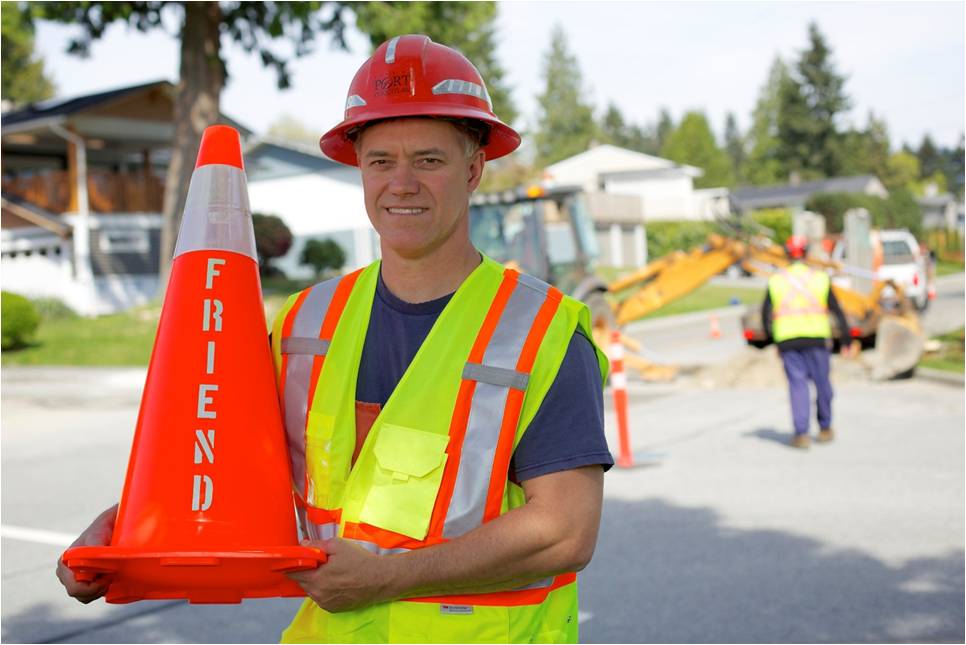 Road construction and maintenance season is here again, which means there are even more roadside workers out there. They perform their work within the Cone Zone – an area marked by signs and traffic cones – to warn approaching drivers of their presence and possible lane closures.
Respecting the Cone Zone is vital to keeping these workers safe. That's why the Ministry of Transportation and Infrastructure teams up with the rest of the Work Zone Safety Alliance to encourage drivers to perform three simple acts when approaching a Cone Zone:
Slow down and drive with extreme care near a Cone Zone (follow directions, obey speed limits)
Stay alert and minimize distractions
Think about every cone as if a human being were standing behind it (in many cases, they are)
When you approach a Cone Zone, don't just see orange. Consider the faces behind the Cone Zone.
They are firefighters, paramedics and police officers. They are traffic controllers, road builders and maintenance workers. They are tow truck drivers, utility technicians and landscapers.
They watch our backs, come to our aid when we're in need, and help keep our communities operating smoothly. Yet, all that stands between them and our vehicles are brightly coloured markers. Cones aren't totally protecting them, though (although the bright little guys do their best). You are.
For the next few weeks, we'll be telling the stories of those working behind the cones. We know there can be a lot of distractions in our personal lives and on the road. But if more drivers followed those three simple acts mentioned above while approaching Cone Zones, we can reduce the inflation of these statistics:
Since 2002 …
396 workers injured
192 workers seriously injured
21 workers killed
… while doing their jobs on roadsides.
These are family members, friends and members of our community. It doesn't take much to ensure they return home to their families at the end of every workday – just a little patience, care and self-control.
Employers of roadside workers can help, too, by ensuring the use of Cone Zones is second nature to employees. WorkSafeBC has resources to help spread the word, such as downloadable posters for the workplace. Check them out. And if you're on Twitter, join the conversation with #ConeZoneBC or by viewing our Cone Zone stakeholder Twitter stream.
Share this page: