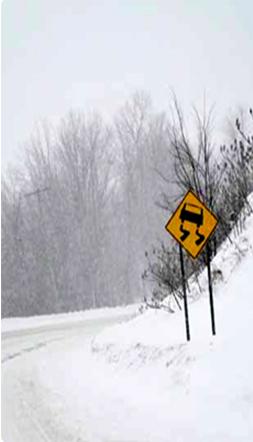 If you live in the South Coast region of BC, being prepared for driving in winter weather might be lower on your priority list than it would be if you lived in the North. But don't get soft when it comes to Old Man Winter – he is sneaky, often bad tempered and can show up when you least expect him. Don't worry, there are lots of things that you can (and should) do to prepare yourself for the unexpected, whether you live in wintry Williams Lake or balmy Burnaby. It won't hurt, we promise.
Before you even leave the house, make sure that you have a winter emergency kit in the back of your car. Things you might need in an emergency (and may not have in your car) include:
A kit containing non-perishable food, blankets, extra clothes, boots and first aid supplies
Wind shield fluid, a windshield scraper and snow brush
Shovel and traction mat
Fuel line antifreeze
Flares, candles and matches or lighter
Tire chains and gloves
Flash light and extra batteries
Battery jumper cables
If you are travelling outside of the city – plan ahead. Check current road conditions on DriveBC and tell someone about the details of your trip. If you do get stuck in a storm, don't panic – stay calm and remain in your vehicle. Consider using your candle for heat and set out a warning light or flares so you can be spotted as easily as possible.
You can also help give Old Man Winter the boot by making sure you have four matched winter tires. Winter tires really do improve driving safety by giving you better traction in snowy, slushy or icy conditions. Chances are those conditions will exist somewhere across the province this winter, so channel your inner boy scout and be prepared!
Share this page: