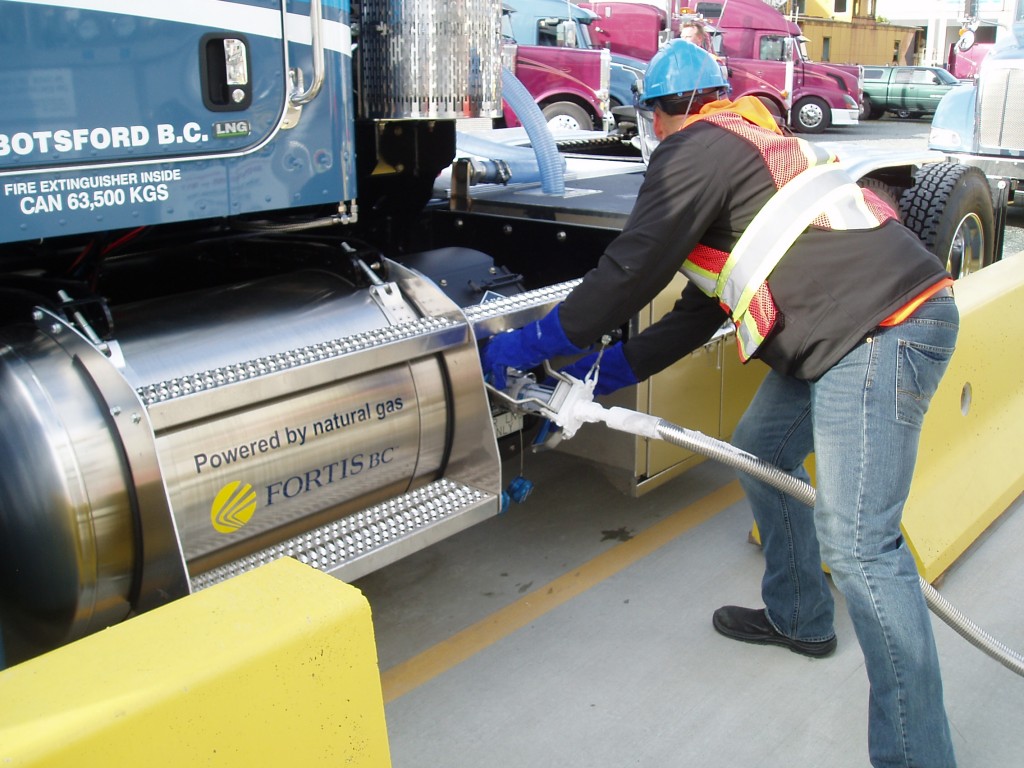 Our Commercial Vehicle Safety and Enforcement (CVSE) branch is an adaptable bunch – they have to be to inspect all those mechanical nooks and crannies while keeping up with evolving technologies.
Take the emergence of Liquefied Natural Gas (LNG) as an alternative fuel for B.C. transport trucks, for example. CVSE has created safety inspection standards for new trucks, which are equipped with innovative technology that enables diesel-powered engines to run on LNG. LNG-powered vehicles are on the rise in the province because of environmental and economical benefits, such as:
Less impact on the environment: Natural gas vehicles emit up to 30 per cent less greenhouse gas emissions than gasoline or diesel vehicles. Converting just one heavy-duty truck from diesel to natural gas is like taking 325 cars off the road!
Abundant, domestic supply: With vast sources of natural gas in B.C.'s northeast region, the province is looking to send natural gas to Asia through a new LNG export facility planned for Kitimat, while also fuelling local homes, industries and vehicles.
Cheaper: Fuelling up with LNG costs about 40 per cent less than diesel.
Reduces Noise: That unmistakable low diesel rumble is eliminated from LNG engines by about 50 per cent, but drivers say torque and drivability are unaffected. Sounds like a win-win.
The growth of LNG in B.C.'s commercial trucking industry is being carried out by a tight-knit cast of players, each with an important role:
"The Techno Transformer" a.k.a. Westport Innovations
The Vancouver-based company has developed the technology that equips diesel engines to use LNG as fuel. The working parts of the engine don't change, but Westport contributes additional parts that store, compress and convert LNG fuel into compressed natural gas before injecting it to the engine.
"The Builder" a.k.a. Peterbilt
Based out of Texas, Peterbilt works with Westport to incorporate LNG technology into its transport truck manufacturing process.
"The Supplier" a.k.a. FortisBC
B.C.'s network of natural gas fuelling stations has not yet developed to the extent of our southern neighbour, which already has more than 100 LNG stations across the country. But FortisBC has a funding incentive program in place to encourage heavy-duty commercial fleet operators to purchase natural gas vehicles. This program includes funding for employee training and facility upgrades to safely maintain natural gas vehicles.
"The Trail Blazer" a.k.a. Vedder Transport
With a fleet of 50 LNG-powered Peterbilt trucks, the Abbotsford-based company is leading the pack in commercial transport conversion. Vedder worked with FortisBC to open Western Canada's first LNG fuelling station at its headquarters in Abbotsford.
"The Standard Bearer" a.k.a. Commercial Vehicle Safety and Enforcement (CVSE)
LNG-powered vehicles require heavier fuel tanks and operate differently than vehicles with traditional gasoline or diesel engines, so CVSE worked with Westport to become familiar with the LNG conversion technology and update vehicle safety standards. In coordination with Transport Canada, CVSE is translating those standards into its Vehicle Inspection Manual to assist inspectors in examining the "nuts and bolts" of LNG-powered vehicles during roadside inspections and regular safety checks. To encourage widespread use of LNG, and because LNG-powered vehicles require heavier fuel tanks and additional LNG fuel processing equipment, CVSE is allowing LNG-powered trucks to be 1,500 kilograms heavier than traditional diesel and gasoline trucks. This weight allowance, permitted only on the steering axle and drive axle group, means LNG-powered trucks can carry the same maximum amount of freight as diesel-powered trucks.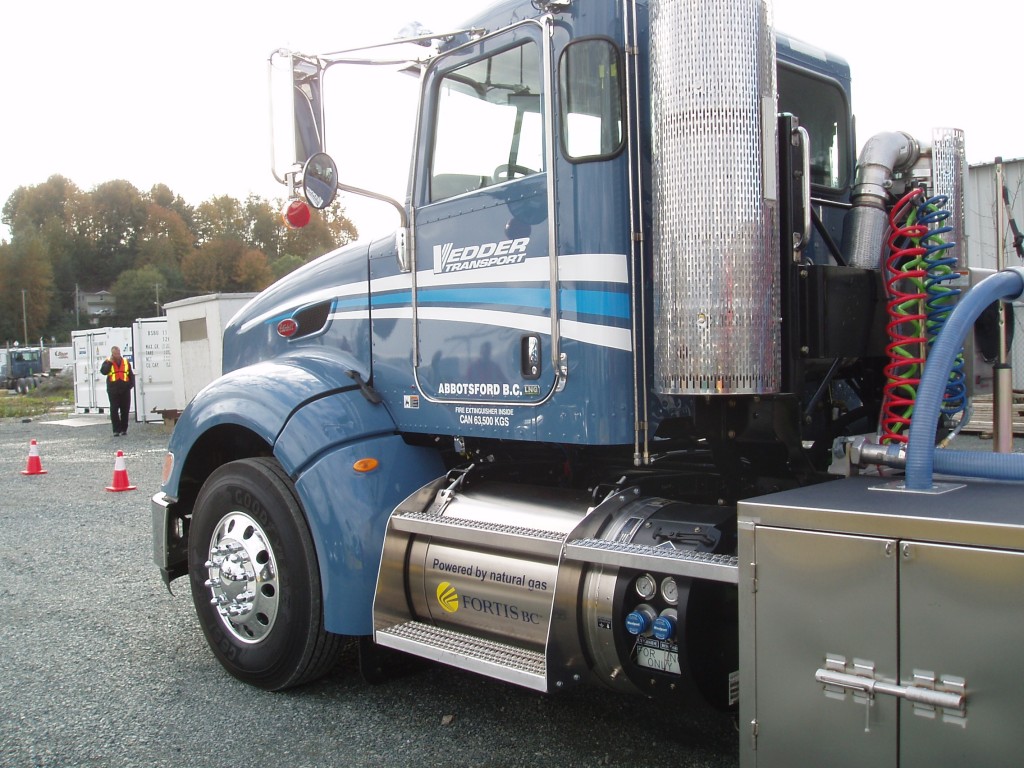 Will LNG-powered vehicles eventually dominate commercial trucking routes in B.C.? The rewards are definitely there, but a broad fuelling station infrastructure and a strong commitment on many levels are needed to change the way we move. Next time you see a transport truck on the highway, take a closer look for an LNG emblem marking the side.
Share this page: