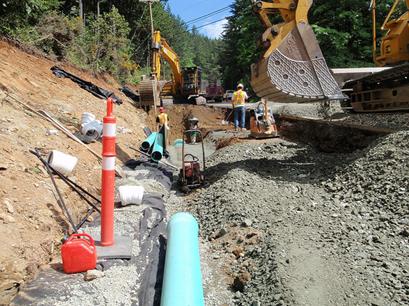 It should come as no surprise that life on the west coast of Vancouver Island can get pretty wet sometimes. Take Highway 14 near Sooke, for example. This community knows water. Subject to a unique trio of geographical influences, it's situated in a valley bottom, at the mouth of a river, and prone to tidal flooding from the Pacific Ocean. Winter storms and runoffs can bring large amounts of the "wet stuff", which can happen so quickly, that flooding literally occurs in a flash. That's a few challenges. At the same time, communities rely on roads to remain open, regardless of challenges. In order to make sure that Sooke can rise above the high water mark during such events, we've elevated Highway 14, at Impala Road.
Flows are low in late winter, making it the ideal time to work. Crews cleared and levelled the area, installed drainage and constructed a retaining wall on the south side of Highway 14. We also raised the road, by adding fill, then widened and paved it, as well as installing barriers. We've also added a new deceleration lane for vehicles that want to turn right onto Kangaroo Road from the highway.
The project is designed to fully protect the highway against a 1 in 25 year flood. What does that mean? Basically, that the road is not expected to flood during the worst storm event predicted in a 25 year period. In fact, our testing shows that the road can likely remain open up to a 1 in 200 year event; albeit with reduced speeds and perhaps some minor challenges to those people lucky enough a low riding sport car.
This work is part of a series of improvements to Highway 14 because we understand that this important road helps keep the wet and wild west coast of Vancouver Island open to everyone who lives here and loves it.
Share this page: