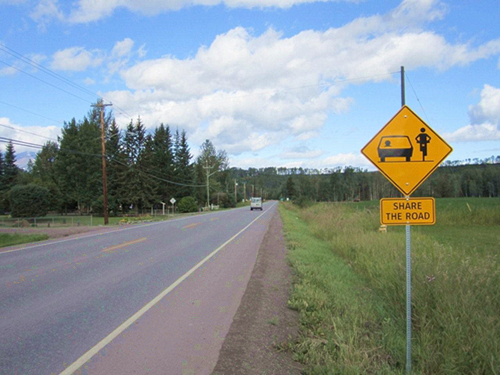 It's becoming a lot more common these days to see cyclists on the road, and it's easy to see why. Cycling is a convenient, healthy and relatively inexpensive way to get around. And with more people taking to the road on their bikes, we're doing what we can to make things better for them.
Take Highway 16 between Telkwa and Smithers for example. It's a 15 kilometre stretch of road, which sees quite a bit of commuter traffic as people travel between the two communities. We recently finished widening and paving the shoulders of this route, giving more room to cyclists and making it safer for them and for motorists as well. And to really drive home the safety message, we've added new "Share The Road" signs to remind everyone that they need to look out for each other, regardless of whether they're driving or cycling.
And it's not just commuters that are benefitting from these improvements. Highway 16 connects many local roads and trails, so the new shoulders provide recreational cyclists (and pedestrians) with more integrated cycling routes. There's never been a better time to hit the Perimeter Trail in Smithers and the Aldermere Trail in Telkwa via Highway 16!
The higher profile on cycling has also seen an increased focus on highway maintenance. The local maintenance contractor, Billabong Road & Bridge Maintenance Inc., has stepped up its sweeping service of the highway to make sure debris from motor traffic which collects at the side of the road does not get in the way of cycling commuters.
The project has been well received by the local community, and the Town of Smithers even went so far as to send a "thank you" letter to the ministry for a job well done.
It's another example of our effort to keep the wheels of transportation turning safely, whether they have a motor or not.
Share this page: