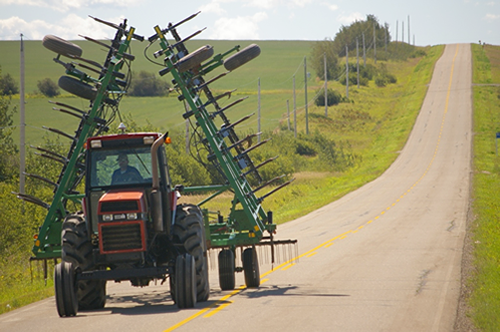 Spring, summer or fall, you may be itching to rush to the lake and enjoy the weather, but not so fast. During those months of growing and harvesting, it's always time to respect our slow moving farm vehicles.
A farm vehicle is a commercial vehicle, subject to many of the same rules as typical carriers. Slow moving farm vehicles normally travel on the highway at a speed of 40 km/h or less and are subject to specific restrictions, like travelling through high traffic tunnels or along major highways.

These vehicles must display an orange triangle with a red border on the back of the vehicle as near to the centre as possible. If you come upon a slow moving vehicle, only pass when it is safe to do so.
Our province supports a wide variety of agriculture, which use farming equipment ranging from ploughs to cattle carriers. Highway safety is our highest priority, so please exercise caution when following vehicles towing farming tools. Did you know that cattle farms are the most common types of farms in British Columbia? They make up one-quarter (24.8%) of all farms, followed by fruit farms with 14.5%, horse and pony farms with 12.6%, and hay and fodder crop farms at 9.9%.
Here are some other types of farming in British Columbia: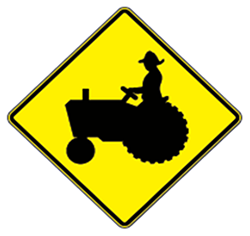 forest seedling and seed production
herb production
horse rearing
horticulture
aquaculture
Christmas trees
poultry and egg production
turf production
wool, hide or feather production
So the next time you find yourself in line behind a slow moving farm vehicle – relax, and enjoy the scenery along our rural highways and byways. You will be rewarded with blueberries (or Christmas trees, or eggs, or toques, or basil, or trout, or hay rides….)
Share this page: