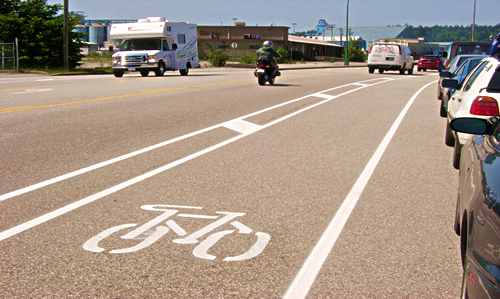 We all know that riding your bike is a good thing. It helps your health, your pocket book and the environment. So, what stops you from choosing your bike on a daily basis? Some of you may say it's the weather, while others may say it's the challenge of commuting with cars. A recent grant from The Ministry of Transportation and Infrastructure's Bike BC Cycling Infrastructure Partnerships Program – has helped the District of North Vancouver to install a buffered cyclist lane along the busy West 1st Street route (one of the most popular cycling corridors in the District); giving you one more reason to get out there and enjoy your commute from the seat of your bike.
A buffered cyclist lane is like a regular cyclist lane with a bit of a boost, giving cyclists a "buffer zone" between the cyclist lane and the vehicle travel lane. This buffer can be made from placing a physical barrier such as parked cars, planters, a high curb, or it can be made by painting the space with dashed lines or in a different colour. In the case of West 1st Street, the buffered bike lanes planned feature an additional two-foot wide painted buffer zone between the cyclist lane and vehicle travel lane.
The West 1st Street cyclist route, which extends from the City of North Vancouver border at MacKay Road to Garden Avenue, is geared towards cyclists who prefer a fast route with few stops. This is a very popular path for cyclists travelling between North Vancouver and downtown Vancouver. Buffered bicycle lanes have been installed in both directions along this route to increase their safety.
Greater Vancouver can be fast paced at the best of times, and bicycling along high speed routes can be disconcerting for cyclists trying to do their part to decrease that pace. By funding projects that help provide alternative choices to commuters, we hope to make commuting a more pleasant event for everyone. Now if we could just do something about that weather…..
Share this page: