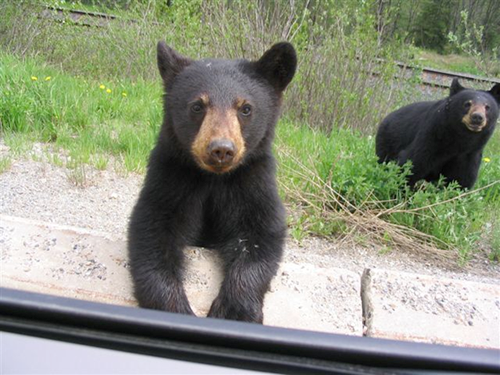 We are constantly looking for ways to be bear aware and reduce danger to wildlife, big and small, along our highways.
Here are some ways we help increase motorist (and animal) safety:
Wildlife Signs – The most common and cost effective method of wildlife management, warning signs inform the motorist of wildlife areas. The ministry continuously revaluates road signs in an effort to keep drivers engaged and informed.
Wildlife Warning Reflectors – Reflector systems are installed along high wildlife zones in order to catch and reflect light from oncoming headlights, distracting the animals just long enough to let the car pass in safety.
Wildlife Overpasses/Underpasses – The use of corridors under and over busy highways is on the rise. Corridors can also be used with fencing to provide a safe alternative to animals on the move. Have a look at our most recent over pass over Highway 1 near Yoho Park
Roadside Vegetation – Bears and other animals do, at times, graze along our roadsides and the Ministry of Transportation is looking at ways that we might be able to reduce this temptation by using other types of plants.
Wildlife Fencing – Popular crossings are fenced to deter wildlife from roadways. This strategy has proven to be very effective in reducing animal/vehicle collisions.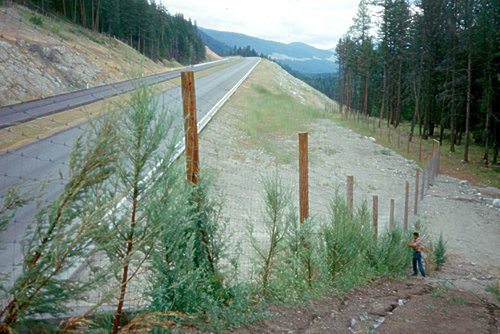 How can you reduce the risk of having a run in with wildlife on the highway? If you notice fencing or overpasses, use your road sense. Slow down and pay attention to wildlife warning signs. Stopping on highways to view wildlife is dangerous to you, other travellers and the animals themselves. Wild animals are best left alone if at all possible. Keep in mind that many animals are active during the morning and evening hours, so use caution while travelling during these times. Wildlife use roadways for many of the same reasons we do – direct access to food, water and community. Bears and other wildlife are treasures to preserve, by working together we can make sure they stay safe.