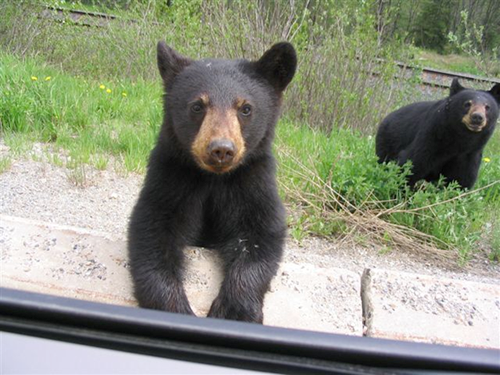 We are always looking for ways to be bear aware and reduce danger to wildlife, big and small, along our highways.
Ways We Help With Bear (And Your) Safety
Here are some ways we help increase motorist (and animal) safety:
Wildlife Signs – The most common and cost effective method of wildlife management, warning signs inform the motorist of wildlife areas. The ministry continuously revaluates road signs in an effort to keep drivers engaged and informed.
Wildlife Warning Reflectors – Reflector systems are installed along high wildlife zones in order to catch and reflect light from oncoming headlights, distracting the animals just long enough to let the car pass in safety.
Wildlife Overpasses/Underpasses – The use of corridors under and over busy highways is on the rise. Corridors can also be used with fencing to provide a safe alternative to animals on the move. Have a look at our over pass on Highway 1 near Yoho Park
Roadside Vegetation – Bears and other animals do, at times, graze along our roadsides and the Ministry of Transportation is looking at ways that we might be able to reduce this temptation by using other types of plants.
Wildlife Fencing – Popular crossings are fenced to deter wildlife from roadways. This strategy has proven to be very effective in reducing animal/vehicle collisions.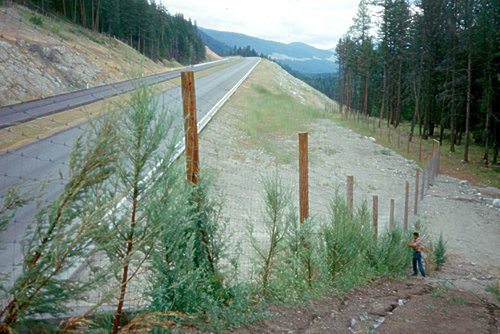 Sea to Sky Examples
Two initiatives put in place to increase the safety of motorists and wildlife on Highway 99 (also known as the Sea to Sky).
In 2012, we saw a large increase in the number of bears foraging for food near our roads due, in large part, to the late snow melt and this activity has been particularly prevalent along the Highway 99 corridor between Squamish and Whistler. The rise in foraging bears also meant a rise in traffic jams or "bear jams" of motorists who were slowing down to view the wildlife; however, slowing down to view wildlife was creating a hazard for the bears and motorists. We have been working with a number of concerned residents and organizations in the area to try and ease some of the issues around "bear jams" and wildlife viewing.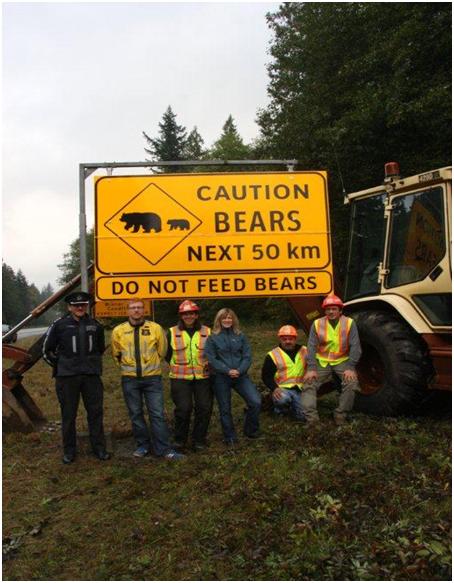 We have taken two approaches to reduce the risk to motorists and to wildlife. The first, installing vegetative screening at Culliton Creek Bridge. Culliton Creek Bridge was identified as a high hazard area with numerous bear sightings and consequent "bear jams" from vehicles slowing down and/or pulling over to view wildlife. A total of 45 cedar trees were planted along the east side of Highway 99 by the Culliton Creek Bridge to act as a visual screen preventing commuters from stopping and viewing wildlife.
Planting trees along the eastside of the bridge, at both the north and south ends, provides a visual screen to any wildlife that might be foraging. This tree planting initiative will hopefully keep both humans and wildlife free from conflict. We like to call that a win-win.
The second approach we took in reducing conflict was designing and installing five bear warning signs between Squamish and Whistler along Highway 99 – the first of their kind in British Columbia.
The District of Squamish partnered with the ministry and its maintenance contractor, Miller Capilano Maintenance Corporation, to install the signs in strategic locations along the Highway 99 corridor from Squamish to Whistler (including signs heading up to the Callaghan Valley).
The signs were specially designed for this area by the Ministry of Transportation and Infrastructure. Given the heightened level of bear activity and the use of the corridor by a large number of visitors from outside the province and country who may not be aware of, or familiar with the potential threat of bears, we felt the signs were warranted for this specific location. By not stopping to view (or feed) wildlife, we can reduce human-bear conflicts and vehicle-bear accidents.
What You Can Do
How can you reduce the risk of having a run in with bears or other wildlife on the highway?
Watch for and avoid "Bear Jams" – they're bad for people and bears.

Note Wildlife Signs – If you notice fencing or overpasses, use your road sense. Slow down and pay attention to wildlife warning signs.

Do Not Stop to Look – Stopping on highways to view wildlife is dangerous to you, other travellers and the animals themselves. Wild animals are best left alone if at all possible.

Know What Time it Is – Keep in mind that many animals are active during the morning and evening hours, so use caution while travelling during these times.

Wildlife use roadways for many of the same reasons we do – direct access to food, water and community.
Bears and other wildlife are treasures to preserve, by working together we can make sure they stay safe.
Share this page: