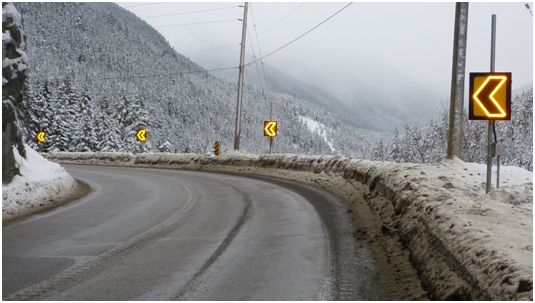 Highway 3 near Skagit Bluffs (which is about 40 km east of Hope) can be a challenging drive, especially in the eastbound direction where there are tight turns and steep embankments.
The posted speed along this section of highway is 80 km/h, but there is an advisory speed sign of 50 km/h posted about 100 m west of the bluffs. Even still, there have been a number of motor vehicle accidents where drivers have been travelling too fast and have failed to negotiate the curve.
In an effort to improve safety, the ministry took advantage of new technology and installed signs that use light-emitting diodes (LEDs) and vehicle activation.
Four existing chevron signs were replaced with illuminated LED chevrons. The intensity of the signs is automatically adjusted, so drivers can see them easily, whether it's during the day, night or even in bad weather.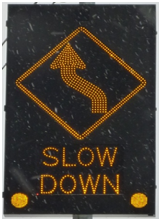 A vehicle-activated traffic calming sign, was installed just before the curve. When drivers exceed the posted speed by greater than 10 km/h, the sign lights up and displays the reverse curve sign and the message "SLOW DOWN". Four warning flashers on the sign also flash for a few seconds, giving drivers sufficient time to reduce their speed before entering the curve. When vehicles are travelling less than the advisory speed, the sign remains blank.
The ministry has received a lot of positive feedback from drivers about the new signs and is looking into using them in other areas as well. Do you have any questions about this, or any other work the Ministry of Transportation and Infrastructure does? Let us know in the comments below.
Share this page: