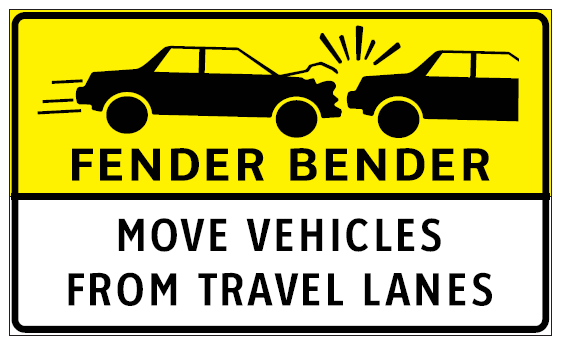 New highway signs rarely get much fanfare. Although extremely important for safety and navigation, they are just signs, after all. They're not very exciting. In fact, there's even a song about them, and it's not all that flattering.
But when the ministry installed new "FENDER BENDER" signs on Highway 91's Alex Fraser Bridge recently, people seemed genuinely happy about it. Here are a few of the tweets we received:




So, why are people so enthusiastic? If you drove the Alex Fraser Bridge regularly, you'd know.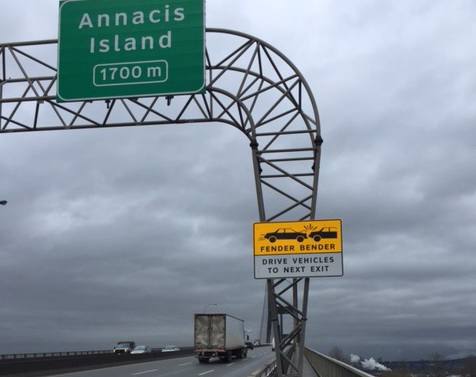 The busy six-lane bridge in the Lower Mainland doesn't have the shoulders wide enough to allow drivers to pull over if they've experienced a mechanical failure or are involved in an incident. Drivers will often stop where they are to check the damage and exchange information, backing up an entire lane's worth of vehicles. Sometimes, the stoppage even causes more fender benders.
Our goal with the signs is to encourage drivers to keep moving until they reach the next exit, where they can choose a safe place to pull over. While the signs should make the leading driver's intentions clear, we encourage drivers to communicate with each other, perhaps by signalling forward with their hands.
The Alex Fraser Bridge is the first location to get these signs, but there's a good chance you'll start seeing variations at other roads, freeways, and roundabouts. Instead of "DRIVE VEHICLES TO NEXT EXIT," these variations would read "MOVE VEHICLES FROM TRAVEL LANES" and "MOVE VEHICLES FROM ROUNDABOUT" respectively.
Is there is a section of highway you think would benefit from one of these three signs? Let us know in the comments section below.
Share this page: