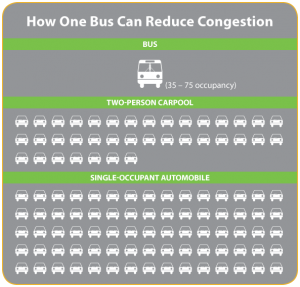 Whether you drive or use the RapidBus service in Kelowna, we have some important news for you.
Based on monitoring and public feedback, the Ministry of Transportation and Infrastructure turned the city's Highway 97 High Occupancy Vehicle (HOV) lanes, which operate fulltime now, into hourly HOV lanes.
As of January 19 (2015), the lanes are in effect weekdays between 7am to 7pm, excluding holidays, to better align with when traffic and transit use is heaviest.
Why the change?
The curbside HOV lanes, which run northbound and southbound along Harvey Avenue from Water Street to Highway 33, were established in 2009 as fulltime HOV lanes to improve the efficiency of the RapidBus service and get more people travelling in fewer vehicles. The HOV lanes were installed when the road was widened to six lanes, and the curbside lane was chosen to allow for buses to make their stops. Freeway HOV lanes, located on the median side, don't allow buses to efficiently make stops along an urban corridor like Kelowna's.
The ministry monitored traffic and HOV lane use over the following years, while working with the City of Kelowna, and determined hours of operation would improve traffic flow and HOV lane compliance. Outside of those busy hours, the HOV lanes are simply not needed.
Without the HOV lanes, however, the RapidBus service falls behind schedule during peak travel times due to congestion. We see this happen when single-occupant vehicles use the HOV lanes for more than just turning right. For example, we found that 40 per cent of HOV lane traffic was made up of single-occupant vehicles using the lanes improperly. No wonder buses were falling behind schedule.
Read this page for more on how curbside HOV lanes work, and when single-occupant vehicles can and cannot use them.
If, for whatever reason, you cannot take advantage of carpooling or the RapidBus service, we really hope you will respect the HOV lanes during the newly designated times.
Signs are posted along the corridor to alert travellers of HOV times and locations.
If you have any questions or concerns, please feel free to contact us at the Okanagan Shuswap District Office, 250-712-3660, or leave a comment below.
Please help keep Kelowna's public transit system running smoothly.
Share this page: