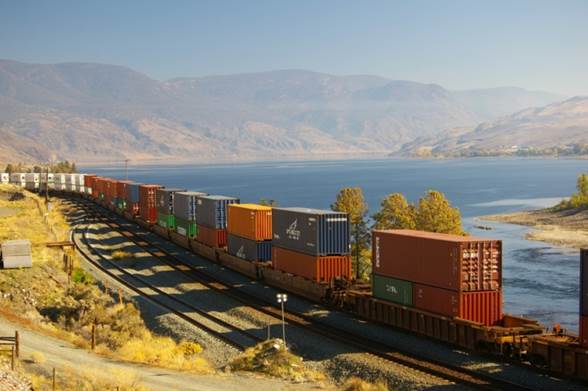 "See tracks? Think train!"
Based on the decline in rail-related accidents in recent years, it's a message that people are hearing. But messages about saving lives are always worth repeating to make sure they're top-of-mind and we don't become complacent.
It all comes down to this: if you need to cross a rail line, approach it expecting to see a train and only cross when it's safe.
With that thought in mind, let's look at some related tips our friends at Operation Lifesaver put together to keep you safe at rail crossings:
Never drive around lowered gates – it's illegal and deadly. If you suspect a signal is malfunctioning, call the 1-800 number posted on or near the crossing signal or your local emergency number.
Never race a train to the crossing. Even in a tie, you lose.
Do not get trapped on the tracks. Only proceed through a highway/railway crossing if you are sure you can completely clear the crossing without stopping. Remember, the train is one metre wider than the tracks on both sides.
If your vehicle stalls on a crossing, immediately get everyone out and far away from the tracks. Call 911 or your local emergency number for assistance. Look for a 1-800 emergency notification number nearby to contact the railway.
At a multiple track crossing waiting for a train to pass, watch out for a second train on the other tracks, approaching in either direction.
ALWAYS EXPECT A TRAIN! Trains do not follow set schedules.
Even if the locomotive engineer sees you, a freight train moving at 120 km/h can take up to two km or more to stop once the emergency brakes are applied; more than 18 football fields in length!
Don't be fooled by the optical illusion. The train you see is closer and faster moving
To help get the rail safety message out, there are a number of initiatives and resources available on the Operation Lifesaver website, as well as events during Rail Safety Week. 
Be sure to connect with Operation Lifesaver on Facebook or Twitter to keep up with the latest news and events.
Do you have any rail safety tips to share? Leave us a comment below or connect with us on Twitter of Facebook and let us know.
Share this page: