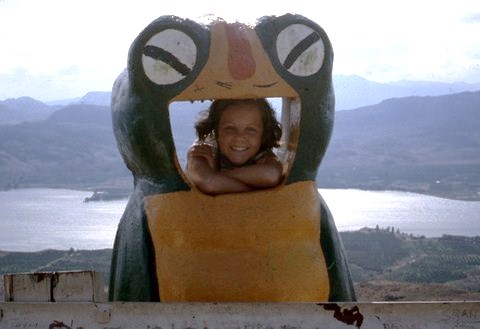 Let's take a trip down memory lane shall we?
Back to the days when things moved a little more slowly, perhaps around 1959.
Slide into a larger vehicle, one built for style, say… an Edsel? Bring the whole family on a motoring adventure and explore Beautiful British Columbia.Take one of our many modern highway systems, each a marvel of 20th century engineering. Outside you will see a seemingly endless variety of scenery. Please don't spoil the scenery by being a litter bug! Remember to collect your trash and deposit in our Garbage Gobblers along your way.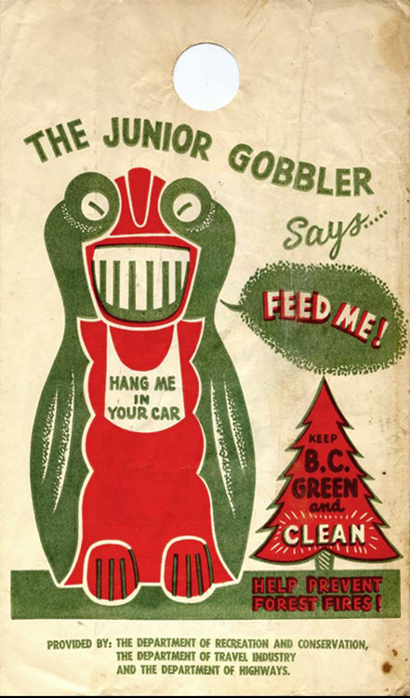 Created in the late 1950s, the Garbage Gobbler is a truly cool piece of transportation history. The first Garbage Gobblers were designed and created by Len Shaw, for the B.C. Parks Branch in the 1950s. Originally made from concrete (and later with fiberglass), Gobblers were placed across the province in B.C. Parks and at information points along BC highways in order to "Keep Beautiful British Columbia Green and Clean". Junior Garbage Gobbler car trash bags were also part of the provincial litter reduction strategy. Motorists were encouraged to feed the "Junior" bags to the roadside gobblers along the way.
Sadly, Garbage Gobblers proved to be as popular with bears as they were with people and eventually had to be replaced in favour of bear proof-cans (which were not as artsy, but much more practical).
We are happy to report that the spirit of Garbage Gobbler lives on! Some gobblers have been preserved, even restored but others have sadly slipped by the wayside. Our research found fully intact Garbage Gobblers in Ashcroft, Langford and Penticton. In fact, the Garbage Gobbler is so well loved and fondly remembered that he even has his own Facebook page!
Do you have any old Garbage Gobbler pictures or stories that you would like to share with us? Any nostalgic feelings? Or perhaps you are interested in learning more about transportation history in BC? Connect with us and let us know.
You might also want to check out our "next edition" Garbage Gobblers, which debuted in 2015.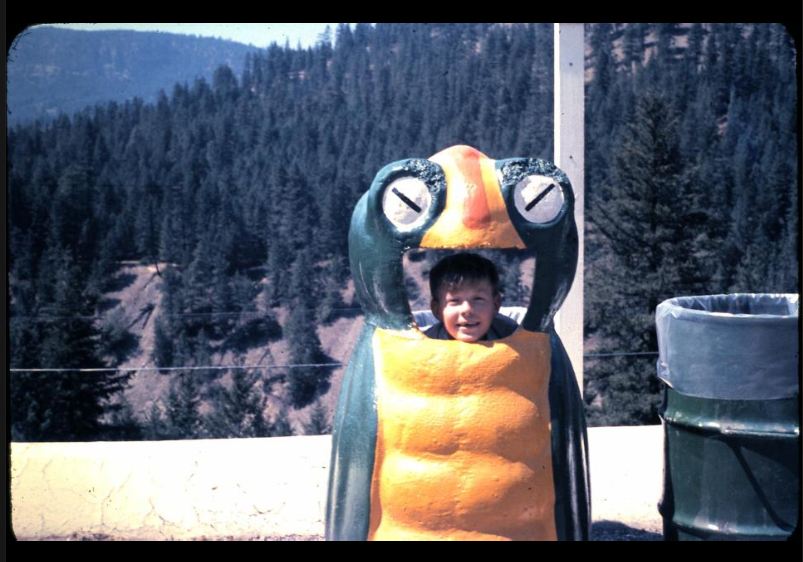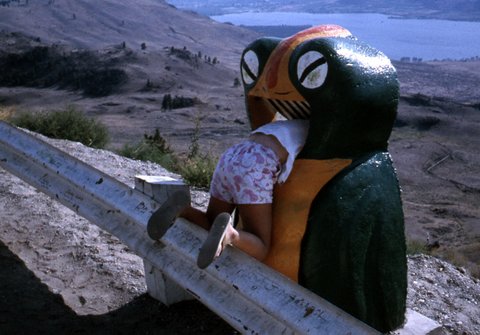 Share this page: