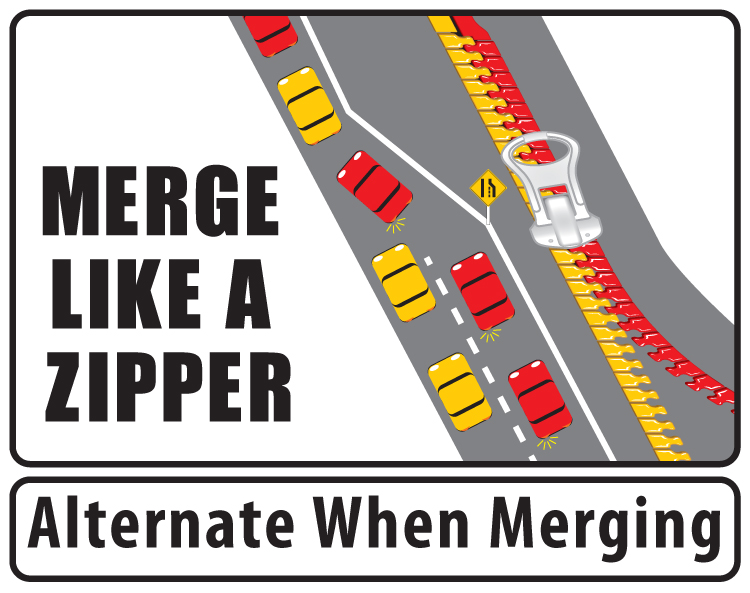 Safe highway merging requires the proper mix of cooperation and courtesy between drivers. After all, it's all about sharing space.
Quick – take a glance at your clothing and you'll likely see the best analogy for merging… the zipper (it's also one of the greatest Canadian inventions, too, eh?). For the zipper to work properly, opposing teeth must alternate smoothly. In high traffic scenarios in which two lanes reduce to one lane, for example, merging works much the same.
Just like depicted in the image, the merging cars and those continuing straight ahead take turns moving into the single lane. A "lane ends" sign marks the spot where this dance should happen.
Not all merging situations are the same, however. Entering a highway can be a bit more complicated because merging is done at higher speeds and drivers have to be more aware of surrounding vehicles. There can be a lot going on at once. We recommend breaking the process down by following these five steps for safe highway merging:
Step 1: Accelerate to match the speed of highway traffic as you travel on ramp.
Step 2: Be aware of your surroundings by checking mirrors and blind spots.
Step 3: Flick your blinker signal on to let other drivers know you plan to shift lanes.
Step 4: Speed up or slow down slightly if a vehicle is right beside you, positioning your vehicle to enter an open space.
Step 5: Merge gradually into the neighbouring lane by following the path of the merging ramp.
Bonus Step (optional): Give a friendly "thank you" wave to the driver who gave you space to help you merge safely.
Voila – now you're cruising the highway.
On the other hand (er, lane), vehicles already travelling the highway should help merging vehicles by offering space and changing lanes when it's safe to do so. If it's not safe to change lanes, adjust your speed to create space ahead or behind you.
Hopefully this blog encourages everyone to move in the same direction safely and smoothly. Let's work together for safe merging.
Share this page: