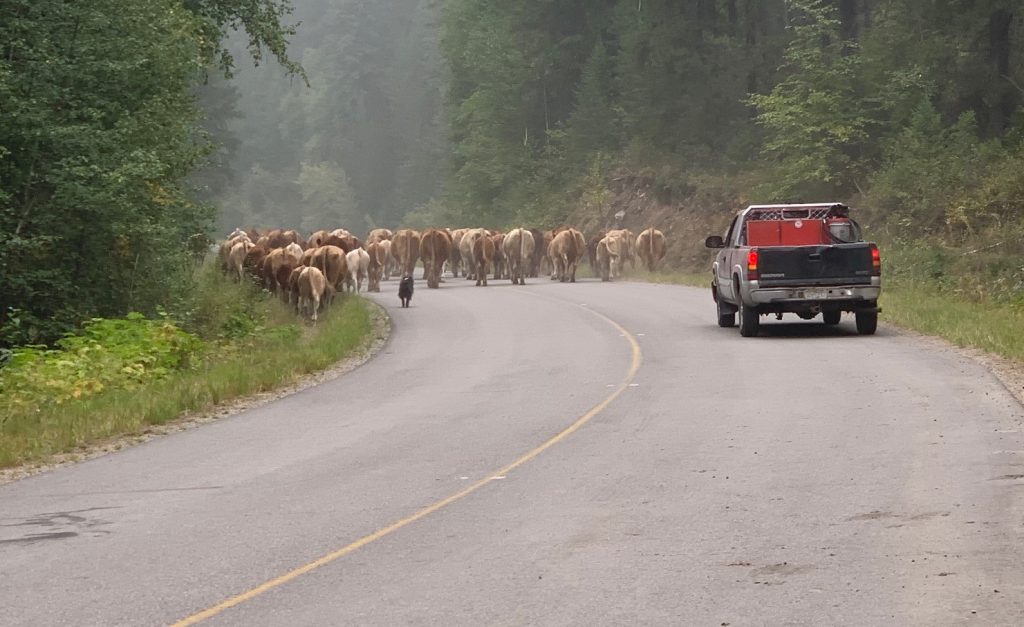 People drive all kinds of things on BC highways…cars, trucks, motorcycles, vans – even cattle!
Ranchers sometimes need to move cattle across or on roads, so cows can be highway travellers too. To prevent cow-car collisions, the Ministry of Transportation and Infrastructure has procedures that help ranchers drive their herd safely to its destination. The rules take into account the safety of all hoofed and wheeled highway users, because they were developed by the ministry in consultation with the British Columbia Cattlemen's Association, the RCMP and the BC ministries responsible for agriculture and forests.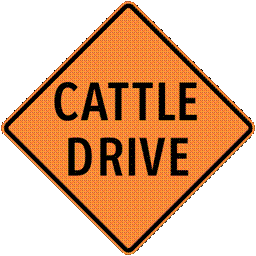 Planning a cattle drive that touches on provincial roadway begins with a call to the nearest district office. Cattle drives or crossings require permits, and depending on the amount of vehicle traffic that uses the highway, traffic control and insurance might be needed.
To help keep cattle (and sheep, horses, llamas and other domesticated hoofed creatures) off highways and railways at other times, we provide support to livestock producers for fencing, through the British Columbia Cattlemen's Association. We want everyone to travel safely, whether along the dusty trail or on our hardtop (or gravel) highways.
BC's rich cattle ranching history began with its first commercial herd, which travelled from Oregon in the 1858, to feed miners searching for gold in the Fraser River. Within 10 years, about 22,000 more head were driven to B.C. With the grassy lands of the central interior well suited to ranching, some prospectors changed careers and became cowboys.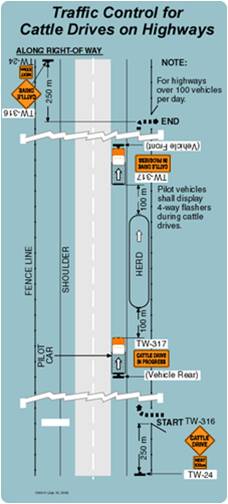 The Cariboo is still cattle country, and part of a scenic seven-day circle route, which includes the Museum of the Cariboo Chilcotin and the BC Cowboy Hall of Fame, in Williams Lake. Guest ranches and rodeos abound in the region. These days, moving cattle and other goods around the country, is much easier than it was for early ranchers. Whether you're relocating a herd, taking a trip in a motor vehicle, or shipping something by (motor) coach, pavement has its pluses!
Share this page: