To commemorate the Trans-Canada's 50th anniversary, we wanted to do something special. After all, it's a big milestone for what is one of the most important roads in the country.
We set out collecting old photographs and articles to share, but then came the question of building a site for the content and how we wanted that site to look. Then we saw the work of Rob Buchanan, a Media Designer at Parks Canada, and we had our answer. Rob's work beautifully captures the feelings of adventure and nostalgia we were looking for. Besides being a great image, it's also a way to showcase the partnership we have with Parks Canada in maintaining the Trans-Canada (they look after all sections of the route that run through federal parks).
We thought people would be interested in the story behind this graphic, and Rob was kind enough to give us a little insight into his work:
This original design "First Drive through Rogers Pass" commemorates the 50th anniversary of the opening of the Trans-Canada Highway. It was painted in thick, solid colours to echo the printing processes of the Art Deco period – the golden age of the poster – and shows 1960's era vehicles driving on an Oz-inspired yellow highway past a lofty Mount Sir Donald.
The painting style was inspired by the legendary advertising campaigns of the domestic and global transportation giant, the Canadian Pacific Railway. Over a period of nearly 100 years, the CPR successfully created designs – using artists such as Peter Ewart and Roger Couillard – that stirred nostalgia and offered glimpses of distant adventure and romantic discovery. Many of these landscapes they presented became today's iconic national transportation corridors. It seemed only natural, as we celebrate the 50th anniversary of Canada's "Main Street" – the Trans Canada Highway – to be inspired once more by these early poster campaigns that captured the imagination of travelers.
A big thank you to Rob for letting us use his work and to all Parks Canada staff for 50 years of partnership maintaining this iconic stretch of road. Here's looking forward to the next 50!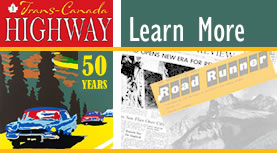 Share this page: